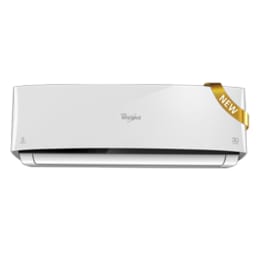 Whirlpool 1.5 Ton 3 Star Split AC (3D Cool Plus DLX, Copper Condenser, White)

Shipping options available for Enter pincode
1.5 Ton Split Air Conditioner
5180 Watt of Cooling Capacity
3 Star Rating
38 dB of Indoor Noise Level
Introduction
Bring home the Whirlpool 1.5 ton 3D COOL DLX PLUS III split air conditioner to get complete comfort during summer season. Equipped with a washable PP dust filter, this AC can trap dust and other harmful pollutants to give you clean and pure air. Operating this AC becomes easy as it comes with a remote control, with an LCD display, allowing you to easily adjust temperature levels and other settings. The front panel display indicator helps you to check the AC temperature effortlessly as and when you need. Equipped with auto air swing feature, this Whirlpool split air conditioner can uniformly circulate cool air throughout the room. Other features like sleep mode, auto mode, 1 W stand by mode and power mode helps in regulating room temperature as per your convenience and consumes less power. For your convenience, this AC comes with self cleaning and self diagnostic function that automatically cleans this AC or checks for installation and other technical faults and glitches. You do not have to move from your couch as features like auto restart, 24 hour on/off timer changes AC temperature as per your requirements.
Performance
This 1.5 ton Whirlpool split air conditioner is integrated with innovative technology that can provide stable performance all the time. Integrated with Japanese technology, the rotary compressor of this AC regulates temperature efficiently and offers effective cooling comfort while saving electricity. With a 3 Star rating, this AC is energy-efficient and creates a minimal sound impact of 38 dB. Consuming 1619 W of power, it can offer optimum performance. A built-in 4 in 4 out evaporator of this AC provides complete comfort while conserving energy. Integrated with Multi Port Fluid Injection Technology, the evaporator has 4 channels that can intake warm air and provide cool air at all times. Enhancing the cooling capacity of the AC, the MPFI technology reduces power consumption. Designed for efficient use, the outdoor unit of this energy efficient Whirlpool air conditioner can perform even at extreme hot temperatures like 54 degree Celsius. Integrated with Parallel Flow Condenser Technology, the condenser of this AC has parallel channels for providing cool air and evacuating the hot air from the room. Equipped with coil copper tubes the condenser regulates room temperature, resists corrosion and transfers greater amount of heat. You can cut down on your electricity bills as the 6th sense PowerSaver mode quickly adjusts to room temperature and regulates the compressor for providing optimum cooling comfort. The High Efficiency Technology of this AC allows greater amount of heat exchange and provide optimum cool air by dissipating heat at a fast rate.
Offers Uniform and Fast Cooling
Experience utmost cooling and relaxation with this 3D Cool Whirlpool split air conditioner that provides uniform temperature throughout the room. The three-dimensional air flow system of this AC can dissipate heat from air and provide uniform cool air. Equipped with fast forward cooling switches, this Whirlpool split air conditioner is able to cool your room within 30 minutes of switching it on. Improving the even distribution of air is easy with the help of up/down and left/right airflow control movements that can be done manually. So you can lie down on your couch and relax by setting the minimum temperature to 16 degree Celsius. Integrated with Around U technology, the remote control of this AC has in-built temperature sensors that can sense the temperature around you and maximize cooling comfort throughout the room. Thanks to this feature, you can sit back and relax comfortably during hot and humid days.
Recommendation
If you are looking for an energy-efficient air conditioner, then this can be the best Whirlpool split air conditioner for you. Equipped with 3 Directional air flow system, power saving modes and self-cleaning features, it can be an ideal one for your home
Company Contact Information

Customer Support Number

7207666000

Customer Support Email

customersupport@croma.com