Now shop for your favourite electronic appliances & gadgets from the comfort and safety of your homes through a live video call with our store associates.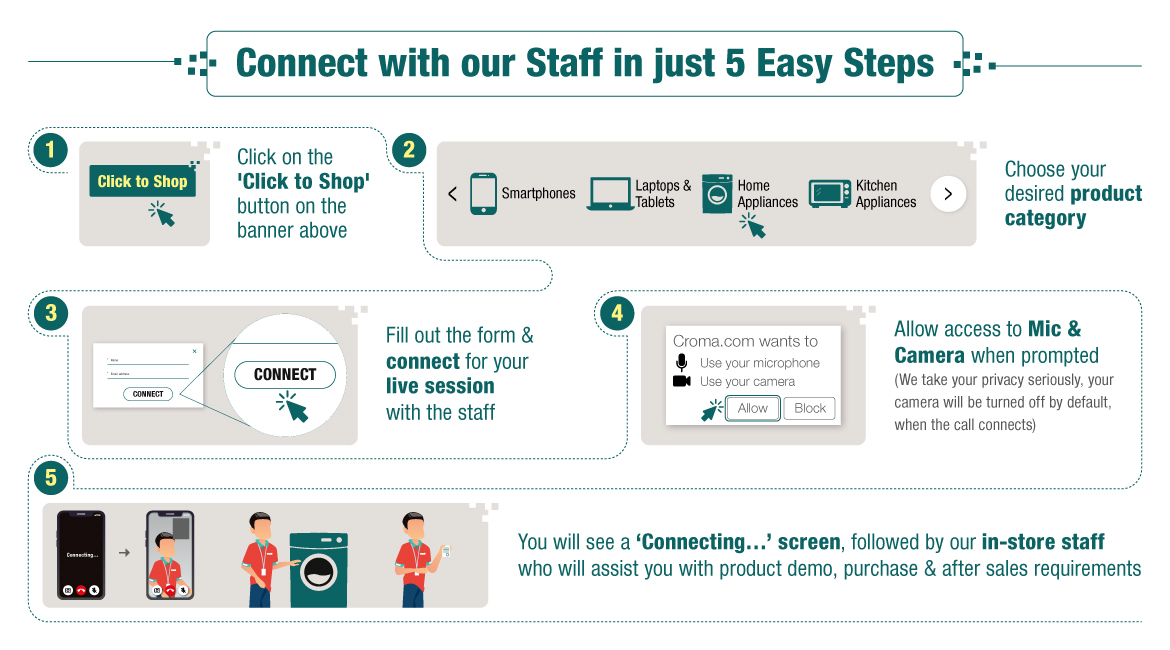 Video Shop from Home with Croma's Video Call Shopping available in a Wide Range of Categories!
Are you struggling to buy the exact model of electronic gadgets, laptops, or home appliances for yourself? With Croma's new shop-with video feature, get everything you want from the convenience of your home. With trained representatives guiding you to the entire process of shopping and clarifying your doubts about your dream model of refrigerators, washing machines, air conditioners, and dishwashers, shopping from the comfort of your home has never been this convenient! Croma always thinks ahead and comes up with effective solutions to help its customers shop with utmost ease and have enough clarity on the products they are paying for!
Online Shopping made easy with Croma's Video Chat Option!
Buy from home the best model of smartphones, laptops, home appliances, kitchen appliances, and more with just a click of a button. Conceptualized to make the entire process super easy and simple, you can get a live demonstration of the exact model that you want to buy in just 5 simple steps. Created for all those who run on a tight schedule and find visiting the store for live demos super challenging, Croma's video call shopping is super helpful and brings convenience at your doorstep!
The video chat feature offers the customers the feeling of being present at the store and checking out the models themselves. This feature will not only give you the satisfaction of knowing the products before you buy but also connect with the store representatives and get your doubts cleared. While shopping online, especially while purchasing high-end products like laptops, televisions, and other electronic devices, there are a lot of queries and doubts that arise in the minds of customers that remain unresolved. But with this unique shop-with-video feature that Croma gives its customers, there's not a chance of a dissatisfactory purchase. You buy just what you see!
What are the steps to ensure a smooth Video Call Shopping at Croma?
If you are worried about how to explore this feature, visit the page and just navigate as described. With just 5 simple steps, you can get in touch with a category expert and a trained professional who will patiently hear you out and suggest the best models based on your requirement and budget. They can also give you a proper update and clarification if you ask for the specifications of a model that you already have in mind.
Visit our shop-with-video page and click on the 'Click to Shop' button and you will be taken to a page where you will be required to select the shopping category. From smartphones to laptops, from home appliances to kitchen appliances, you have a wide range of options to choose from. Post selection of this category, you will be required to fill in a form with basic details and then allow access to the mic & camera when you are prompted for the same. Just these few steps and you will very soon be connected with an expert representative for a live demonstration. Rest assured, Croma takes your privacy and security as a priority and hence keeps your camera automatically turned off for maximum protection. So, what are you waiting for? Hurry up, explore with us and make the most out of this video call shopping and get all that you need without having to step out of the house!