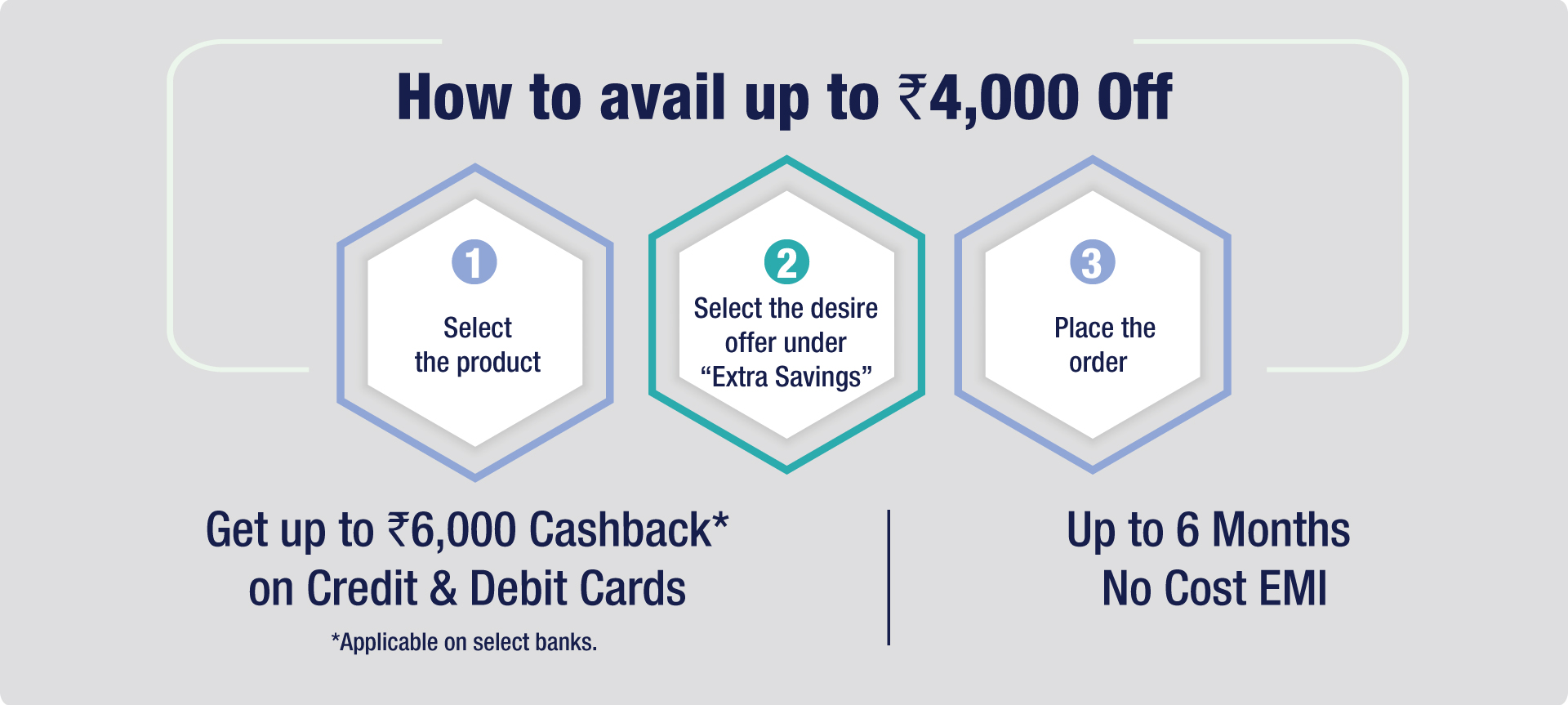 Explore the Amazing Deals and Special Discounts on the Best Smartphones to get Brilliant Performance at Incredible Prices
Croma is always on the lookout for new opportunities and strives to impress its customers with the latest products in the market. If you have been looking towards buying the best smartphones, explore with Croma. With amazing discounts, offers and deals on a variety of smartphone models, Croma is all set to offer all its customers powerful performance and enhanced productivity. The perfect blend of style and affordability, the wide range of smartphones from popular brands like Samsung, Apple, Oppo, Vivo and more are sure to take your output level to the top! With immense functionality and powerful performance clubbed with brilliant offers and discounts, this is the best time to gift yourself the perfect experience at a super affordable price.
Buy the Best Smartphones from Popular Brands at Super Discounted Prices!
Your hunt for the best smartphones comes to end with Croma offering huge discounts and special offers on a wide range of popular smartphone models. If you have been waiting to grab your desired smartphone at a super affordable price, this is the time! Choose from the wide options of iPhones, Vivo mobiles, Samsung models and more to enjoy additional discounts and offers on each brand. Avail additional discount of Rs. 1500 if you wish to buy Vivo V20 series that is crafted to delight you every moment. Check out Vivo Y20 series if you are looking for more power and more fun. Starting at Rs. 47, 999, this is also the best time to gift yourself the Samsung S20 FE series. With a wide range of smartphones from low-range to high-range price models, Croma offers a plethora of options to help you choose the desired model at the best price. If you are currently on the lookout for a smartphone, explore at Croma.
This is the best time to also invest in an iPhone. If you have wished to possess an Apple iPhone but refrained from buying due to the fancy price tag, buy now! Choose from iPhone 12, iPhone 12 pro max, iPhone 12 mini and avail huge discounts on each model. The colourfully compact iPhone 12 mini starts at Rs. 59,900 only. Whether premium smartphones, mid-range smartphones or budget smartphones, Croma offers special discounts on every price range category. Therefore, choosing your choice of smartphone is not only easy but super affordable.
Croma also offers a wide range of pocket-friendly options which are a great choice if you have a budget limitation and looking for something for gifting purposes. Avail of this opportunity to grab popular Samsung, Oppo and Vivo models at prices you can never imagine. Offered at slashed prices with lucrative offers, this is the best time to invest in your favourite smartphone model. Starting at as low as Rs. 5199, getting a model as per your budget is not difficult at all. Croma has a collection to suit everyone's needs. Offering the perfect blend of functionality packed with style, Croma ensures your efficiency levels are always on points. Check smartphone prices now to buy your desired model at the best price.
Buy the Best Mobile Phones at Prices like Never Before!
Visit our website and check out the wide range of smartphones, offered at super affordable prices. Check out Croma's website and avail the best deals, E-coupons, cashback, vouchers, discounts and special offers on the best mobile phones. If you are buying Apple iPhone models, avail of the Rs. 6000 off on HDFC cards and easy EMI options too. Apart from this, you can also avail of up to 6000 off on credit and debit cards for other models and no-cost EMI for up to 6 months. So, what are you waiting for? Make the most out of this sale and buy the best smartphone to completely transform your style statement and enjoy seamless operation at a super reasonable price.