Easy EMI on Cards:


Offer Validity: 19th November to 30th November 2020
This should be the only product in your cart to avail the offer
Under EMI payment mode, customer has to select his issuing bank and the respective No Cost EMI/ EMI with Interest –full or lower interest rates, will be displayed
Customer should check the Details tab before selecting the EMI plan to complete his purchase.
Some banks may charge additional fees for EMI conversion, please check with your issuing bank for the charges.
Offer is on Credit/Debit (Kotak credit card, BOB financial credit card & Axis credit/debit card) option for customer to get the cashback offer.
No cost/Low cost EMI & cashback offers are valid on 3, 6, 9 & 12 Months credit/Debit card EMI transaction only as per the table provided.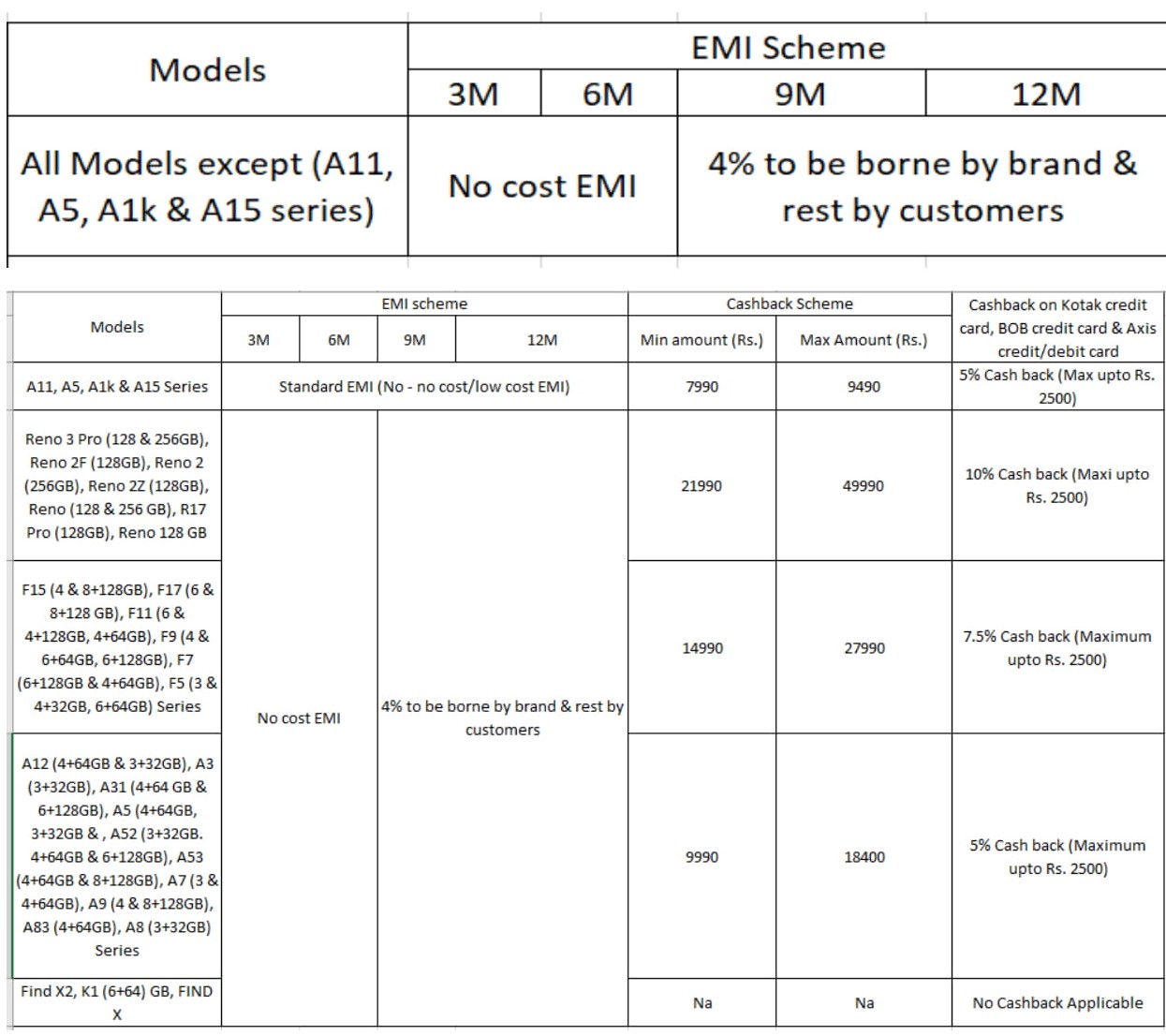 The cashback scheme is capped at minimum & maximum purchase value as per the table above.
Min/max value in mentioned is based on the lowest or highest priced model present in that section of cash-Back scheme.
Payment will be transferred within 90 Days in customer's account from offer end date.
Customer would be eligible for cashback upto 10% (maximum of Rs. 2500) on above mentioned credit/debit card only on EMI transaction only.
The amount will be credited within 90 days from the date of purchase.
Maximum upto 1 transactions per card per month is allowed for EMI & only 1 card usage for 1 product for all cards except BOB credit card.
Any Interest, Service Tax, Government Levies, Processing Fees charged by the issuing Bank will be borne by customer
Croma may ask for Invoice copies/supporting document for Verification of transaction. Failure to provide the same within seven (07) days may lead to withdrawal of facility & recovery of back amount from the customer
Oppo reserves the right, at any time, without prior notice and liability and without assigning any reason whatsoever, to add/alter/modify/change or vary all of these terms and conditions or to replace, wholly or in part, this offer by another offer, whether similar to this offer or not, or to extend or withdraw it all together.