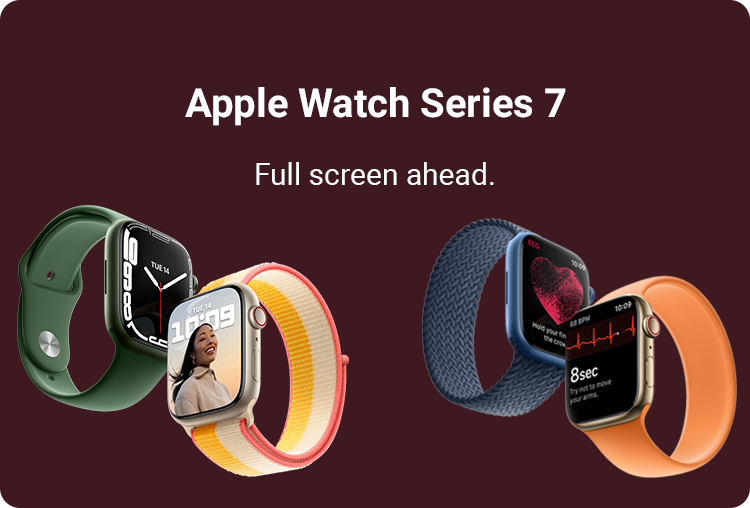 Apple has Launched the Brand-New iPhone 13, iPhone 13 Mini, iPhone 13 Pro, iPhone 13 Pro Max, iPad Mini, and iWatch 7 Models with Irresistible Features!
The latest Apple releases look promising and are sure to delight the Apple fans. These models are not only technologically advanced but also have superior design to please our aesthetic senses. Apple has unveiled the Apple iPhone 13 models, as well as the Apple iPad Mini 6 and Apple iWatch 7, all of which offer amazing performance and make our lives better. If you're an Apple lover, now is the time to check out the newest Apple products, such as the Apple iPhone 13 and Apple iWatch 7, and buy from Croma.
Apple iPhone 13 - Specifications
The Apple iPhone 13 models come in 4 variants and are designed with tons of upgrades to offer premium user experience. Apple iPhone 13, Apple iPhone 13 mini, Apple iPhone 13 Pro, and Apple iPhone 13 Pro Max are all part of the Apple Phone 13 series. The iPhone 13 models are powered by the A15 Bionic processor, which is the fastest processor in a smartphone. The Apple iPhone 13 models come with better cameras, improved battery life, and brighter displays. You can check out these latest Apple models now and learn more about the iPhone 13 series price and buy them instantly from Croma.
Talking about camera specs, the Apple iPhone 13 and iPhone 13 Mini have the same twin cameras on the back, while the Pro and Pro Max models have triple cameras. On all the iPhone 13 models, Apple has reduced the size of the notch. The diagonally oriented camera lenses in the iPhone 13 and iPhone 13 mini models are equipped with sensor-shift optical image stabilization and Smart HDR 4. These Apple iPhone models now have updated hardware that allows them to catch more brightness than before. The camera specifications of the Apple iPhone 13 Pro and Pro Max versions have also undergone major hardware and software upgrades. These latest models are upgraded with features like new apertures for telephoto, 6x optical zoom range instead of 5x, digital zoom of up to 15x instead of 12x, and various photographic styles.
In terms of battery life, the iPhone 13 Mini and iPhone Pro guarantee 1.5 hours of additional battery life, while the iPhone 13 provides 2.5 hours of additional battery life. The iPhone 13 Pro Max variant also comes with an extra 2.5 hours of battery life, allowing you to do everything you want for longer periods of time without interruption. The iPhone 13 series is more profitable than its predecessors due to the improved battery life across all variants. In terms of display, the new Apple iPhone 13 Pro and Pro Max versions have ProMotion 120 Hz refresh rates, as well as new and improved Super Retina XDR displays.
Apple iPhone 13 and Apple iPhone 13 mini come with 4GB RAM and are available in three storage variants, and in Starlight, Midnight, Blue and Pink colours. The 128 GB variant is priced at Rs. 69,900, the 256 GB is priced at Rs. 79,900 and the 512 GB is offered at Rs. 99,900 in India. The prices for Apple iPhone 13 are Rs. 79,900, 89,900 and 99,900 respectively. The Apple iPhone 13 Pro and Pro Max models having 6 GB RAM are available in a gigantic 1 TB ROM as well apart from the above. As far as the iPhone 13 Pro prices are concerned, the 128 GB variant is priced at Rs. 1,19,900, 256 GB at Rs. 1,29,900, 512 GB at Rs. 1,49,900 and 1 TB at Rs. 1,69,900 in India. The Apple iPhone 13 Pro Max is priced at 1,29,900 for the 128 GB variant, Rs. 1,39,900 for the 256 GB variant, 1,59,900 for the 512 GB variant and Rs. 1,79,900 for the 1 TB variant. Both the iPhone 13 Pro and Pro Max models are available in Silver, Gold, Graphite and all-new Blue Sierra colour options. Check out Croma online and buy now to get the best offers and deals on the latest Apple launches.
Apple Watch Series 7 - Specifications
The Apple iWatch 7 is meant to present you with ground-breaking health benefits. To make reading simpler, the display has a 20% larger screen area than the Series 6 display. The iPhone watch 7 features a simple, seamless design with a large screen and promises to create a big impact. This new iWatch model is easy on the eyes and the fingers, and it boasts of being the most durable Apple watch ever made. It is available in five colour options: Green, Blue, Red, Starlight, and Midnight. To know more about Apple iWatch 7 and Apple watch 7 series price, visit Croma's website and buy now.
Apple iPad Mini – Specifications
The all-new Apple iPad mini has been precisely crafted to provide something stunning. The Apple iPad mini 6th Generation has an 8.3-inch Liquid Retina display with narrow borders and rounded corners. It has been further equipped with features like True Tone, P3 wide colour, and ultralow reflectivity to make writing absolutely clear and colours super vibrant. The latest iPad model has an embedded Touch Id that enables for quick, convenient, and secure authentication. The Apple iPad mini 6 is small and compact, with a new A15 Bionic chip that makes it powerful as well as appealing. You can use powerful apps and capture beautiful content with the new Apple iPad mini 6 model. This all-new iPad mini 6 model is available in 64GB and 256 GB storage variants, in four beautiful colours: Space Gray, Pink, Purple and Starlight.
Buy the Latest Apple Launches Online at Croma!
Apple has elevated the iPhone 13 models to a whole new level with the latest technology and breath-taking design. Buy Apple iPhone 13 models if you're looking for a phone that's the right balance of performance and style! Check out the Apple iPhone 13 price, iPhone 13 designs and iPhone 13 looks at Croma.
Also, check out the Apple iPad mini 6 price if you have been waiting to get the latest iPad model soon after its launch. You can also buy the Apple iWatch 7 and other Apple iPhone models at Croma to get amazing deals and offers on these latest Apple launches. If you are an Apple lover, buy your latest Apple favourite at Croma and get amazing deals and discounts.