Registration & My Account
HOW DO I REGISTER ON CROMA.COM?
To register on croma.com, simply follow the steps below.
To register from the homepage:
Click on 'Sign-in' next to the cart. As a first time user, you will need to Sign Up.
You can Sign-up/Login by entering your:

Contact Number
Email ID
Social media profile



Verify the details via the OTP sent to your registered mobile number.
Click on 'Continue' to finish your registration/sign-in.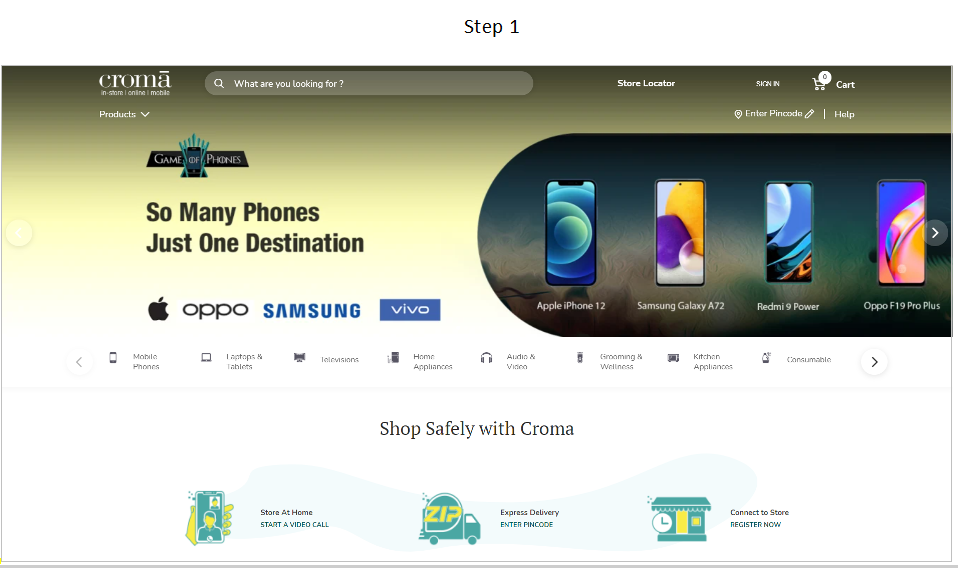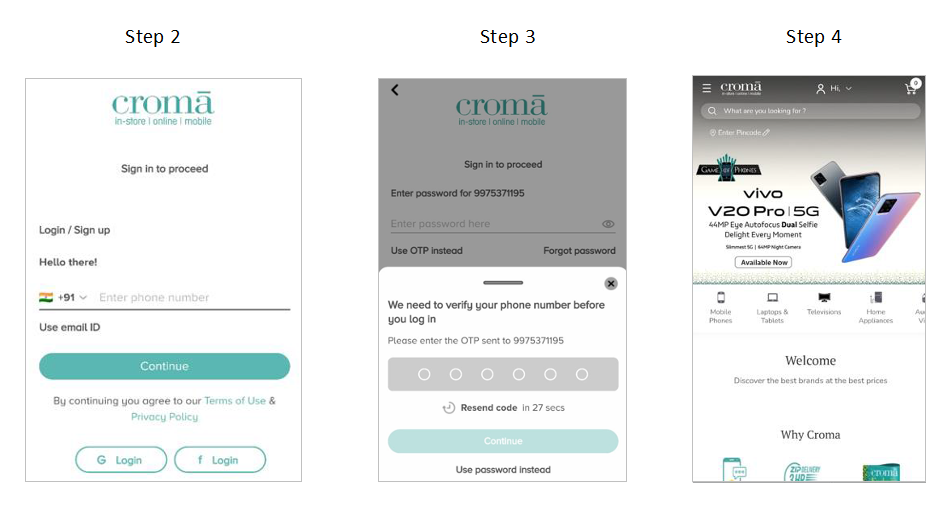 OR;
To register while you shop on croma.com
Once you move to check-out, you will be led to the Sign-up/Login page.
Enter your registered contact number & click 'Confirm'. Then, enter the OTP received on your mobile.
Verify the details via the OTP sent to your registered mobile number.
Click on 'Continue' to complete your registration and sign-in.
HOW DO I COMPLETE MY PROFILE RELATED DETAILS?
Click on 'My Profile'. You will be redirected to a page containing boxes to fill up your details.
Fill in the details as required, which will help you receive future invoice details and SMS/E-mail communication from Croma. This process is voluntary.


CAN I CHANGE MY ACCOUNT EMAIL ID OR MOBILE NUMBER??
Unfortunately, your email ID or mobile number once registered cannot be changed. However, you can create a new account with your new contact number or email ID..
As a registered user on croma.com, you can create your ownAddress book which would save shipping information of previousorders. As a customer, you can select a shipping address fromthe Address book and proceed through checkout.
HOW DO I CHANGE OR RESET MY PASSWORD?
If you want to update your password:
Login using your registered mobile number.
In the 'My Profile' section, you will find an edit button in the password box.
Enter your current (old) password and the new password. Click on 'Save Changes'.
In case you have forgotten your password:
While on the login page, choose to login via password and then click on 'Forgot Password'.
Since the registered mobile number is available, you will now receive an OTP. Enter the OTP and click on 'Continue'.
You will be redirected to a password reset screen. Once you have set a new password, click on 'Submit'.
CAN I BUY MULTIPLE PRODUCTS AT ONCE?
Yes, you can order multiple products at once. Simply add the products you wish to purchase to your shopping cart.
HOW DO I KNOW THAT MY ORDER HAS BEEN CONFIRMED?
As soon as you place an order:
You will be redirected to the order confirmation page on our website.
You will also receive an Order Confirmation email on your registered e-mail address and an order confirmation SMS with the details of your order.
CAN I ORDER MULTIPLE UNITS OF A SINGLE PRODUCT?
Yes, you can order multiple units of a single item availability of stock at the time of placing the order.
WHEN WILL MY ORDER BE DELIVERED?
The time taken for delivery depends on the mode of delivery selected during checkout. The general timelines are as follows:
ZIP Delivery – Order will be delivered to you between 3 hours from the time of order to 7 working days. If the order is placed after 6 pm, then 3-hour delivery would be completed by 2 pm the next day.
Store Pickup – Order will have to be picked up by you at the chosen Croma store.
CAN I CHANGE THE DELIVERY ADDRESS AFTER PLACING AN ORDER?
Yes, we provide an option to change the delivery address after an order is placed. However, the availability of this option is based on the current status of the order. After changing the address, the delivery date will be rescheduled according to the new pin code. For more information, we request you to kindly contact our Customer Support team.
WHAT IF THE PRODUCT IS UNSEALED/TAMPERED WITH AT THE TIME OF DELIVERY?
If your shipment is unsealed or in tampered condition, we recommend:
f you are yet to collect the order, kindly do not accept the order and contact our Customer Support team for further help.
If the order has already been collected, you can place a return/replacement request by going to'My Orders' and requesting a 'Cancel/Replace' for the product. You can also connect with our Customer Support team who will be happy to guide you through the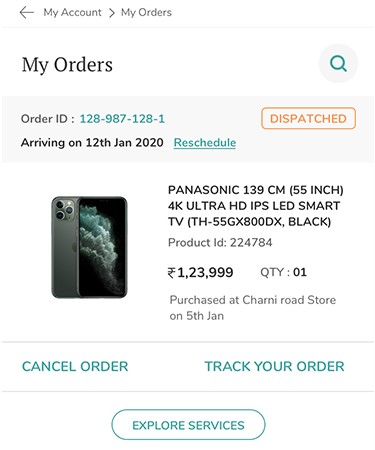 I HAVE NOT RECEIVED MY ORDER. WHAT SHOULD I DO?
To track your order, simply follow the steps below.
Step 1: Sign-in into your account on croma.com
Step 2: After logging in, click on 'My Orders'
Step 3: Go to the order you want to track and click on 'Track Your Order'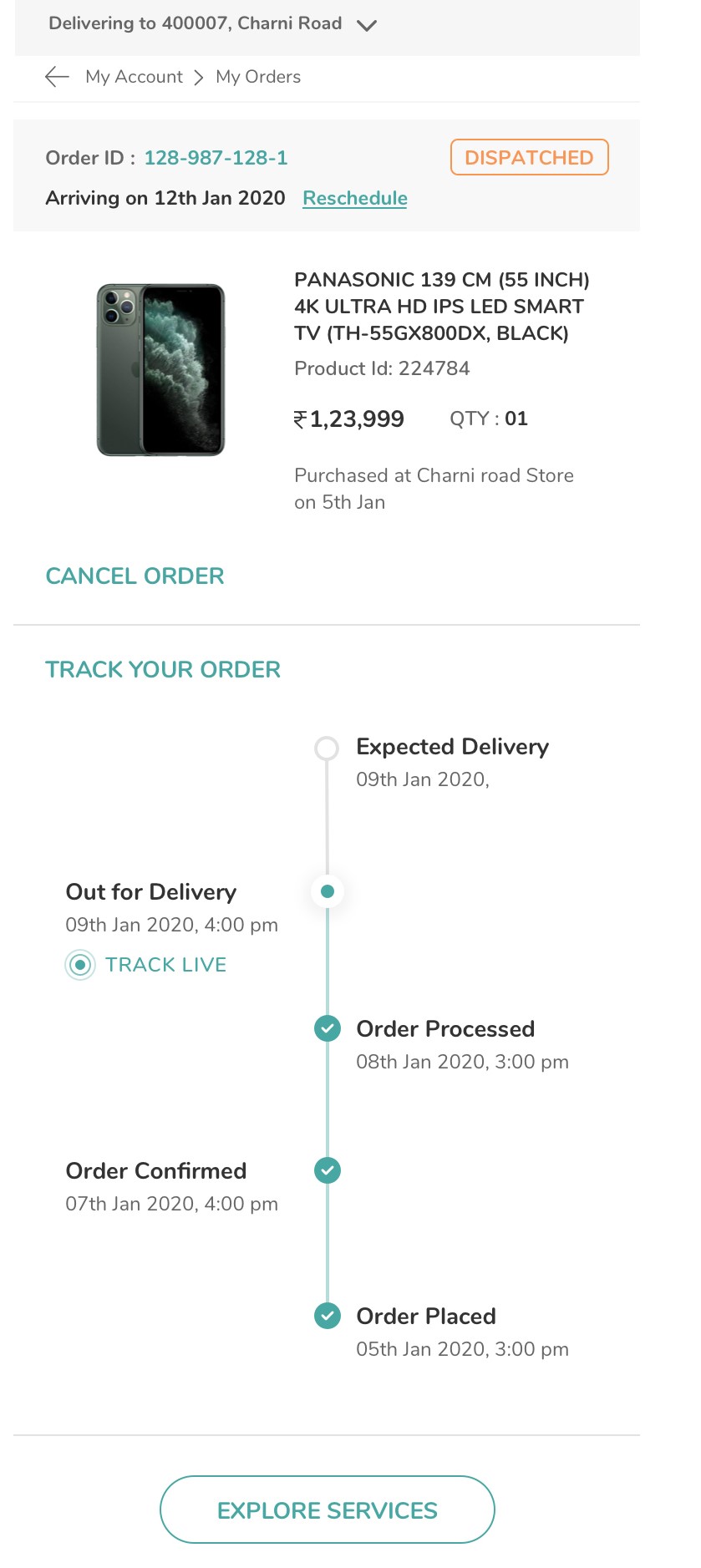 I MISSED THE DELIVERY OF MY ORDER. WHAT SHOULD I DO?
In case you have missed your delivery, we usually try to deliver your product on the next working day. Our delivery personnel will try to get in touch with you to ensure that your order can be delivered as soon as possible. In case you still fail to receive an order, feel free to connect with our Customer Support team.
CAN I CHOOSE THE DATE AND TIME FOR A STORE PICKUP ORDER?
Store pickup can be collected from the store at any time within the store working hours up to 2 days from purchase. In case the order is not picked up within 48 hours, the order will be considered cancelled.
WHY CAN'T I TRACK MY ORDER EVEN THOUGH IT IS DISPATCHED? WHERE CAN I TRACK MY ORDER?
Usually, our logistics partners need up to 24 hours to activate the tracking code for an order once dispatched from Croma. We request you to kindly check the live tracking in some time. You can track the status of your order in the 'My Order' section of 'My Account' on www.croma.com
I DID NOT RECEIVE A WARRANTY CARD WITH THE PRODUCT. HOW SHOULD I CLAIM MY WARRANTY?
The invoice you receive with the order can be used to claim the warranty, as it includes your purchase and product details. We send an invoice copy to the registered email address for all orders, which can later be used to claim the warranty.
THE DELIVERY EXECUTIVE IS ASKING ME TO PAY A HIGHER AMOUNT THAN MENTIONED ON THE INVOICE. SHOULD I PAY?
Our delivery partners would never ask you to pay anything besides the invoice value, however, if such an nstance occurs, we request that you do not accept the order and raise a complaint with us immediately. We will investigate the matter and initiate the delivery of your order again.
CAN I PAY WITH MY CARD ON DELIVERY?
This facility depends on the logistics company that provides the delivery service for your order.
I WOULD LIKE TO ADD MY GST NUMBER TO MY INVOICE. HOW SHOULD I DO THIS?
To add your GST number to your invoice, please connect with us on 7207-666-000 or write to us at Customer Support team.
CAN I SHIP MY ORDER TO A CROMA STORE, SO I CAN COLLECT IT THERE?
Unfortunately, we do not offer any such facility currently. However, you may select the 'Store Pickup'option during checkout to pick up your order from the xnearest Croma store.
HOW MANY DAYS DOES IT TAKE TO SHIP MY ORDER?
We will ship your order depending upon the availability of the stock and the Pincode of delivery. However, we usually ship the order between 3 working hours to 7 working days.
HOW WILL THE DELIVERY BE DONE?
All the orders will be delivered through Supply Chain or through reputed courier service provider like Blue Dart, Delhivery, Ecom Express, Xpressbees, Shadowfax etc.
ARE THERE ANY SHIPPING CHARGES?
We offer FREE SHIPPING for all our products.
Octroi charges, wherever applicable, shall be borne by the Company and not by the Customer.
DOES CROMA.COM DELIVER OUTSIDE INDIA?
No. Unfortunately, we do not deliver outside India at the moment. However, you are more than welcome to make your purchases from anywhere in the world, but please ensure the delivery address is within India.
CAN I BUY ONLINE AND PICK DELIVERY FROM THE NEAREST CROMA STORE?
Yes, in your cart, please select Store Pickup as delivery mode to buy online and pick up at the store.
WHAT IF MY BILLING AND SHIPPING ADDRESSES ARE DIFFERENT?
All products will be dispatched to the shipping address provided at the time of checkout.
WHY AM I NOT ABLE TO PURCHASE MY PRODUCT BESIDES MY LOCATION?
It is our endeavor to service all deliverable locations in India. However, your Pin Code may not support delivery because of the following reasons:
Your Pin code may not be currently serviced by our delivery partners.
Our nearest Stocking Point (Distribution center/Stores) may have run out of stock for your desired product.
Order Cancellation & Returns
IF I AM NOT SATISFIED WITH MY PURCHASE, CAN I CANCEL OR RETURN MY PURCHASE?
Yes, you can cancel or return a home delivery order
Your return request will be processedonce your order is in '??Delivery in Progress' stage. Once youreceive the order you can return it within 15days from the dateof receipt. In case it is defective, damaged, dead on arrivalor what you have ordered is what you have not get.


HOW CAN I CANCEL OR RETURN AN ORDER AT CROMA.COM?
Call our 24Hours Customer Care Helpline on 7207-666-000.
HOW WILL I BE REIMBURSED FOR THE PRODUCTS I HAVE CANCELLED OR RETURNED?
All the payment reversals or refunds will be completed as per our Cancellations policy. The amount to be refunded will be processed to the original mode of payment used online. For Pay on Delivery orders, we will initiate NEFT transaction. Once the refund details are shared with you, the payment will reach your bank/card account based on your individual banks/cards payment reversal processing timeline.
TILL WHAT DURATION OF DAYS CAN I RETURN MY ORDER?
If you wish to return your home delivery order and claim arefund, you can raise a request from the time your order hasbeen placed up to 15days after the order has been delivered toyour place.
WHICH ORDERS ARE COVERED UNDER 'RETURN POLICY' OF CROMA.COM?
CAN I RETURN AN ORDER AT THE CROMA STORE?
No, currently we do not have a provision for you to returnyour order at Croma store.
CAN I REPLACE A PURCHASED ITEM?
Yes, you can get your order replaced if the purchasedproduct fails to meet your expectations or you receive it in adamaged/not working condition.
For more details please see Cancellationand Returns policy.
CAN I RETURN OR REPLACE AN ITEM WHICH I HAVE BOUGHT AT CROMA STORE?
Unfortunately, at croma.com we can process only onlineorders.
However for store queries, kindly reach us at 7207-666-000
IF I AM RETURNING AN ITEM, DO I ALSO HAVE TO RETURN FREE ITEM RECEIVED ALONG WITH IT?
All the free gifts, packaging material, and supportingaccessories would have to be returned along with the product.
In case you do not wish to return the free item, then apart of amount corresponding to the value of that gift itemwould be deducted from the total amount.
HOW CAN I GET REFUND FOR EMI TRANSACTIONS?
In case of refund, though the amount is credited back to the customer?s card, the EMI closure will happen only after customer communicates the same to the bank. Customer will need to specifically communicate to the banks its intent of EMI loan closure. Also if customer fails to communicate the same to bank, the interest amount that bank will keep levying will be borne by the customer.Foreclosure or any other charges, if any which are levied by the customer?s bank, will be borne by the customer.
HOW DO I MAKE PAYMENT ON CROMA ONLINE ?
Once you have selected the desired product, Croma?s trusted payment gateway accepts the below mentioned payment options to confirm the order and complete the transaction online:
HOW DO I PAY USING A CREDIT/DEBIT CARD ?
The following cards issued in India can be used to pay; however, the shipping address should be within India
Credit Cards: VISA, Mastercard, American Express, Diners Club
Debit Cards: VISA, Mastercard, Maestro, RuPay
All international personal credit cards (Visa, MasterCard and American Express) issued outside India
To pay using your cards at checkout, you will need your card number, expiry date, three or four digit CVV number (found on the backside of your card). After entering these details, you will be redirected to the bank's page for entering the online 3D Secure password to complete the payment.
CVV Numbers for different cards are placed in different locations on your card:
If you have Visa/Mastercard/Diner's/Discover card: Your CVV is a 3-digit code after the last four digits of your credit card number on the back of the card within the signature field.
If you have an American Express card: Your CVV is a 4-digit number on the front of the card on the right hand side above the card number. For Amex Card, you can redeem your card points on the Amex Page when redirected.
Note: SBI Maestro card does not have CVV and expiry date
IS IT SAFE TO USE MY CREDIT CARD ONLINE AT CROMA.COM ?
Croma does not store Credit / Debit card numbers, CVV / Security Code, Pin for 3D Secure, Expiry date on any of its servers and only collects in a session while making a transaction.
All your transactions online are protected & secured by SSL (secure socket layer) technology.
WILL I BE ASKED TO PROVIDE ANY CARD INFORMATION, ACCOUNT INFORMATION OR PASSWORDS OVER PHONE OR EMAIL ?
The Croma team will never request you to share any of your card or account related details over email or over phone.
UNDER WHAT NAME WILL MY PURCHASE BE CHARGED ON THE CREDIT CARD STATEMENT ?
Your purchase will be charged under the company name ?INFINITI RETAIL LIMITED?. Sometimes, your card company may show in the statement a truncated name like 'CROMA'
WHICH BANK DO YOU ACCEPT PAYMENTS FOR VIA NET BANKING?
We accept payments for your orders through the following banks:
| | |
| --- | --- |
| AXIS Bank | ICICI Bank |
| Bank of India | IDBI Bank |
| Bank of Maharashtra | Indian Bank |
| Catholic Syrian Bank | Indian Overseas Bank |
| Cosmos Bank | IndusInd Bank |
| Canara Bank | Karnataka Bank |
| Central Bank of India | Karur Vysya Bank |
| Cityunion | Kotak Mahindra Bank |
| Corporation Bank | State Bank of India |
| Deutsche Bank | Union Bank of India |
| Development Credit Bank | United Bank of India |
| Federal Bank | Vijaya Bank |
| HDFC Bank | YES Bank |
Note: Kindly check with your bank if online transactions are enabled in your account.
WHAT IS AN EMI PAYMENT OPTION ?
EMI (Credit Card) stands for 'Equated Monthly Installment' and it?s a convenient payment option that you can choose to pay for the order in easy installments to the credit card issuing bank. The option is available only on credit cards issued by the following banks.
AMEX
AXIS
CITI
HDFC
HSBC
ICICI
INDUS
KOTAK
RBL
SBI
SCB
YES
*18 & 24 months EMI options are available only on selected banks.
This EMI option is facilitated by the card issuing bank. The EMI eligibility, payment tenure [months-3/6/9/12/28/24] and refund rules are solely on the internal discretion and approvals of the issuing bank. Any communication related to an ongoing EMI scheme should be addressed to the card issuing bank.
WHAT ARE THE BANK INTEREST RATES AND CALCULATION OF CREDIT CARD ON EMI
RBI has mandated banks to take a nominal charge on EMI services. This charge will be collected by banks over the EMI tenure. This charge is collected by Issuing Bank and not by Croma. This is an annual charge and is calculated on the outstanding balance. You will see this charge in the monthly bill cycle as defined by the bank. An Illustration below shows a bank and the respective EMI options based on the product price. This is for indicative purposes only, your EMI payments may differ with total order amount and additional bank charges.
The table below shows a representative rendering of EMI plans for a Rs 20,000 purchase on Croma paid using the EMI payment plan
Tenure
(Months)
Purchase
value
Monthly
instalment
(EMI)
Bank rate(%)
Total Effective
price you pay
Interest paid
to bank
3
Rs. 20,000
Rs. 6,800.44
12
Rs. 20,401.33
Rs. 401.33
6
Rs. 20,000
Rs. 3,450.97
12
Rs. 20,705.80
Rs. 705.80
9
Rs. 20,000
Rs. 2,344.32
13
Rs. 21,098.89
Rs. 1,098.89
12
Rs. 20,000
Rs. 1,786.35
13
Rs. 21,436.15
Rs. 1,436.15
Note: Currently, we facilitate Credit card EMI only.
WHAT IS THE ELIGIBILITY CRITERIA TO AVAIL EMI OPTION ?
The Credit Card EMI payment option is available only above a minimum order value which varies from bank to bank. For given order value, only the eligible banks will be displayed under the issuing bank list on the EMI payment page on Croma.com.
For Bank Credit Cards: EMI payment option is applicable on all purchases worth Rs 5000/- and above made on Croma using selected Bank credit cards.
For Bajaj Finserv: You need to have a Bajaj Finserv EMI card and it is available on selected Products only. The tenure is mentioned on the product page to be selected at the time of checkout.
HOW CAN I MAKE THE PAYMENT USING EMI OPTION ?
Once you have selected the desired product, you can add it to your cart and proceed to check out. On the Payment Page, select EMI and follow the below mentioned steps:
Select the Credit Card issuing bank of your preference [Enter your Credit/*Bajaj Finserv]
Select the repayment duration (3, 6, 9, 12, 18 or 24 months). The interest rate, monthly EMI and total interest payable will be displayed.
Enter your Credit Card issuing bank details.
Click ?Pay Now?
Once the payment is authorized, your order will be processed and shipped.
WHY IS THE TRANSACTION AMOUNT NOT CONVERTED INTO EMI?
The full amount will be charged on your card on the day of transaction. This will later be converted to an EMI transaction by your respective bank. This normally takes 5-7 working days.
WHY IS SUM TOTAL OF EMIS MORE THAN THE ORDER VALUE?
The issuing bank charges interest per EMI transaction. The interest rates are decided by the bank and are displayed at the time of completing the transaction.
No Cost EMI is an offer by which you pay your EMI provider only the product price, equally divided over your repayment timeline. For instance, if you buy a Rs.18,000 item at a 6 month tenure, you will pay your EMI provider Rs.3,000 every month for 6 months, amounting to a total of Rs.18,000*. You do not have to pay interest on the product purchased
WHICH PAYMENT METHODS CAN I USE TO GET A NO COST EMI ?
No Cost EMI is available on selected credit, debit cards on Pinelabs.EMI which can be viewed after selecting the payment mode as EMI and clicking on No Cost EMI .
ARE THERE ANY FEES OR DOWN PAYMENT?
There are no processing fees or down payment for these transactions. Your bank will charge GST on the interest component of the EMI.
IS NO COST EMI AVAILABLE ON ALL PRODUCTS ON THE SITE ?
No Cost EMI is available on wide selection of categories including mobiles, large appliances, laptops and much more. It is applicable on selected products only. You can check the availability in the Cashback and EMI section on the product detail page.
WILL MY BANK CONTINUE TO CHARGE ME INTEREST?
Yes, your bank will charge you interest. However, this interest charge has been provided to you as an upfront discount at the time of your purchase, effectively giving you the benefit of a No Cost EMI*.
*Note: this excludes GST that will be charged by your bank on your interest component of the EMI
HOW WILL MY EMI BE CHARGED?
Your EMI provider will take 3-5 working days to process your EMI. Once done, your EMI will be charged on a monthly basis, as per your credit/debit card billing cycle or payment instructions with your EMI provider. Please check with your issuing bank or card company for specific details.
WHAT IS UPI & HOW TO OPEN A UPI ACCOUNT ?
UPI or Unified Payments Interface is an immediate real-time payment system that helps in instantly transferring the funds between the two bank accounts through a mobile platform. It is based on the 2 Factor Authentications with a seamless single click payment. Once you have linked your bank account and created a virtual ID namely name@bankname, you will be able to start using it to make payment on Croma Web/App.
WHAT IS GOOGLE PAY & HOW TO OPEN A GOOGLE PAY ACCOUNT ?
Google Pay is a digital platform to send & receive money. Google Pay works with all banks that support UPI. You will have to create a Google Pay account and you have to link your bank account to make payment to Croma Website/app to complete the transaction.
WHAT IS AN ONLINE WALLET? HOW DO I MAKE PAYMENTS USING AN ONLINE WALLET ?
We have Online Wallets which can be used to make payments: Amazonpay, Mobikwik, PayTM and PhonePe. A Wallet is a prepaid financial instrument available on Croma website. It allows Indian consumers to store money in a virtual wallet and then make payments, without entering your card/bank details for every transaction.
Once you have selected the items in your cart, proceed to make a payment and select the ?Wallet?option. Under 'Wallets' you will find a radio button for types of wallets. Please choose the option by clicking on the radio button you will be redirected to the below wallets to make the payment.
AMAZONPAY: You need to Login ?In with username & password to use your amazon account and thereafter select your preferred payment option such as credit cards / a direct debit bank account/ VPA ID on UPI to complete the purchase on croma website/app
MOBIKWIK: You need to enter your Mobikwik credentials and complete your purchase using the wallet balance or any mode of payment available on that page to complete your transaction on Croma website/app.
PHONEPE: Under PHONEPE, you can opt for multiple payment options like wallet, cards, BHIM for payment to complete the transaction.
PAYTM: You need to set up an account using your mobile phone number and email ID to use a Paytm account and complete purchase on Website using UPI, Debit/ Credit Cards, Net Banking, Paytm Wallet.
DO YOU PROVIDE PAY ON DELIVERY PAYMENT OPTION?
Yes, Croma accepts orders through ?Pay-on-Delivery? except for large appliances like air-conditioners, washing machines, televisions etc. Once order is verified, shipment are processed in the time specified, from the date of confirmation. Croma also sends notification on registered email Address or mobile Number. We do not offer Pay On delivery option for Order amount greater than Rs.30,000 and if the address is not Serviceable by Courier Agent.
HOW CAN I BUY CROMA GIFT CARD?
CROMA offers Physical & Electronic Gift Cards to you which can be purchased from www.croma.com and can be redeemed online as well as Croma Stores.
PHYSICAL GIFT CARDS
ELECTRONIC GIFT CARDS

Available For Purchase on Store,
Currently not available on Croma.com

Currently not available on
Croma.com

Additional amount can be reloaded at Stores

No additional amount can be reloaded

Gift Card can be redeemed at Croma
stores and on www.croma.com

EGV can be redeemed at Croma
stores and on www.croma.com

It can be Redeemed Multiple times until expiry.

It can be Redeemed Multiple times until expiry.
Under Gift cards on payment page of croma.com, you can use your Mygyftr vouchers (received from your bank/employer) to complete the purchase. Voucher code is alphanumeric and accepts maximum 12 characters in length. You can log on to www.gyftr.com for checking voucher status. Currently Vouchers can be redeemed at Stores only.
CAN MYGYFTR VOUCHERS BE USED FOR PARTIAL REDEMPTION?
All vouchers are for One time use only and if the MyGyftr voucher value is more than the bill value, remaining amount will be forfeited. Maximum Five voucher codes can be used in a single transaction.
WHAT ARE THE TERMS OF USE FOR MYGYFTR VOUCHERS ON CROMA.COM?
Please click on the link to view the TERMS OF USE FOR MYGYFTR VOUCHERS: https://www.gyftr.com/about/terms-and-conditions CROMA makes full efforts to accept all Instant Gift Vouchers but on account of technical / administrative reasons, the website may refuse to accept vouchers.
MY TRANSACTION FAILED BUT MONEY IS DEDUCTED FROM MY ACCOUNT. WHAT SHOULD I DO?
Payment can fail due to a technical glitch or due to incorrect payment credentials. Within 48-hours, your order will automatically be confirmed by our system & a confirmation will be sent to you through Email and SMS. However, if your order is not confirmed or you get a payment declined message, please check with your bank for details or contact us. Please stay rest assured that your amount will be refunded to you in case of failed order transaction. In case of no communication, please email us on cs@croma.com or call on 7207-666-000.
CAN I USE MORE THAN ONE PAYMENT METHOD, OR COMBINE PAYMENT MENTHODS, TO MAKE MY PURCHASE?
If Croma Giftcard or Mygyftr voucher value is less than the cart value, you can pay for the balance amount through other pre-paid modes like Credit Cards or Debit cards or Net banking or Wallets. No two cards or prepaid mode of payment can be combined at the moment.
WHY ARE PRICES DIFFERENT FOR SAME ITEM FOR DIFFERENT DELIVERY LOCATIONS?
Prices for products are same for all locations.
ARE THE PRICES DISPLACED ON WEBSITE SAME TO CROMA STORE PRICES?
All prices on the Croma website are similar to Croma storeprices.
However, depending on your shipping location, the pricesmay vary as per the applicable local taxes.
ARE THERE ADDITIONAL DISCOUNTS AVAILABLE ON BULK PURCHASE?
Currently, we do not offer bulk purchase discounts on ourwebsite. For bulk/ corporate purchases please contact ourinstitutional business team at corporate@croma.com
HOW CAN I CONTACT FOR QUERIES REGARDING MY ONLINE ORDERS ON CROMA?
If you have any queries, kindly reach us on our 24 hours Croma Customer Care No. 7207 666 000
HOW CAN I CONTACT FOR CROMA STORE RELATED QUERIES?
For any queries related to Croma store, we request you to contact us on 24 hours Croma Customer Care No. 7207 666 000.
Need more help?
Connect with us and we will help you out