What is the difference between Full-Frame and Crop-Sensor Camera? 
Know the differences so you can pick the best Camera for your needs.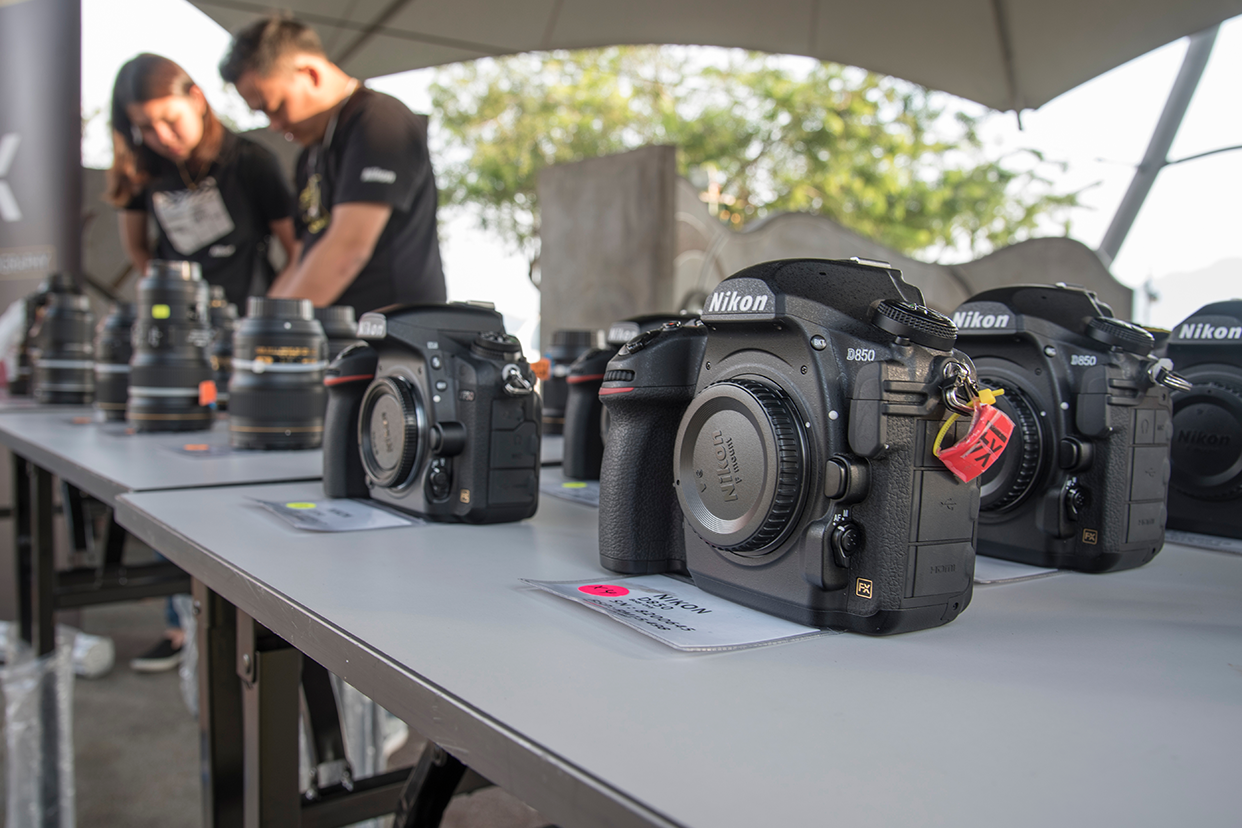 The basic difference between a Full-Frame and a Crop-Sensor Camera is the size of the image sensor. The size of sensors can have a great impact on your captured photos. Many users look at the size of imaging sensors while buying a Camera . DSLR Camera and Mirrorless Camera bodies have both, Full-frame and Crop-Sensor sizes.  
What is an Image Sensor?     
It's the bit inside the Camera where the light hits. It converts an optical image into an electronic signal; the result – is a digital image. While buying a Camera, we need to decide on what sensor size is suitable for your requirements. There are two main categories of sensors- full-frame sensors and crop-sensor. Full-Frame vs. Crop-Sensor Cameras: Which offers best Magnification 
What is a Full-Frame Camera?     
Full-Frame Cameras have a sensor equal to the size of the 35 mm film Camera (24 mm x 36 mm). With the bigger size of image sensors, you have a chance of capturing a supreme quality image with more light and minute details.  
What is a Crop-Sensor?     
Any Camera with a sensor size lesser than full-frame Cameras is considered a Crop-Sensor Camera. Their sensor size is less than 35mm. A Crop-Sensor Camera has something called a crop factor. It means an image is cropped, giving us a magnified view of images. APS-C and Micro Four-thirds Cameras use Crop-Sensors. 
Full-Frame vs. Crop-Sensor Cameras: Which offers the best Magnification?    
The Crop-Sensor Camera has a smaller sensor size, they crop a part of the image. They deliver a magnified image. It is useful in wildlife photography or action photography. 
Whereas in a full-frame Camera, you would have to buy an expensive long zoom lens for the same result. Many professionals use Crop-Sensor Cameras for this reason.   
Full-Frame vs. Crop-Sensor Cameras: Which works better in Low light?     
Full-frame Camera with its bigger sensor size can work with a higher ISO to brighten the picture. These Cameras are a perfect fit for nighttime photography. You can easily capture space objects with full-frame Cameras. 
Due to their smaller sensor size, crop-sensor Cameras don't work well with dim-lit settings. Photos captured with Crop-Sensor Cameras and high ISO settings always have greater noise. 
Full-Frame vs. Crop-Sensor Cameras: Which have a better wide angle?     
We know due to its smaller size, the crop-sensor Camera removes a part of the image. This is not suitable when we want to capture a landscape image. Full-frame Cameras are best in this regard. They have better wide-angle capabilities. They can easily capture needed landscapes. 
Full-Frame vs. Crop-Sensor Cameras: Which is lighter?     
Even though mirrorless Cameras are compact in size, the added weight of full-frame Camera sensors can not be ignored. The weight is due to the size of the sensors. Whereas Crop-sensor Cameras are lighter. 
Full-Frame vs. Crop-Sensor Cameras: Price difference     
Crop-sensor Cameras are cheaper compared to Full-frame Cameras. We also get relatively less pricey lenses. That is why most beginners buy Cameras like Nikon APS-C.   
<!—H2 title-->
Which Camera should you get: A full-frame or a Crop-Sensor Camera? 
Many professionals consider full-frame Cameras to be a standard. But with time, Crop-Sensor Cameras have given quality results. Also, getting a full-frame Camera can't necessarily mean you become a better photographer. Thus it all boils down to your needs and budget.  
If you have a tight budget, don't go for older full-frame Cameras. Instead, you can buy new Crop-Sensor Cameras which give better results. You can also invest in a full-frame Camera lens. So you can use it with a Crop-Sensor Camera.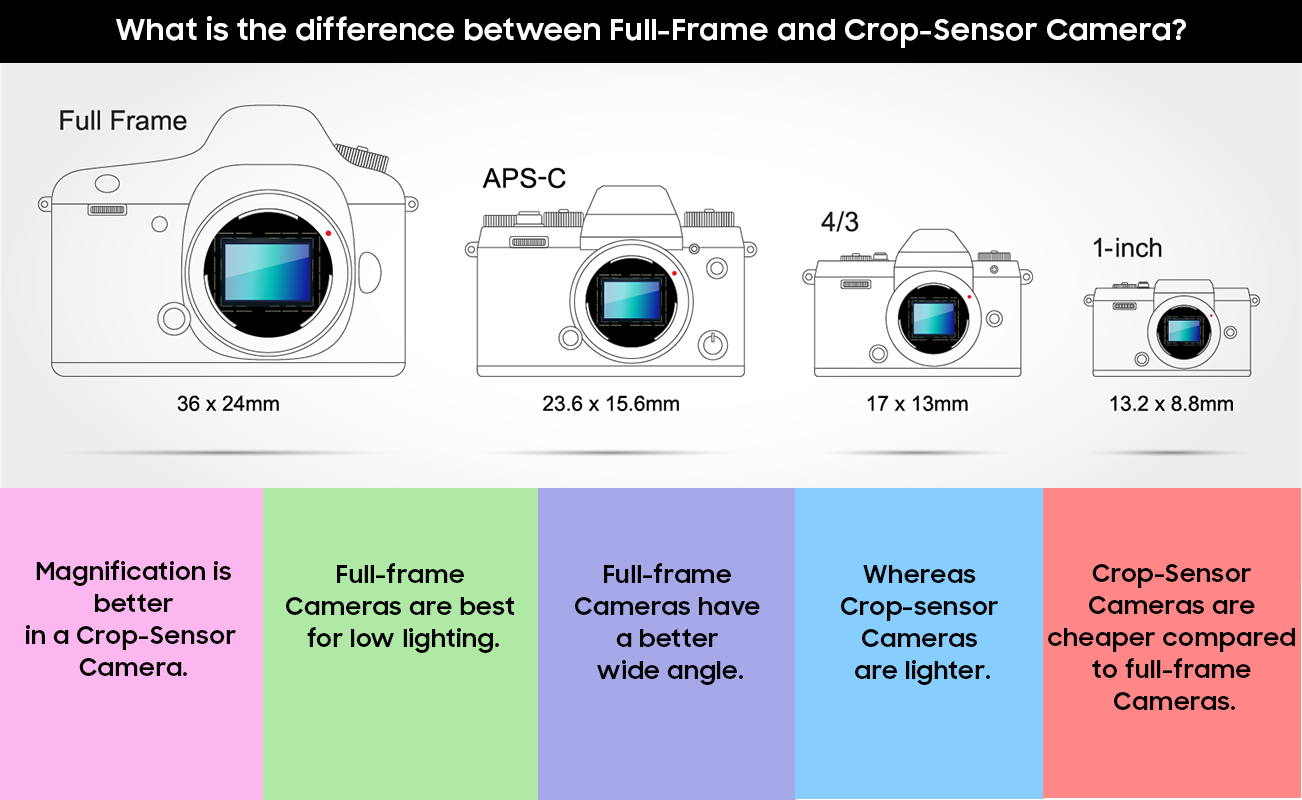 Disclaimer: This post as well as the layout and design on this website are protected under Indian intellectual property laws, including the Copyright Act, 1957 and the Trade Marks Act, 1999 and is the property of Infiniti Retail Limited (Croma). Using, copying (in full or in part), adapting or altering this post or any other material from Croma's website is expressly prohibited without prior written permission from Croma. For permission to use the content on the Croma's website, please connect on contactunboxed@croma.com