A guide to mirrorless cameras
Mirrorless Cameras are the future!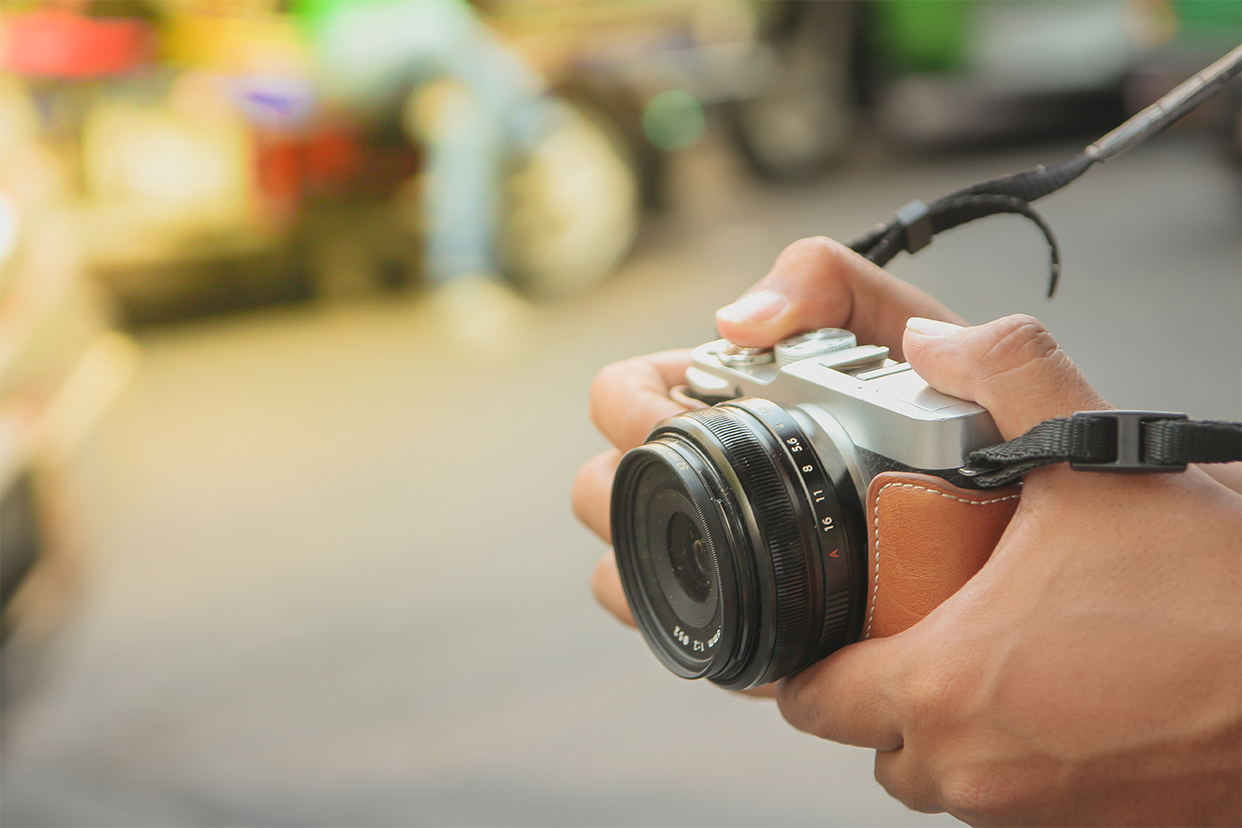 As the technology evolved, digital Cameras like Mirrorless Cameras and DSLR Cameras became popular. DSLRs offer high quality photos but are heavy to carry. This is where Mirrorless Cameras stepped in. They are easier to carry due to their compact design and deliver high qulaity images. Due to this perfect combination of size and quality, Mirrorless Cameras have steadily become popular. 
<!—H2 title-->
What is a Mirrorless Camera? 
As the name suggests, Mirrorless Cameras do not have a mirror mechanism. It works without a reflex mirror. Light travels directly to the digital sensor through the lens, which then shows the image on the Camera's LCD screen. It allows you to make changes in the setting and preview before you click on the shot button. Mirrorless Cameras are Mirrorless bodies with interchangeable lenses. 
<!—H2 title-->
How does a Mirrorless Camera work? 
In a Mirrorless Camera, there is no mirror, no OVF (Optical Viewfinder), and no pentaprism like a DSLR. The light passes straight through the lens to the sensor, which handles autofocus. The sensor sends the image to the electronic viewfinder and the Camera's LCD screen. In the viewfinder, we can see what exactly the image is going to look like. We can adjust settings and make changes to the image in real-time before capture. 
<!—H2 title-->
Mirrorless Cameras are compact as compared to DSLR Cameras 
Without the mirror and pentaprism, Mirrorless Cameras are thinner from front and back. It also makes Cameras more compact and easier to handle. That is why photographers are inclining towards Mirrorless Cameras. Many travel vloggers use Mirrorless Cameras as they are lightweight and have fewer moving parts. 
<!—H2 title-->
Mirrorless Cameras are best for videos 
Mirrorless Cameras have taken over their contemporaries in this area. Many Cameras provide better 4k video recording. With its live view autofocus, Mirrorless Cameras provide a better 4k broadcasting experience. Few models come with a screen that flips out, and the user can rotate it to see himself while making a video. This is one of the reasons why Mirrorless Cameras are popular among video content creators. 
<!—H2 title-->
Other advantages of Mirrorless Cameras  
Like DSLRs, Mirrorless Cameras also come with interchangeable Camera lenses. These interchangeable lenses help users to shoot with a long zoom lens or a portrait lens. 
Mirrorless Cameras have autofocus based on the sensor. You let the Camera do the focusing and adjust exposure to your liking. You no longer have to fine-tune each of your bodies and lenses. Thus, there are no front and back focus issues.  
Mirrorless Cameras also come with a silent shutter. Thus, you do not attract any unwanted attention during shooting. 
<!—H2 title-->
Which Mirrorless Cameras are the best fit for you? 
Mirrorless Cameras have various features. You can choose a Camera that matches your needs. If you are a beginner with a tight budget, then Mirrorless Cameras with APS-C sensors are a good fit. Many professionals who want high-quality video and images use full-frame Mirrorless Cameras.  
Sony Mirrorless Cameras comes with full sensor capture and are best for high-speed shooting. With no moving parts, they have a clear advantage. Their capture rates are nearly on par with high video frame rates.  
Mirrorless Cameras have drawbacks with less battery life and restricted accessories compared to DSLRs. But with newer updates, Mirrorless Camera bodies are shortening the gap.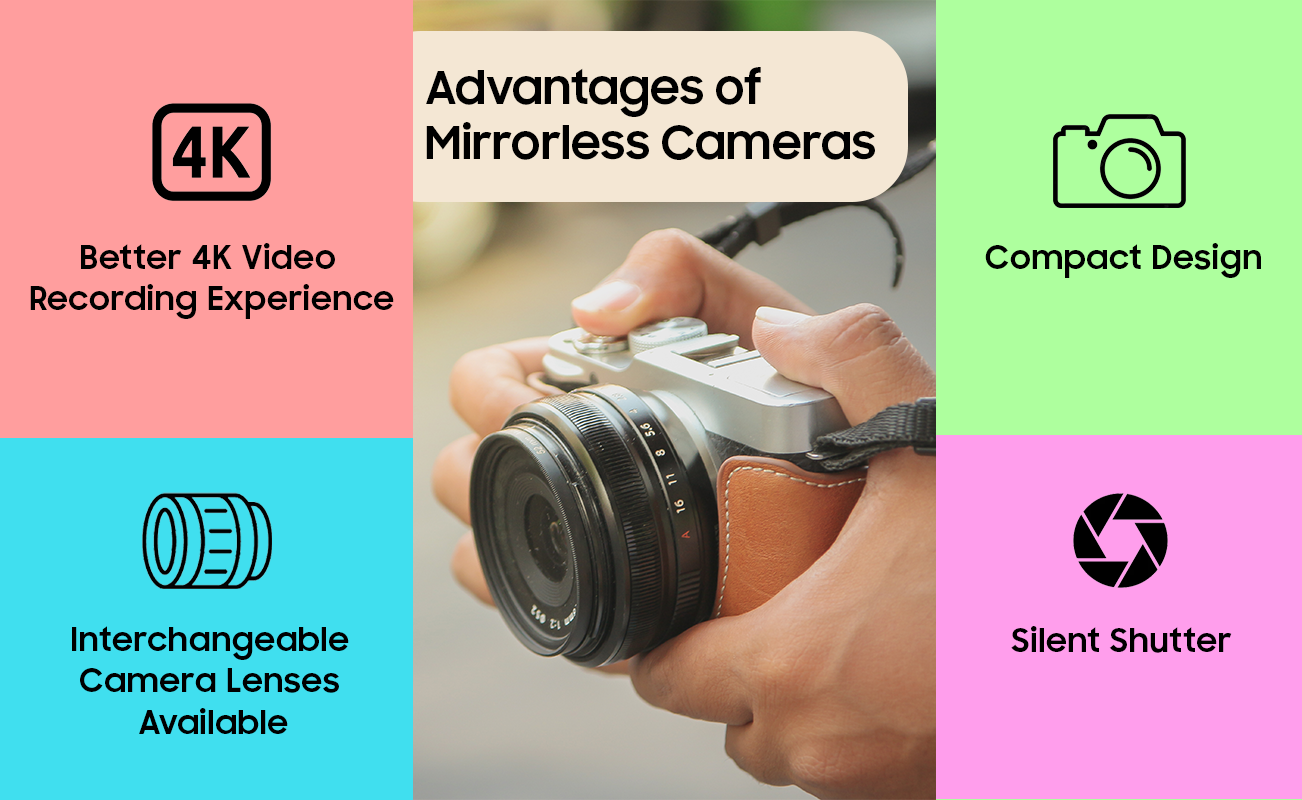 Disclaimer: This post as well as the layout and design on this website are protected under Indian intellectual property laws, including the Copyright Act, 1957 and the Trade Marks Act, 1999 and is the property of Infiniti Retail Limited (Croma). Using, copying (in full or in part), adapting or altering this post or any other material from Croma's website is expressly prohibited without prior written permission from Croma. For permission to use the content on the Croma's website, please connect on contactunboxed@croma.com