Desktop or Laptop: What should I buy?
Let's discuss the pros and cons of each to help you choose the best.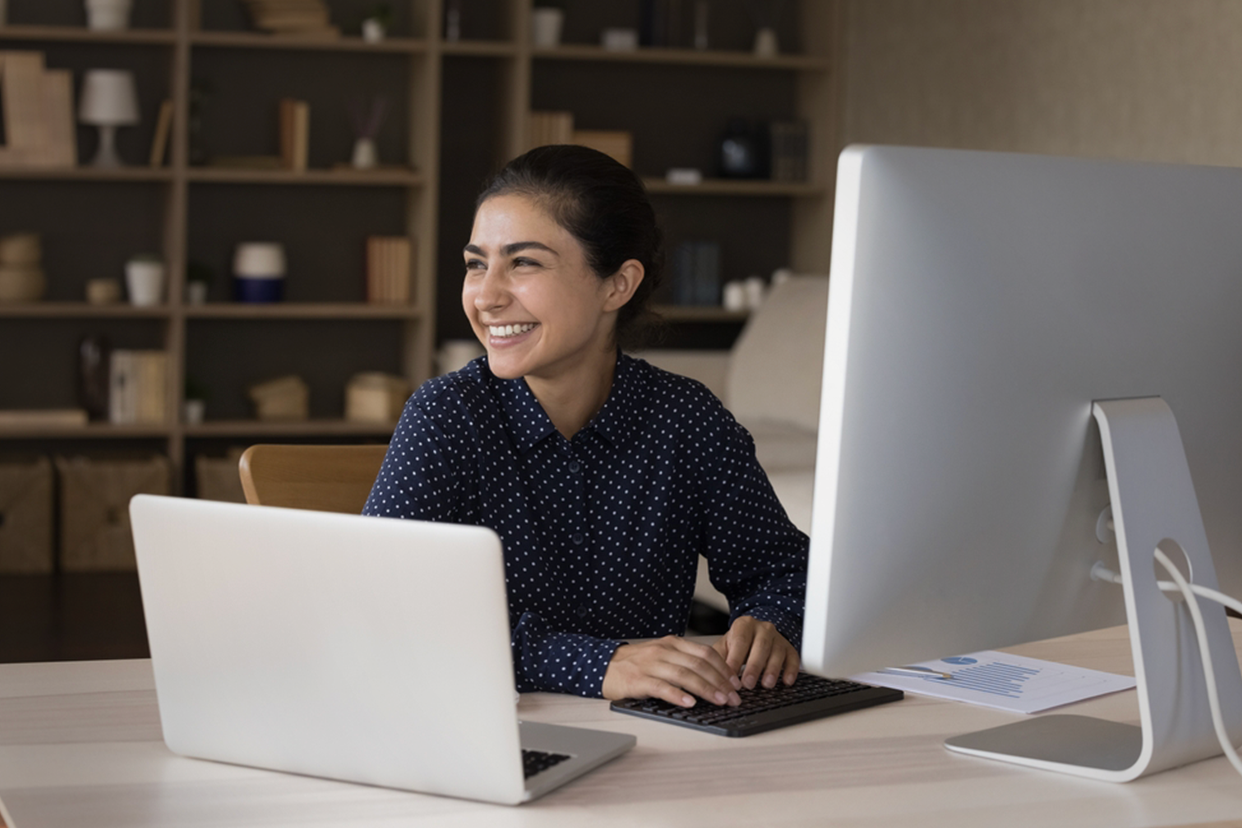 The Laptop or Desktop debate has been going around ever since the first portable laptop was invented, and the arguments on either side haven't changed much and the choice comes down to the requirement and need.
So, which one is best for you: Desktop or laptop? We compare their features below, which will help you make an informed buying decision as per your needs.
<!—H2 title-->
Laptops are portable
For the most part, desktops have been relegated to workspaces – think schools, government, and a few private offices – but laptops are slowly but surely replacing them here too. Portability is a major reason for this shift.
With its compact size, Laptop clearly triumphs over the desktop. It is an all-in-one computer system. Even if you move across the world, you can just fit your laptop in a bag and take your work with you
Meanwhile, Desktops are heavy and difficult to move. They need to be connected to power all the time. Due to their portability, people are more likely to buy laptops over desktops.
<!—H2 title-->
Most Laptops do not need extra peripherals
As a form-factor Laptops come with peripherals like a built-in display, keyboard, integrated battery, etc. We cannot use a Desktop without its accessories. While the keyboard, mouse, and screen are part of the entire package, you will likely have to buy other accessories such as Microphones , speakers , etc. you buy a desktop, you will have to separately buy these accessories. However, All-in-One Desktop PCs tend to include such accessories.
If you are looking for convenience and do not have time or the expertise to assemble a desktop, then laptops are for you. You can use them right from the moment you push the power button.
<!—H2 title-->
Desktops depend upon electricity
Desktops do not come with an incorporated battery. They are connected to power all the time. Laptops already have an integrated battery that lasts for four to five hours. You can also use a power bank to charge the laptop. In some cases, this is better because the desktop will serve you well only as long as there is electricity flowing. On the other hand, a laptop can still continue to work for as long as there is charge in the battery.
<!—H2 title-->
Desktops can be configured as per your requirement
Even with the rise in usage of laptops, desktops still have an edge over laptops due to their performance. At a glance, both have similar components like processors and graphics.
But desktops are equipped with powerful memory, expansion ports, and local storage. They are capable of handling power-consuming projects such as video editing, image processing, and critical coding projects.
With technological advancement, laptops are getting better battery life, powerful processors, and excellent computing speed. And manufacturers are bridging the gap with the increase in quality performance. Many users are now also buying high-quality laptops. For example, many coders prefer to work with MacBook for complex coding projects as it gives the same results.
This has also given rise to gaming laptops. Manufactured according to the gamer's needs, these laptops consist of powerful hardware. They can easily download the latest hardware-intensive releases.
<!—H2 title-->
Upgrading the Desktop is easy
Upgrading laptops depends on the manufacturer and model of the laptop. They need brand-specific parts to do the upgrades. In most cases, users can easily upgrade RAM, and hard drive and have alternatives for better battery performance.
There are instances where manufacturers allow to increase the processor's speed. But since there isn't any impactful result in performance, this is not encouraged. Unlike laptops, desktops offer more upgrade options to users. It is easier for a desktop to upgrade as we can remove its parts on a case-by-case basis. Users can increase more RAM as compared to an average laptop. The same goes for hard drives.
Also upgrading the CPU and graphic card is easily possible for desktop.
<!—H2 title-->
The price matters
Laptops tend to be relatively expensive compared to desktops. But we need to keep in mind that laptops come with required features built inside.
Desktops, sitting in one place, are less prone to damage and theft. The cost of repair is less as we can just repair the damaged part. This is not the case with laptops as they need brand-specific care.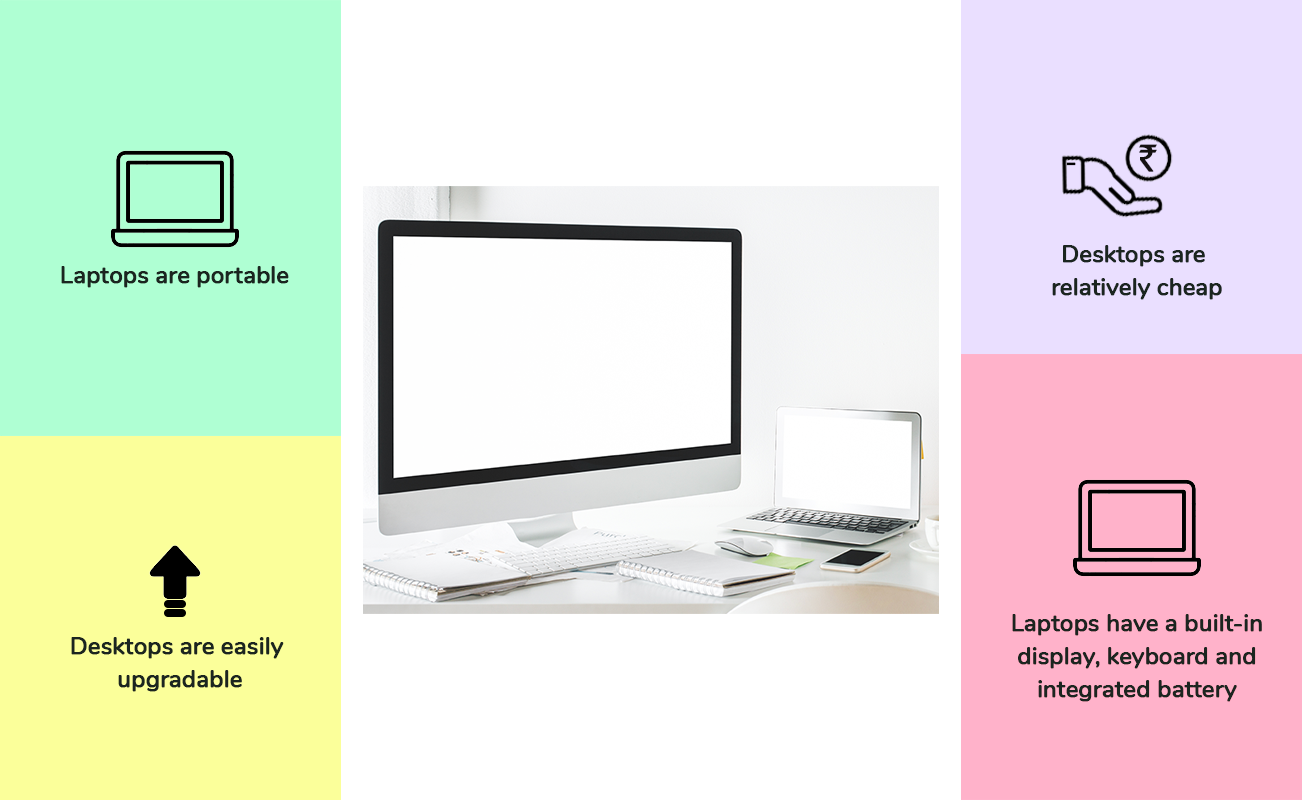 Disclaimer: This post as well as the layout and design on this website are protected under Indian intellectual property laws, including the Copyright Act, 1957 and the Trade Marks Act, 1999 and is the property of Infiniti Retail Limited (Croma). Using, copying (in full or in part), adapting or altering this post or any other material from Croma's website is expressly prohibited without prior written permission from Croma. For permission to use the content on the Croma's website, please connect on contactunboxed@croma.com