DSLR cameras: Everything you need to know before buying one 
The DSLRs are still great cameras to buy offering larger bodies, better battery life, and a huge range of lenses  
Everyone wants to capture their life's best moments with beautiful pictures or some want to pursue photography professionally. All they need is a good camera.  
While buying a camera, it's normal to get dazzled by many options like DSLRs, and compact and mirrorless cameras. We have listed out what features make DSLR cameras unique. So, it gets easier for you to make a choice.  
<!—H2 title-->
What DSLR means?  
DSLR is an acronym for Digital Single-Lens Reflex cameras. This means there is a mirror inside the camera which lets us look directly into the viewfinder and see out of the lens. We can see the image we will get when the shutter is triggered. As the shutter is activated, the mirror swings and the image sensor capture what we saw.  
With technological advancements, DSLRs became equipped with electronic viewfinders. It was one of the main reasons that gave DSLRs an edge and they became popular.  
<!—H2 title-->
How does DSLR camera work?  
In the older version of DSLR cameras, light passes through the lens and hits a mirror inside the camera. The mirror bounces the light through the prism into the viewfinder where a shot is framed.  
In present-day modern DSLR cameras, half of the light goes to the Optical Viewfinder (OVF) while the other half hits a distinct autofocus sensor. When the photographer takes a photo making the distinctive shutter sound, the mirror assembly flips and the light goes through the digital image sensor. Then, it captures the photo on the SD card. These image sensors create such a picture that leaves your smartphone's camera miles behind.  
<!—H2 title-->
The image sensor in DSLR Camera  
The two primary sensor types are full-frame and APS-C. Full-frame sensors are standard and give a similar result as a 35 mm film camera. APS-C sensors are a bit smaller, resulting in a shorter focal length called 'crop factor'. These sensors can be compensated by using specific lenses. You should keep these sensors in mind while looking for DSLRs.  
<!—H2 title-->
Interchangeable Lens in DSLR Camera  
A unique feature of DSLR is letting interchangeable lenses on the same camera. They accept a diverse range of different lenses such as ultra-wide lenses taking in loads of detail, macro lenses which let us see macro detailing and telephoto lens which is perfect for amazing portraits.  
Buying lenses with different properties opens up great possibilities for professional photographers and offers them greater creative freedom. Also, people interested in space as a hobby can use cameras like Canon DSLR.  
<!—H2 title-->
DSLR are customization-friendly 
Along with interchangeable lenses, manual controls of DSLRs are where users can make a difference. General compact cameras have various modes like 'sunset', 'portrait', and 'macro'.     
In most DSLRs, we see five modes as Full Auto (often shown as a green square), Program Auto, Aperture Priority (A or Av), Shutter Priority (S or Tv), and Manual.  
Barring Full Auto, users can have partial or full control over each of the settings to help create a picture as they envisioned. Users can partially or completely adjust aperture, shutter speed, and exposure to get the best output.  
<!—H2 title-->
What is the battery life of DSLRs?  
DSLRs consume less power as they don't need to be digital all the time. This increases their battery life.  
<!—H2 title-->
The Autofocus feature of DSLR Camera  
Most modern cameras come with autofocus. DSLRs have better autofocus features to focus and shoot with a cutting-edge speed to capture high-quality images. Autofocus allows users to use a DSLR like a point-and-shoot camera but with better quality.  
With all their formidable strengths, DSLRs do have some drawbacks. You can find them quite heavy compared to common cameras. Some folks have difficulty adjusting to the autofocus system of DSLRs. But despite its flaws, the DSLR stands tall among its contemporaries.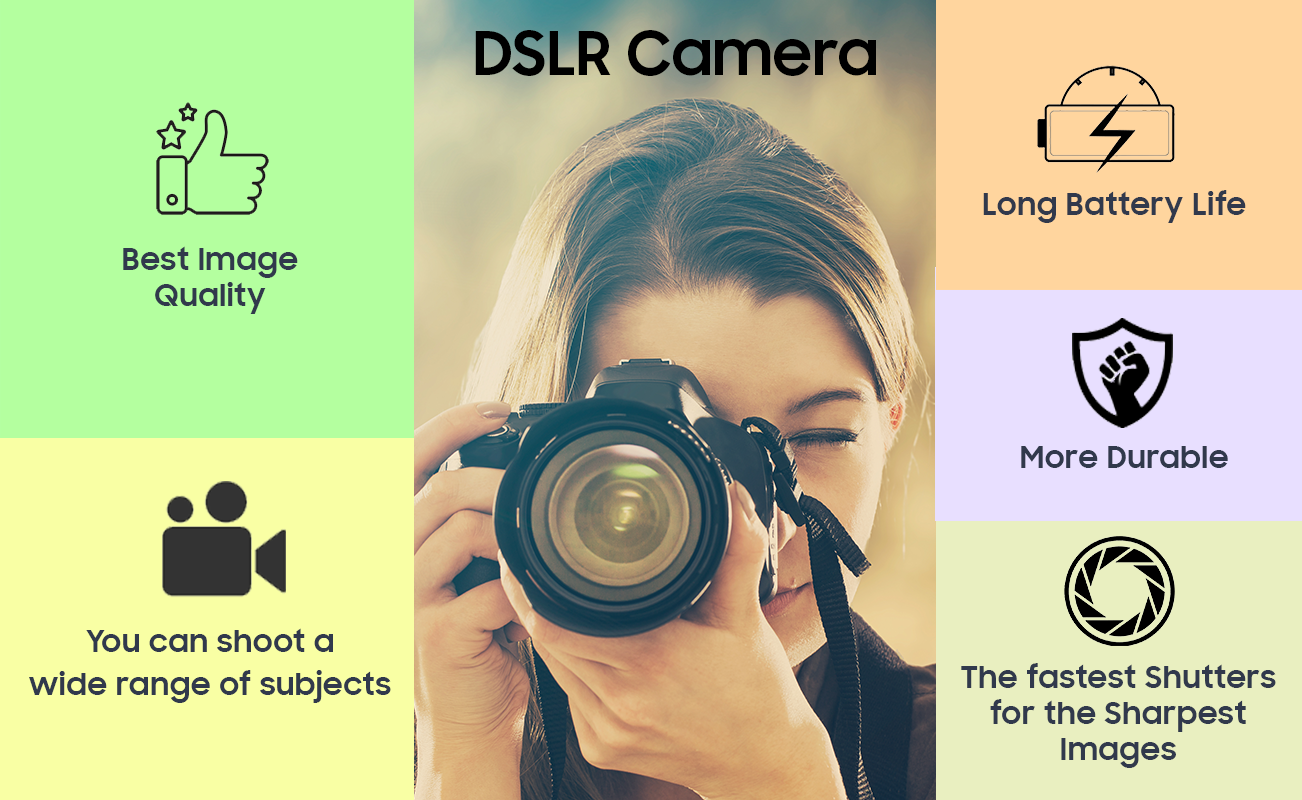 Disclaimer: This post as well as the layout and design on this website are protected under Indian intellectual property laws, including the Copyright Act, 1957 and the Trade Marks Act, 1999 and is the property of Infiniti Retail Limited (Croma). Using, copying (in full or in part), adapting or altering this post or any other material from Croma's website is expressly prohibited without prior written permission from Croma. For permission to use the content on the Croma's website, please connect on contactunboxed@croma.com