PS5 accessories: Which PS5 gaming controller should you choose?
DualSense vs DualSense Edge: Which PlayStation 5 controller is for you?
Sony recently made its newest controller for the PlayStation series available globally, and if you own or plan on getting your hands on a Sony PlayStation 5 in the near future, PS5 accessories is likely where you'll turn your eyes next. You may be split between the two PS5 gaming controllers available in the market – the standard DualSense wireless controller, and the new DualSense Edge wireless controller . Should you spend less and get the vanilla DualSense controller, or should you reach deeper in your wallet for the newer DualSense Edge? Here are the answers to all your queries.
<!—H2 title-->
DualSense vs DualSense Edge: Features
The Sony DualSense Edge wireless controller comes with two extra buttons on the back when compared to the standard DualSense. These can be configured as per the user's liking for any input. For instance, users can use the buttons for swapping between weapons or sprinting.

That's not all the customisability the DualSense Edge offers you. You can also swap all the other inputs on the controller, or even deactivate a specific input, things you cannot do on the standard DualSense controller.

The DualSense Edge also allows you to control the adaptive triggers and set the distance at which an input is registered, allowing you to have shorter travel or longer, based on your playing style. This should be ideal for shooting games, but also across many other genres including racing games.

ALSO READ: Sony PlayStation 5 Pro may launch this summer: What's known so far

The DualSense Edge also allows users to set up multiple controller profiles and switch between them. This is great when you have different controller settings for different games you regularly play, and saves you the trouble of switching all your controls and settings back and forth each time. A dedicated Fn button will allow users to swap between profiles in the middle of a game, or simply to adjust volume and chat balance.

The PlayStation DualSense Edge also is a more sustainable controller, allowing you to replace components on it that go through wear and tear over time. Yes, we're talking about the analogue sticks that will eventually erode away and leave behind bare plastic for you to grip.

On the DualSense Edge controller, you can replace these analogue stick modules, which will be sold separately. Users will also be able to use different stick caps on top of these analogue sticks, and can switch between standard caps, high dome caps, or low dome caps, based on whatever their preference is. Users can also use different caps on each of the analogue sticks if they choose to do so.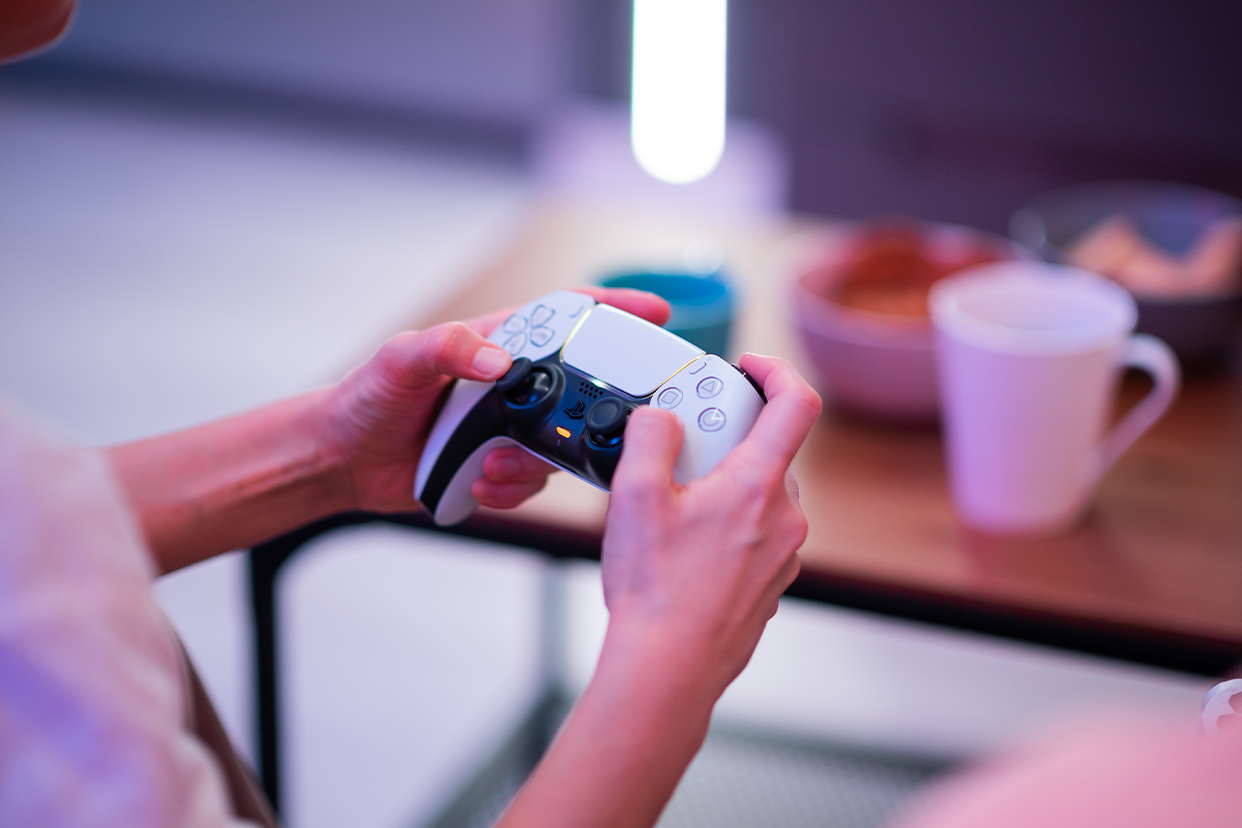 The DualSense Edge controllers also come with an on-controller user interface that allows you to configure settings seamlessly during gaming, as well as a lockable USB cable that can be locked into place when you're playing in wired mode, reducing the chances of an accidental pull-out at a crucial moment. PS5 DualSense charging station users will also be glad to know that the DualSense Edge can also be charged with the standard PS5 controller charger.
<!—H2 title-->
DualSense vs DualSense Edge: Pricing
The Sony DualSense controller is currently priced at Rs 5,590 or Rs 5,990 on Sony's official portal, depending on which colour you buy. Meanwhile, the DualSense Edge Controller is available in only a white variant, and is priced at Rs 18,990.

While the DualSense Edge is about thrice as expensive as the standard DualSense Controller, there are a number of additional features it comes with. If you're a hardcore gamer who wants the best controller experience along with some modularity for the analogue sticks to future-proof your controller, the DualSense Edge may be the better buy for you. If you're more of a casual gamer, you could stick to the standard DualSense controller, which still comes with plenty of features and has been used alongside the PlayStation 5 for over two years now.
Disclaimer: This post as well as the layout and design on this website are protected under Indian intellectual property laws, including the Copyright Act, 1957 and the Trade Marks Act, 1999 and is the property of Infiniti Retail Limited (Croma). Using, copying (in full or in part), adapting or altering this post or any other material from Croma's website is expressly prohibited without prior written permission from Croma. For permission to use the content on the Croma's website, please connect on contactunboxed@croma.com