A complete guide to smart home devices
Let's make your home a smart home!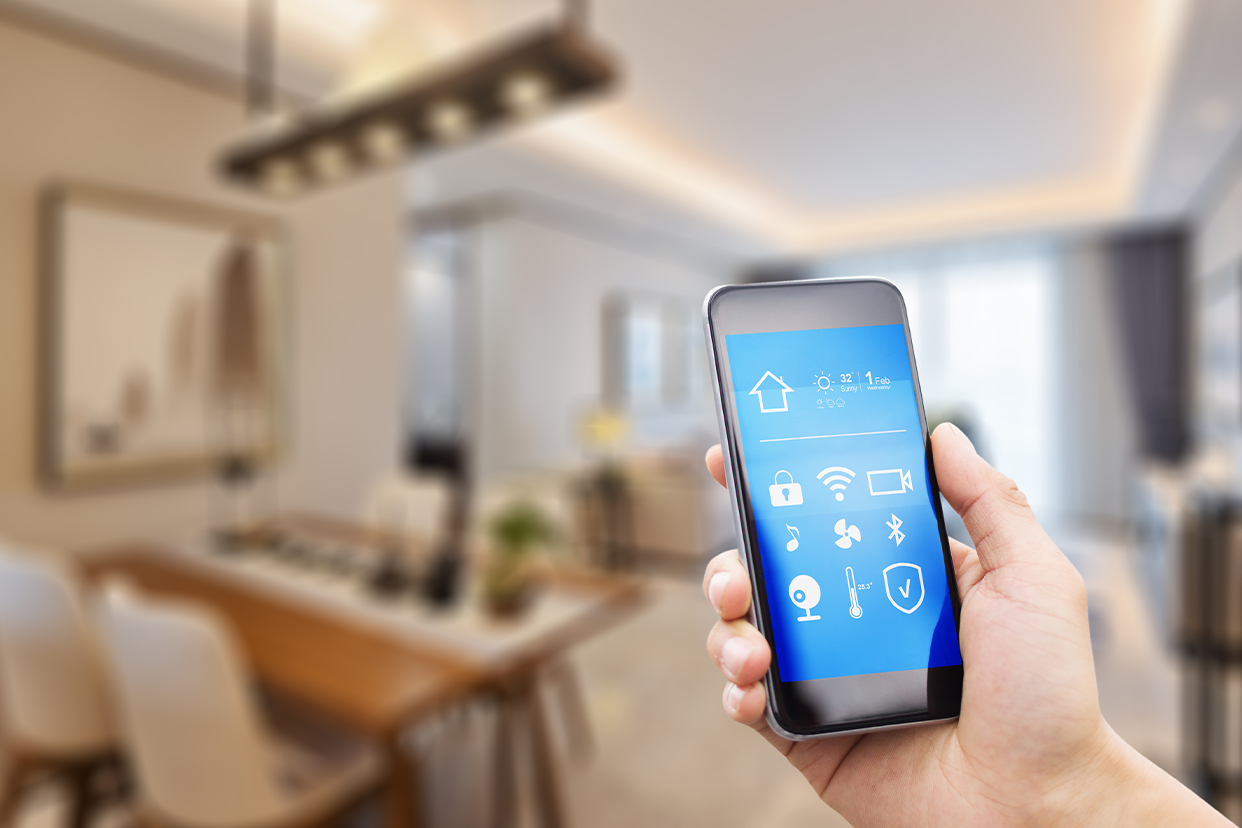 Technological advancements have changed our lives. And nothing has changed our way of life more than the internet. Slowly and steadily, the internet has been sipping into every aspect of life and technology surrounding us. Faster, cheaper, and reliable — the internet has made things possible that we have only read about in science fiction books a few decades back. One of them is the concept of smart home and smart home devices — and we've simplified them for you:
<!—H2 title-->
What is a smart home?
In the simplest of terms, when you can control your home appliances like lighting, heating, and other electronic devices remotely with a smartphone or a computer, it is known as a 'smart' device. In a smart home device, electronics can be automated and operated from wherever you are. You can perform functions and tasks without human intervention. One of the characteristic features of smart homes is the ability of different smart devices to connect to the internet.
<!—H2 title-->
Various smart home devices
Smart devices are available for nearly all aspects of our lives where technology has entered our homes. Here's how you can bring some "smartness" into your home.

Lighting: This is perhaps the most basic component of any smart home setup. Smart bulbs are widely available and are of various types as well. Smart bulbs that can work without the internet connection via Bluetooth so you can remotely control them but only up to a limit. A true smart bulb will connect over the internet via WiFi.

It will have a dedicated app to operate and control it remotely. You can connect it to a smart assistant hub as well. There are motion-sensing smart bulbs available in the market as well. You can do a lot with smart bulbs, from scheduling the turn-on and off time to the intensity of light, colour, mood, etc.

Entertainment: Nowadays, we have a hard time finding regular TV. A smart TV is a common sight in most households, but it's just one part of an entertainment setup. A smart home is not complete without a smart speaker. Apart from acting as a conventional speaker, a smart speaker comes with a voice assistant that helps you with an array of things.

You can connect various other compatible smart devices to the speaker. This allows you to control the connected devices by using the voice assistant. Thus, it acts as an integral hub that connects and controls various smart devices.

Temperature: Nowadays, you no longer have to worry about the debate between inverter vs non-inverter AC. There are smart ACs available on the market that can connect to WiFi and have dedicated apps. This makes your life easier! From temperature to scheduling on and off, you can remotely control your AC from anywhere at all.

You can also monitor the use of your AC from anywhere. It can show you energy consumption and reminders to change filters, among various other things.

Security: There are a range of security-related smart devices available that one can install to ensure not just the safety of their home, but also reliability in the whole system. Smart doorbells are small devices that you can use instead of conventional doorbells. These come equipped with a camera and a speaker. It can record who visits you among various other things.

Motion-detected security cameras are another thing you can install around the house if you want a system that will monitor everything without much intervention. A baby monitor is another smart device that has been gaining popularity among households where both parents are working.

Kitchen: A kitchen is somewhere you find a lot more technology than you anticipated. From smart fridges to smart coffee makers, there is a range of kitchen equipment you can bring in to make your life convenient.

Smart refrigerators can monitor the expiry dates of stored food items and can remind you of things that you are running out of. Some fridges will suggest recipes to cook from the things in your fridge.

Smart Fans: Smart fans, in addition to ensuring circulation in a room, also help the room remain at a constant temperature via an integrated smart thermostat. What's more, a user doesn't even have to be in the same room to operate them, as smart fans are Wi-Fi enabled and thus can be controlled from just about anywhere. Too lazy to switch them on or off via the remote or your phone? Worry not, many of them also support voice commands, and come integrated with Alexa and/or Google Assistant.

Others: If you are one of those, like most of us, who find cleaning challenging — consider getting a robot vacuum cleaner. These will keep your floors squeaky clean without you working on them. These are small disk-shaped automatic vacuums. It roams around your entire house and cleans it.

You can get a smart washing machine that can be remotely controlled. It gives you immense flexibility of use. Apart from these, you can use a smart plug and connect your various other smart devices to your smart speaker as well. This will allow you to turn them on and off using your voice assistant.

If you think this all seems daunting, then worry not. This goes without saying, you can slowly incorporate smart devices into your home and your life. You can integrate them according to your needs to build a solid smart home setup. 
Disclaimer: This post as well as the layout and design on this website are protected under Indian intellectual property laws, including the Copyright Act, 1957 and the Trade Marks Act, 1999 and is the property of Infiniti Retail Limited (Croma). Using, copying (in full or in part), adapting or altering this post or any other material from Croma's website is expressly prohibited without prior written permission from Croma. For permission to use the content on the Croma's website, please connect on contactunboxed@croma.com