How to save up to buy your dream gadget AND earn 10% extra!
Hubble is the app you didn't know you needed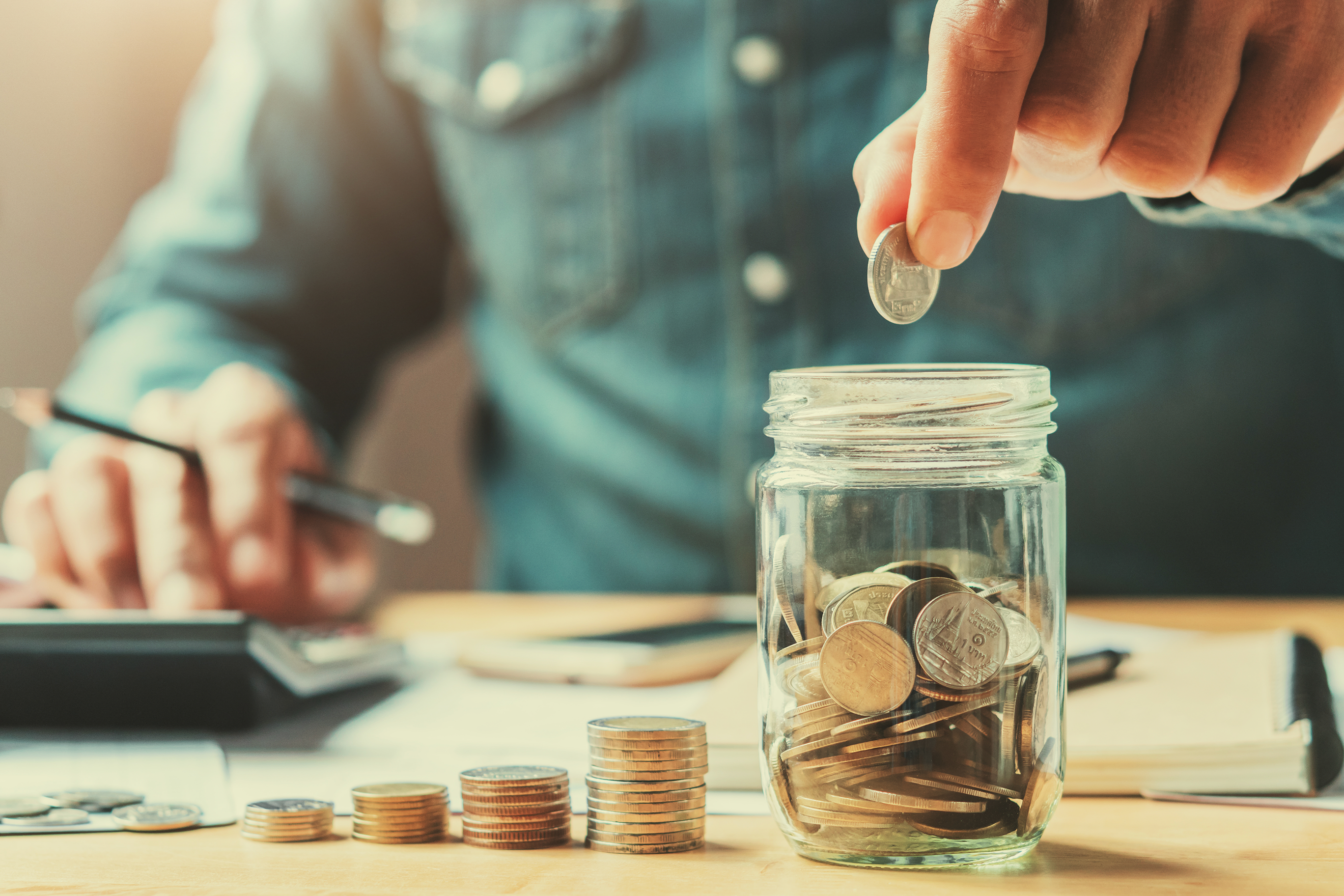 Think of that gadget you've always wanted to own but could never get around to buying it because... well... reality check? We've all been there, putting off the purchase of the new iPhone, that Surface Pro, the PS 5, the latest Samsung... you get the picture. 
So, you start saving up a few thousand rupees every month, and wait for the next Croma sale to spend it all. Except, like that MWF workout regime you started last week, your saving plans go right out of the window by... well... Month Two. 
#hardrelate? Conveniently, Hubble x Croma is here to help. 
What's Hubble? 
This spanking new savings platform takes inspiration from the principle of a piggy bank, encouraging you to save up every month so you can buy the gadget you want at the end of a stipulated time period. 
But unlike that piggy bank from your childhood, Hubble adds 10% extra to every rupee you save. The 10% reward by Hubble isn't just an incentive for you to use the app but also so you don't fall off the wagon and stop saving up. 
To be sure, Hubble offers multiple plans that let you save at your own pace. And the 10% cash rewards it offers are applicable on all savings no matter how large or small. What's more? All the rewards you earn are entirely tax-free. 
How to use Hubble to buy from Croma 
If you're eyeing a particular gadget on Croma, all you need to do is: 
1. Select a plan on Hubble 
2. Set the duration to meet your target 
3. Start saving 
Your plan could be for a specific product – say, iPhone 14, Galaxy Z Fold 4 or, really, any appliance you've wanted to buy – or you could just start putting away money for a future purchase you're still not sure of. 
Use UPI to deposit funds to your Hubble account. Every time you save, Hubble will add a 10% reward in 30 days. 
At the end, claim your non-taxable rewards, and complete your purchase using Hubble!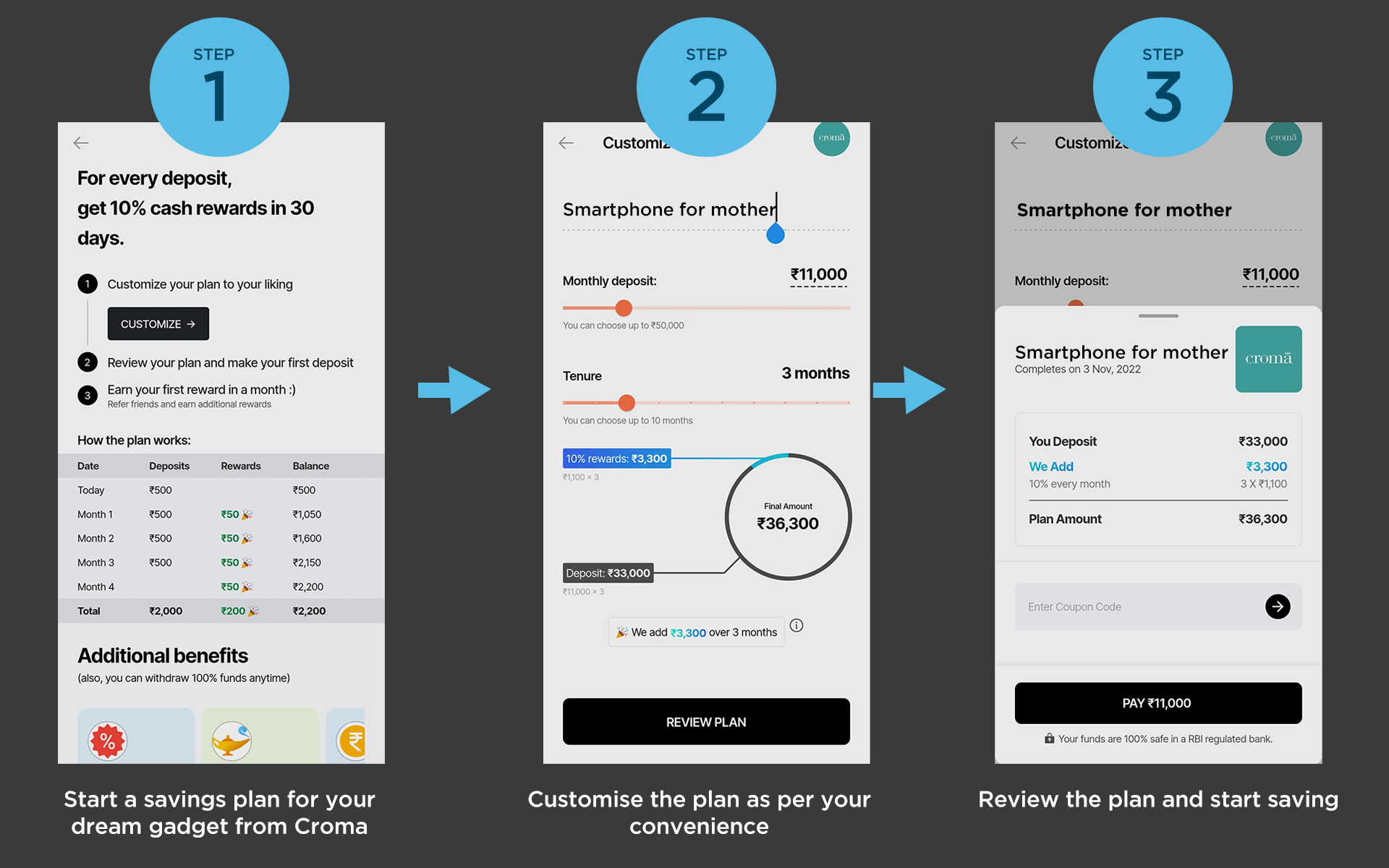 What can I buy from Croma using Hubble? 
The short answer is everything.  
Hubble has partnered with Croma – India's most trusted electronics retailer – to bring you the best products from our catalogue. From mobile phones to MacBooks, headphones to home appliances, DSLRs to televisions, you can buy anything you want from Croma, using Hubble. 
What if I change my mind about what I want to buy? 
Life is what happens to you when you're busy making other plans. We get that. Maybe you've been saving up for a new iPhone for yourself but your washing machine just broke down. You can simply switch plans and make the purchase of whatever product it is you want. And if you change your mind altogether, you can withdraw your money, no questions asked. 
Can I save up for more than one product on Hubble? 
Yes, you can. 
Save for each goal separately and watch your rewards grow. No matter what or how many products you buy using Hubble on Croma, expect 10% cash rewards on all brands. 
Is saving on Hubble safe? 
Your funds are safely parked in RBI-licensed banks and you can withdraw them at any time you want. Hubble also follows the highest security standards and your information is fully encrypted and secured. 
Start saving now so, come Diwali, you can buy your favourite gadget from Croma via Hubble! 
Disclaimer: This post as well as the layout and design on this website are protected under Indian intellectual property laws, including the Copyright Act, 1957 and the Trade Marks Act, 1999 and is the property of Infiniti Retail Limited (Croma). Using, copying (in full or in part), adapting or altering this post or any other material from Croma's website is expressly prohibited without prior written permission from Croma. For permission to use the content on the Croma's website, please connect on contactunboxed@croma.com