Power banks: Everything you need to know
Let's juice up your knowledge bank!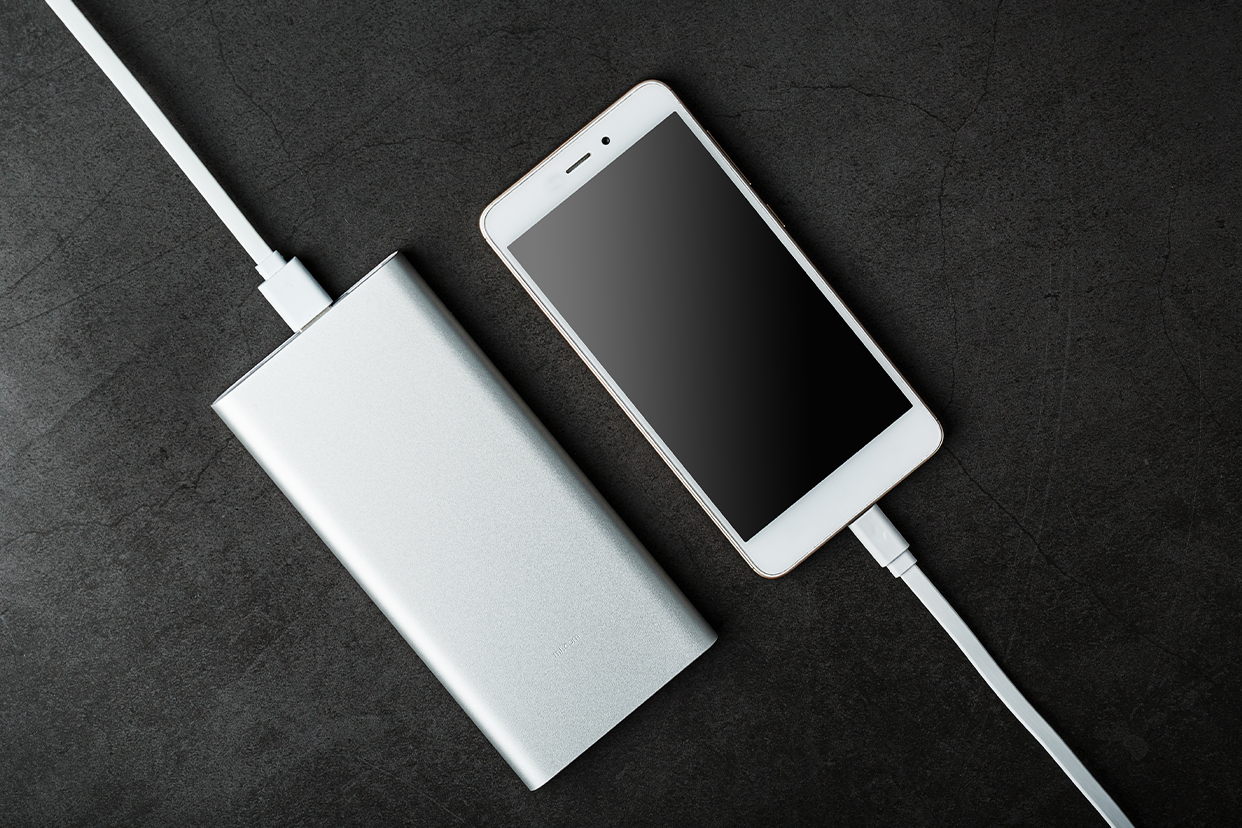 Phones have become an integral part of our life. And with our increasing screen time, most don't last us a whole day. But if you can't find yourself close to a plug point every now and then, having a power bank is the best way to ensure your phone stays juiced up for the important moments of your day.
<!—H2 title-->
What is a power bank?
They are compact, portable batteries that store energy for your devices. Slim and rectangular in shape, they are used to recharge battery-powered electronics such as phones , earphones , laptops , etc., on the go. They are handy for times you don't have access to the power outlet.

A power bank's built-in battery stores energy in chemical form through an external power supply such as a wall socket. When you connect it to a compatible device, it sends electrical energy via the output port. They work in the same way as any regular phone battery. First, you need to recharge them through a wall socket. They keep the energy stored and then release it when required.
<!—H2 title-->
Types of power banks
There are broadly four types of power banks available in the market:
A) Universal power banks: These are also known as standard power banks. You can charge them using a USB charger, and you can use them to recharge a variety of different devices. These include phones, earbuds, and other smaller devices. They come in a variety of shapes and sizes. Most power banks have some sort of indicator to show the state of charge left in them.
B) Solar-powered power bank: As the name suggests, these can be charged using solar power. These are only able to trickle-charge the internal battery when placed in sunlight. Since solar-charging is slow and can be subjective to weather conditions, they also have conventional methods to juice up the internal battery. A solar-powered power bank is a good solution for those who want to be environmentally sustainable and save some bucks.
C) Wireless power bank: You don't require cables to charge your phone or other compatible devices and can charge them using a USB source. But when it comes to recharging other devices from the power bank, you can do it wirelessly. These chargers use the Qi standard, and you can charge most wireless charging devices. However, note that you need a compatible device that supports wireless charging.
D) Battery phone case:These are different from all of the rest. These power banks come in the shape of a phone case. Thus, they have pretty narrow device compatibility. The technology used is pretty standard. One of the top benefits of these is you don't have to carry anything extra. The power bank acts like a phone case as well.
<!—H2 title-->
How long do they last?
The life expectancy of a power bank depends largely on two factors.
1. Number of charge/discharge cycles: This is one of the main deciding factors which determines the lifespan of a power bank. Generally, the number of charge-discharge cycles is quoted as the lifetime of a power bank. It might also be a case that your power bank will charge and discharge normally but after a while, its capacity falls by a certain degree. Some cheaper options available on the market may only offer 500 charge cycles.
2. Self-discharge time: This simply means the ability of the power bank to retain the charge when it is not used. A good power bank can hold a charge for 3 to 6 months with minimal loss. The internal components such as the type of battery used inside, the circuitry, and the case, all of them play an important role in it.

Power banks also lose charge under the influence of environmental fluctuations. For instance, extreme weather conditions, such as prolonged exposure to direct sunlight or cold temperatures may accelerate the discharge.
<!—H2 title-->
Battery Tech
Lithium-Ion and Lithium-polymer batteries are the two most common rechargeable batteries used in power banks. The capacity of a power bank is measured in mAh. Lithium-Ion batteries are generally inexpensive with less capacity, while Lithium-polymer batteries are more expensive with larger capacity.
Disclaimer: This post as well as the layout and design on this website are protected under Indian intellectual property laws, including the Copyright Act, 1957 and the Trade Marks Act, 1999 and is the property of Infiniti Retail Limited (Croma). Using, copying (in full or in part), adapting or altering this post or any other material from Croma's website is expressly prohibited without prior written permission from Croma. For permission to use the content on the Croma's website, please connect on contactunboxed@croma.com