Sony vs Canon: Which Camera brand is for you? 
Sony and Canon are the brand names that pop up when we talk about Cameras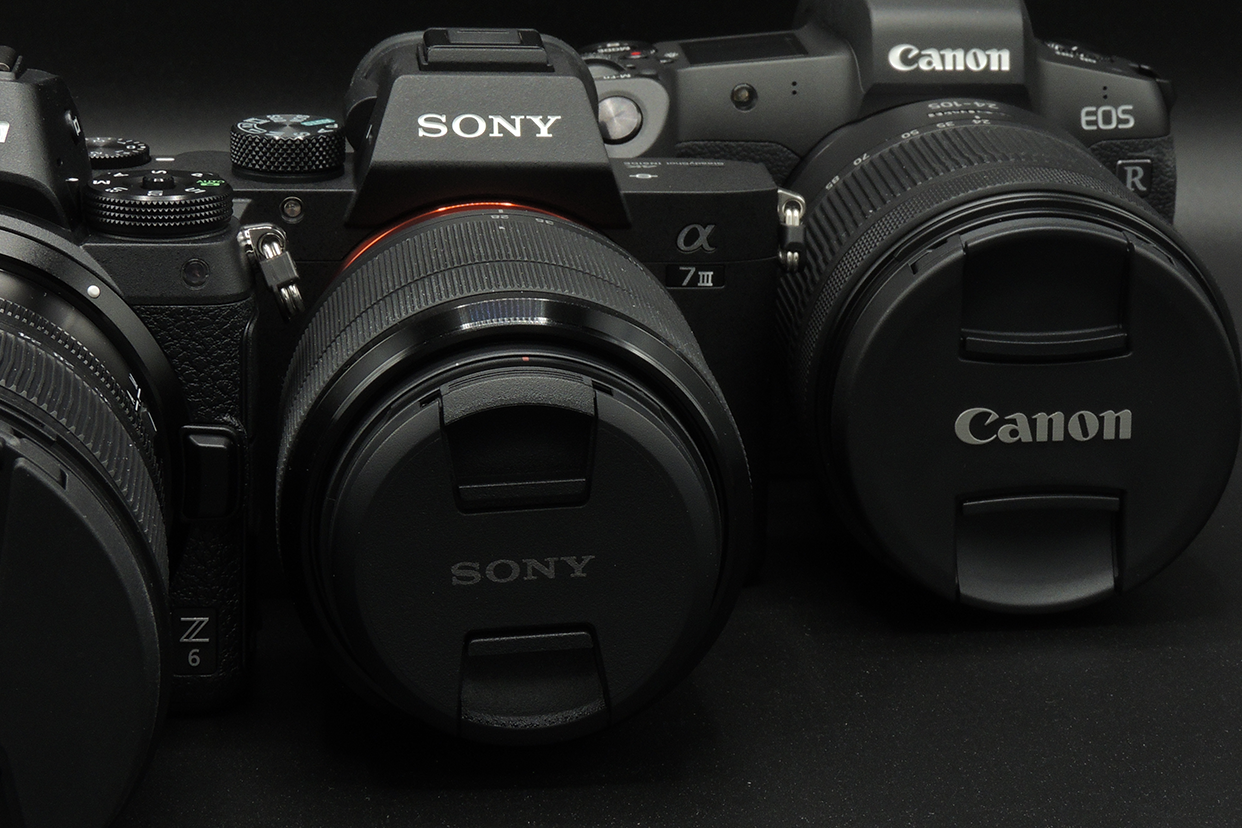 Sony and Canon are the brand names that pop up when we talk about Cameras. Being an older company, Canon has the edge over Sony. But since Sony's emergence, they have quickly bridged the gap. These two brands have pushed each other to roll out newer and better Cameras. The choice between the two boils down to your requirements. If you're looking for DSLRs, Canon has the best to offer. Whereas if it's the compact mirrorless Cameras you want, you can trust Sony. We have compared their features below, which helps you make an informed buying decision. 
Canon offers a wide range of DSLRs     
DSLR is an acronym for the digital single-lens reflex Camera. The Camera uses a reflex mirror and optical viewfinder to provide high-quality images. Canon has been at the top of the race in making DSLR Cameras. They provide DSLRs with APS-C sensors and full-frame sensors. With DSLRs, users can adjust aperture, ISO, and shutter speed to take quality photos. Thus, Canon DSLR Cameras are quite the rage among photographers. Although Sony started late, they too have an impressive collection of DSLRs.  
Sony is leading with its mirrorless Cameras    
Mirrorless Cameras refer to the Camera with a mirrorless body and interchangeable lenses. The lack of mirrors makes these Cameras compact. They offer the same image quality as a DSLR.  
With Canon having an advantage with DSLRs, Sony turned to mirrorless Cameras. They have launched the Alpha series with full-frame sensors. This series, with evolving updates, has become popular among professionals. Sony also offers APS-C  sensor mirrorless Cameras. Canon, on the other hand, offers fewer mirrorless options. 
Sony vs Canon: Lenses    
Photographers usually have a collection of lenses in their tool kit. Each lens serves a different purpose. Many users need to invest in lenses according to their Camera compatibility. 
Canon has a big collection of lenses. They offer different types of lenses for each Camera model. For APS-C sensors, you can use Canon EF-S lenses. You can also buy Canon EF lenses that fit both APS -C and full-frame sensors. Sony's collection of native lenses is quite limited. You can use a simple mount adapter to adapt the lenses by third-party party lens makers.  
Sony vs Canon: Image Sensors      
A sensor is a part inside the Camera where the lens projects the image. A good sensor helps us improve our picture quality. 
Sony is the largest supplier of image sensors. Many other Camera brands have a Sony sensor inside their Camera body. Even the iPhone Camera uses it. It is a given that Sony will have better sensors. With these sensors, you can have pictures of great quality even in low light. 
Although Canon's sensor technology is not as developed as Sony's, they still have Cameras with sensors that take quality pictures. 
Sony vs Canon: Navigating Menus  
The Camera menu should be easy to understand so that it makes a photographer comfortable quickly. High-end Sony Cameras have many options in their settings. It is a hassle to get accustomed to its menu. But once you get to know your Sony Camera, it gets easier. Canon has pretty straightforward menus that are easy to get around.   
Sony vs Canon: Battery Life 
A longer battery is essential for photography. Mostly battery life depends on our use. External factors such as temperature can also affect the battery. Compared to Sony, Canon has better battery life. Hence, you can take more pictures with Canon. You can carry a battery backup with you if you want to use Sony. 
Sony vs Canon: Price 
Both Sony and Canon offer a similar price range in a few models/series. Canon has been in the Camera business before Sony. Their lenses are more prevalent. Thus, you can find their lenses at a lesser price. Sony's native lenses can be more expensive. However, another plus with Sony is you can mount third-party lenses that save a bundle of money and still provide the same results. 
<!—H2 title-->
What should I choose: Sony or Canon? 
The choice depends on you! Many professionals like wedding photographers prefer Sony mirrorless Cameras as they are easy to carry around. However many prefer the heavy Canon DSLRs. Wildlife photographers use Canon DSLRs for their better lens collection.  
Hope you have decided between Sony and Canon. You can make your way to the nearest Croma store or check Croma.com to explore a wide range of Cameras, lens and other Camera accessories.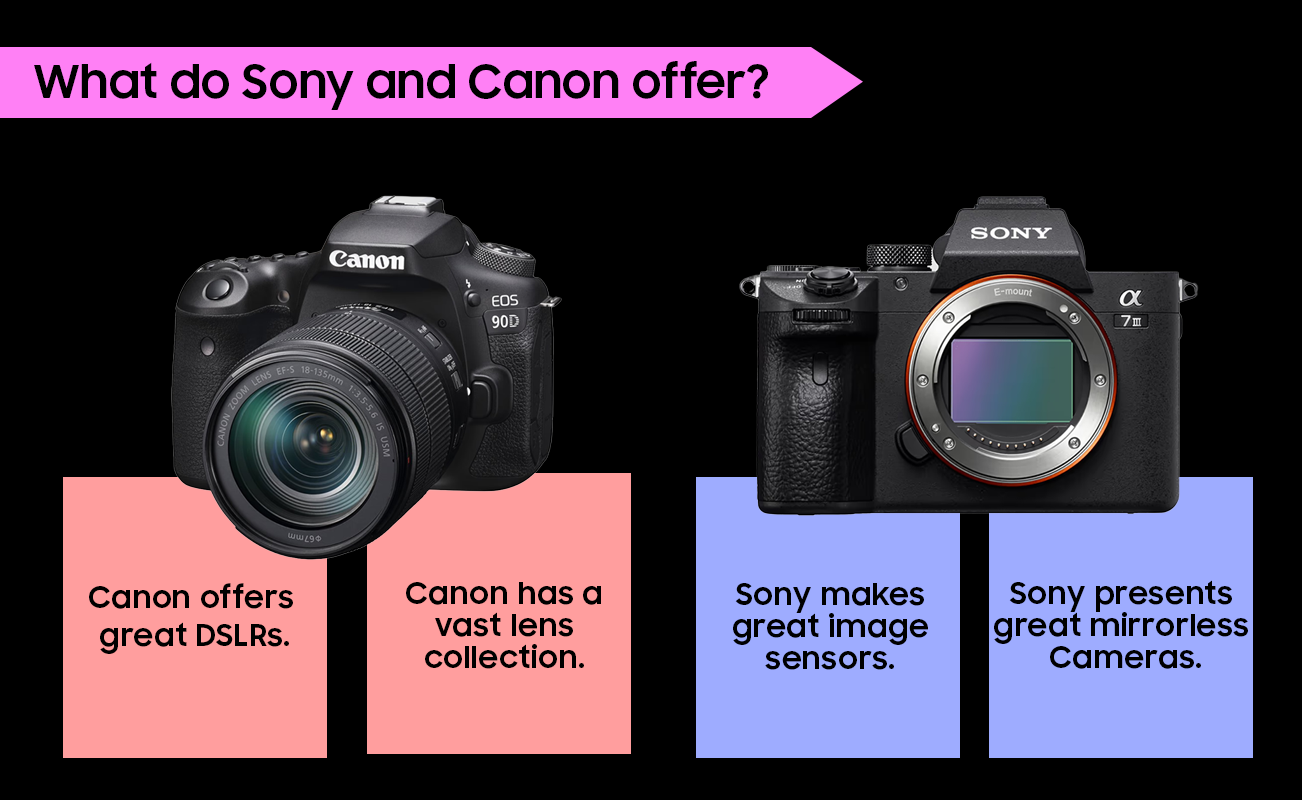 Disclaimer: This post as well as the layout and design on this website are protected under Indian intellectual property laws, including the Copyright Act, 1957 and the Trade Marks Act, 1999 and is the property of Infiniti Retail Limited (Croma). Using, copying (in full or in part), adapting or altering this post or any other material from Croma's website is expressly prohibited without prior written permission from Croma. For permission to use the content on the Croma's website, please connect on contactunboxed@croma.com