Types of refrigerators: How to choose the best one for you?
Your one-stop refrigerator buying guide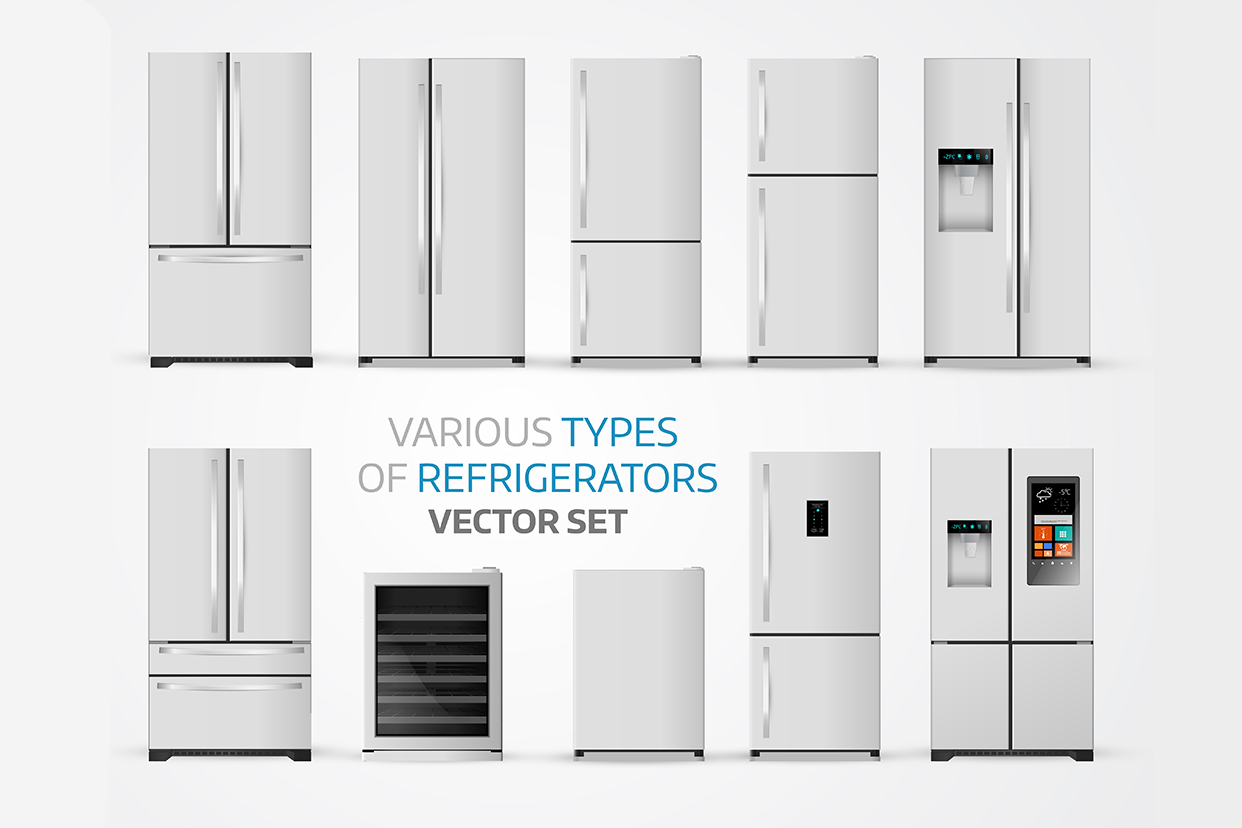 Refrigerators, or the more commonly used term fridges, are one of the most common home appliances. But they have evolved a fair bit, and are now available in different form factors and a host of new features. A thorough understanding of these will help you choose the right refrigerator for your needs.
<!—H2 title-->
Types of refrigerators
Refrigerators are differentiated based on factors like freezer location, types, compressor, and more. But the broadest differentiating factor is the door, and there are broadly six types to choose from.
1. Single door: This fridge has a single door, and is among the most popular types available in the market. These are some of the most inexpensive fridges as well.
2. Double door: This fridge has two doors, and both of them can be opened and closed independently of each other. One door is bigger than the other. They further come in two variants – top and bottom freezer. This means the freezer compartment will either be on the top portion or the bottom portion of the fridge.
3. Triple door: These are not the most common in India. They are similar to the double door, except they have a dedicated third compartment for storing vegetables and fruits. These fridges have a larger capacity than the double doors.
4. Quad door: They open like a book and have four doors that open from the centre. Two doors are for the refrigerator unit and two for the freezer compartment. They generally come in large capacities and boast a long set of features. These are best suited for a large family.
5. Side-by-side: These fridges come in large capacities – 500 litres and above. They also boast a long set of features, and come with two doors that open from the centre.
6. French door : They are just like the quad doors and offer similar features as well as capacity range. The difference is that they can come in three-door configurations as well. Two doors open from the centre and one freezer chamber that pulls out like a drawer.
<!—H2 title-->
Which one is the best for you?
You have to consider a few things when you plan to buy a refrigerator. The following factors will help you choose the best fridge.
1. Capacity:This is the first thing to consider when buying a new fridge. A family of four or five will find a fridge with a capacity of 250-350 litres to be suitable.
2. Space: It is equally important to factor in the space in the kitchen where you plan to store the refrigerator. Having space to keep the fridge isn't enough, and you should be able to open the doors and use it daily. Make sure you have at least a 5-6 inches gap on three sides and ample space for opening the door as well.
3. Doors: Next factor to consider is whether you need a small fridge with a single door or a bigger with double doors. If you require a big fridge then you have ample choices – three doors, side-by-side, quad door, French doors, and more.
4. Electricity consumption: A fridge that is energy efficient is another factor that needs serious consideration. It will keep the running cost to a minimum, and also be a more sustainable choice. Do check the refrigerator's star-rating before buying. A 5-star-rated fridge will save you a lot of money in the long run.
5. Compressor: Just like an air conditioner, an inverter compressor in your refrigerator will run at variable speeds to maintain the desired cooling. This means, it will consume less energy in day-to-day use.
Apart from these basic, yet crucial factors, you should also keep in mind things like defrosting mechanisms and smart features as well. And you have to take into account your budget as a larger overall deciding factor.
Disclaimer: This post as well as the layout and design on this website are protected under Indian intellectual property laws, including the Copyright Act, 1957 and the Trade Marks Act, 1999 and is the property of Infiniti Retail Limited (Croma). Using, copying (in full or in part), adapting or altering this post or any other material from Croma's website is expressly prohibited without prior written permission from Croma. For permission to use the content on the Croma's website, please connect on contactunboxed@croma.com