What is a smart washing machine? 
Making washing clothes easy with smart technology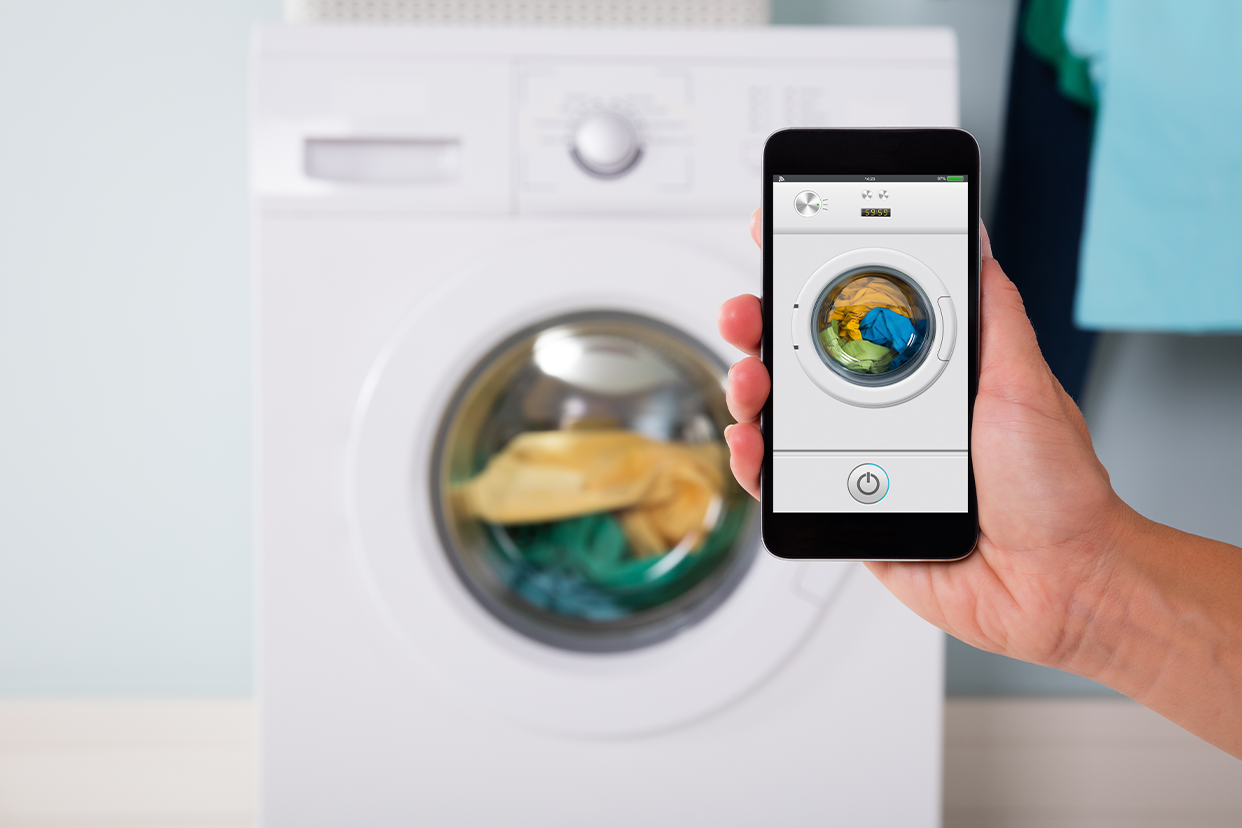 A smart washing machine is an appliance that connects to the internet, and offers additional features that you wouldn't find on a standard washing machine. These include support for voice commands to control the appliance, and smartphone alerts when a cycle finishes or the ability to download a new wash, diagnose problems, and adjust settings. Here's what you need to know about smart washing machines and their features.
<!—H2 title-->
What is a smart washing machine? 
The same as tablets and smartphones, smart washing machines have the capability of connecting to a Wi-Fi network. The appliance can then be controlled remotely by a phone app, Alexa, or Google Assistant.
<!—H2 title-->
Features of a smart washing machine
With a smart washing machine, you don't have to worry about setting it up immediately after putting the load. The companion app lets you check in with your washer while you're away and set it to run at a time that suits you best. You can select the mode and any special features you want remotely.
Has your partner ever forgotten to put the washing on? If you have a smart washing machine, you can check the status of your wash via your smartphone, and see how long it will take to finish.
Automatically dose your detergent
Smart washing machines with automatic detergent dosing can extend the life of your laundry. It will add the right amount of detergent according to the amount of laundry in the drum. Your favourite outfit will be better cared for if you use just the right amount of detergent and fabric softener. Besides saving water and energy, the detergent will also last longer.
Alexa or Google Assistant are now available from several washing machine manufacturers. With this feature, you can use your voice to control your washing machine with a compatible device like a smart speaker. A smart home's connectivity can also be incorporated into a 'routine' that will execute many tasks with a single verbal command.
Problem identification and troubleshooting
A smart washing machine could save you time and money if you've ever called a plumber for something you could have done yourself. If something goes wrong with your washer, its companion app may allow you to self-diagnose or recommend when to call a professional. You can find troubleshooting tips and even step-by-step instructions in many apps. If your machine has problems, such as blocked filters, they can detect and notify you instantly through the app.
You can save time, energy, and water, and tailor your home's needs with a smart washing machine. If you have made up your mind to buy a smart washing machine, you can get it from croma.com or your nearest Croma store.
Disclaimer: This post as well as the layout and design on this website are protected under Indian intellectual property laws, including the Copyright Act, 1957 and the Trade Marks Act, 1999 and is the property of Infiniti Retail Limited (Croma). Using, copying (in full or in part), adapting or altering this post or any other material from Croma's website is expressly prohibited without prior written permission from Croma. For permission to use the content on the Croma's website, please connect on contactunboxed@croma.com