A complete guide to desktop cables 
A clear path through this wire maze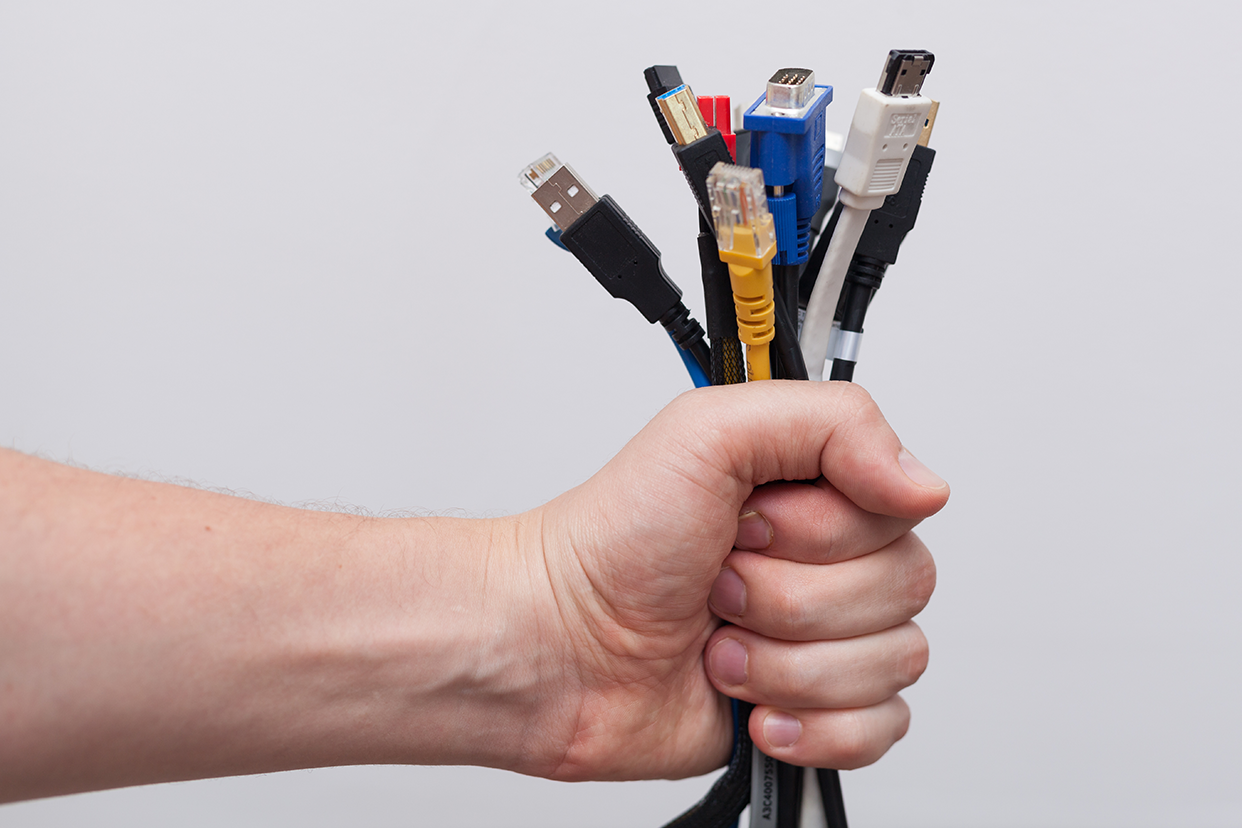 There are multiple advantages of both laptops and a desktop. Many prefer a desktop for the sheer power and functionality it brings, and others for its customisability. But one thing that comes with buying a desktop is the convoluted mess of wires that you need to recognise, organise, and manage. 

The main issue is that there is more than one type of cable that is used to connect and assemble a desktop. And not all the cables are common either. It creates a sort of apprehension where you don't understand your own machine. Don't worry, we can make this simple for you so that you can manage your wired mess on your own.  
<!—H2 title-->
Everything there is to know about desktop cables 
First and foremost, there are a few key cables that you should keep your eye out for. There are two cables that go directly or get plugged into an electrical socket. And these are the monitor cable, and the CPU cable, and are also called power cables. Besides these, there are six more types of cables you should know about. 
VGA cables: It standards for Visual Graphics Array, and is a type of cable that carries visual information/data from your CPU to the monitor. Thus, this cable connects your monitor to the CPU for visual input. One thing to note here is, in case you have a dedicated graphics card, you need to connect the cable to the port available on the graphics card. This cable is generally blue in colour.  
PS/2 port: It is the standard cable used to connect the mouse and keyboard to the desktop. They are usually pretty lengthy to give users some flexibility in use. There are a total of six pins in a PS/2 cable and a round connector. These are recognisable and easy to manage since they remain attached to the peripheral itself.
HDMI: This is a common cable you might have seen if you use TV or other audio-video devices. It is useful in transmitting high-definition video and audio signals. Most HDMI cables come in three sizes - standard, mini, and micro. Each has its own video quality and functionality limits.  
Ethernet cable: It is a cable that establishes a physical connection between your computer and your router. Wi-Fi is good for convenience but to get truly high-speed internet, you need an ethernet cable. They look pretty similar to landline phone cables. One end is connected to the motherboard while the other goes into the router or a modem.
Audio cables: A 3.5mm audio cable is pretty much common and almost everyone can recognise them without any difficulty. They are pretty straightforward and easy to connect without any hassle.  
USB cables: These are also pretty common as most of us must have used them either with a phone or other rechargeable electronic devices and gadgets. There are two types of USB – Type A and Type C.
Disclaimer: This post as well as the layout and design on this website are protected under Indian intellectual property laws, including the Copyright Act, 1957 and the Trade Marks Act, 1999 and is the property of Infiniti Retail Limited (Croma). Using, copying (in full or in part), adapting or altering this post or any other material from Croma's website is expressly prohibited without prior written permission from Croma. For permission to use the content on the Croma's website, please connect on contactunboxed@croma.com