iPhones with the best camera
Taking phone photography to a new level.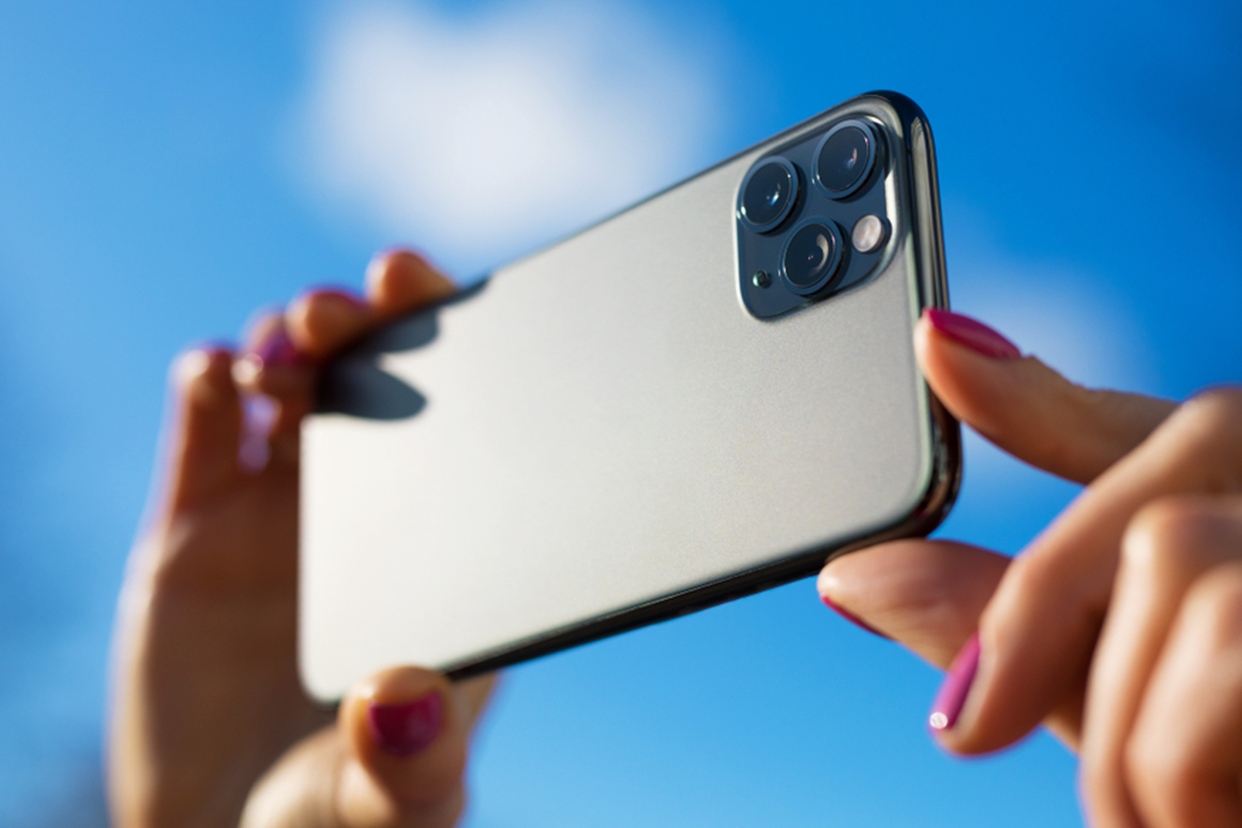 Professional photographers using iPhones are not new. There are instances where many documentary makers have used an iPhone to film a whole movie. iPhones are loaded with features that let you take high-quality pictures. The iPhone's camera can easily adapt to low-light situations, letting you take amazing pictures at night as well. Another plus is that iPhones are compact and have long-lasting battery life. For budding photographers and filmmakers, iPhone is a great option to practice filming. If you're into photography and looking to invest in an iPhones , then look no further.
Let's talk and compare the best iPhone cameras.
<!—H2 title-->
iPhone 13 Pro Max
Specifications:
Cameras: Telephoto, Wide and Ultra-wide.
Lens Apertures: f/2.8 (Telephoto), f/1.8 (Ultra-wide), f/1.5 (Wide) and front camera f/2.2 (Wide). 
Screen size: 6.7 inches display. 


iPhone 13 Pro Max is the latest and best update of Apple's iPhone. Compared to the previous year's iPhone 12, we've got a larger sensor and faster aperture. The 13 Pro Max has triple rear cameras with a telephoto lens, a wide lens, and an ultra-wide lens. The telephoto camera has three times the optical zoom than earlier versions. On the front, we have a 12 MP true depth camera. These specifications make a great camera.
You can use an ultra-wide lens with macro mode to take close-up pictures of things like bugs. Then there is portrait mode which gives us flexibility. Many professional photographers use portrait mode with a telephoto lens to make an object like a building or statue stand out. The iPhone 13's cinematic mode is a treat for cinematographers. We can change the focus while filming in real-time.
With so many features, there are a few drawbacks that come with the iPhone 13 Pro Max. Many find it difficult to take pictures because of the instant image processing thirteen pro does. As a solution, you can take a picture from another app and later edit it. The iPhone 13 Pro Max uses too much noise reduction, and we also see an increase in the sharpening of the image. You can fix this by using the raw mode
Pros
1. The bigger size helps us edit the photos easily.
2. Great Autofocus.
Cons
1. In low light situations, your pictures may have a lot of noise.
2. Image processing isn't customisable.
<!—H2 title-->
iPhone 12 Pro Max
Specifications:
Cameras: Telephoto, Wide and Ultra-wide. 
Lens Apertures: f/2.2 (Telephoto), f/2.4 (Ultra-wide), f/1.6 (Wide) and front camera f/2.2 (Wide). 
Screen size: 6.7 inches display. 


iPhone 12 is a great alternative to iPhone 13 Pro max. The quality of the image in both is similar. Apple devoted the best of its technology to making this camera.
The telephoto lens has a length of 65 mm, which is equivalent to that of full-frame cameras. You can use this lens with a zoom of 2.5x to get great shots. Another significant feature of this model is the wide lens with an f/1.6 aperture. This length allows more light to pass through lenses. Thus, you can use a wide lens at night to get amazing shots. This camera also has a bigger sensor which captures more light. You can capture brighter shots in low light with this sensor.
Pros:
1. Better sensor stabilisation.
2. You get higher ISO settings.
Cons:
1. Very expensive.
<!—H2 title-->
iPhone 11
Specifications
Cameras: Wide and Ultra-wide
Lens Apertures: f/2.4 (Ultra-wide), f/1.8 (Wide) and front camera f/2.2 (Wide). 
Screen size: 6.1 inches 


The iPhone 11 gives us a decent camera for an affordable price. Many switched to the iPhone 11 for its exceptional video quality. The addition of HDR gives us a better shooting experience. You can make Instagram reels on iPhone 11 with ease. The drawbacks of this model are the low zoom range and the absence of a telephoto lens.
1.You can buy an iPhone 11 at an affordable price.
2. Optical image stabilisation.
1. The telephoto lens is not there in the iPhone eleven.
2. With a smaller size, it's difficult to edit pictures.
We hope you were able to choose a camera from the above picks. You can shop one from Croma.com or visit your nearest Croma store.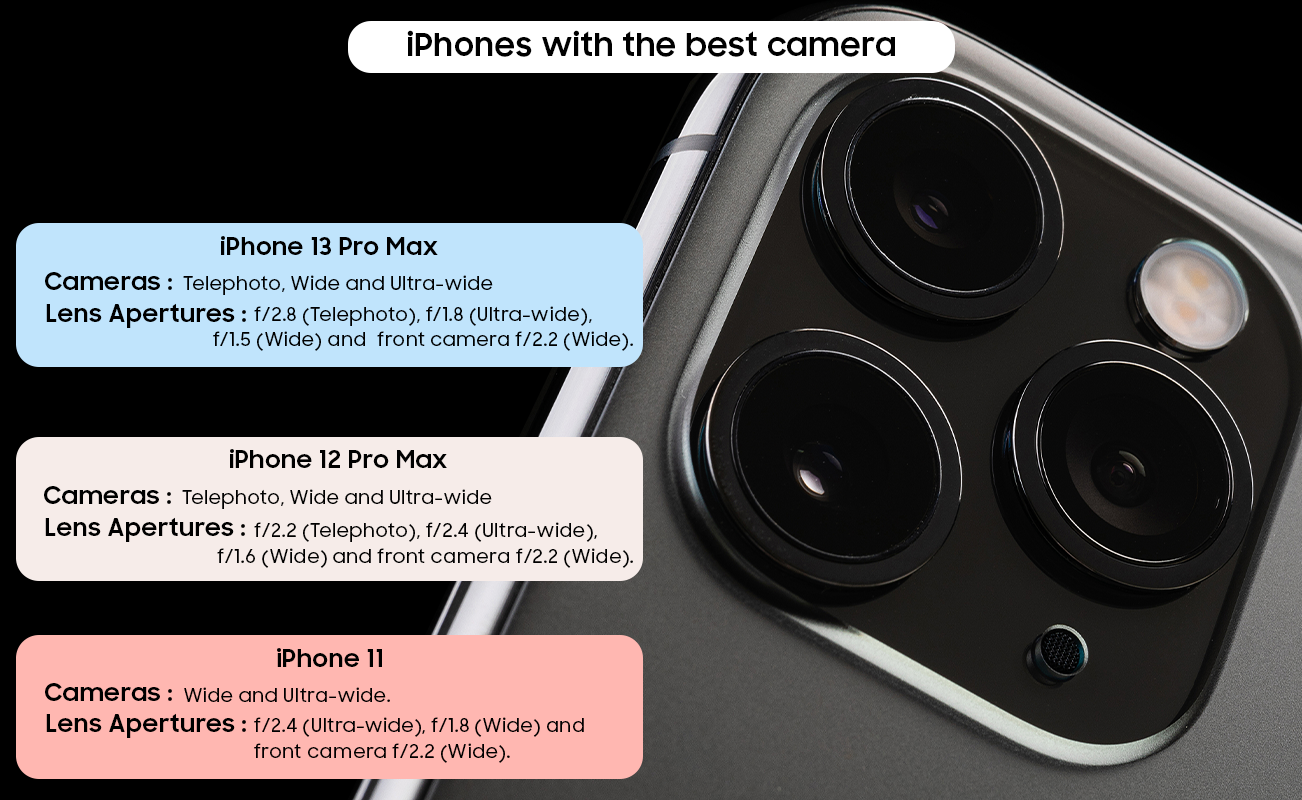 Disclaimer: The content, information and design herein is proprietary and no one is allowed to copy or use the same without written consent of Croma Authorised Person.