OnePlus Keyboard teased: Here's everything we know so far
Keyboard fanatics, read on!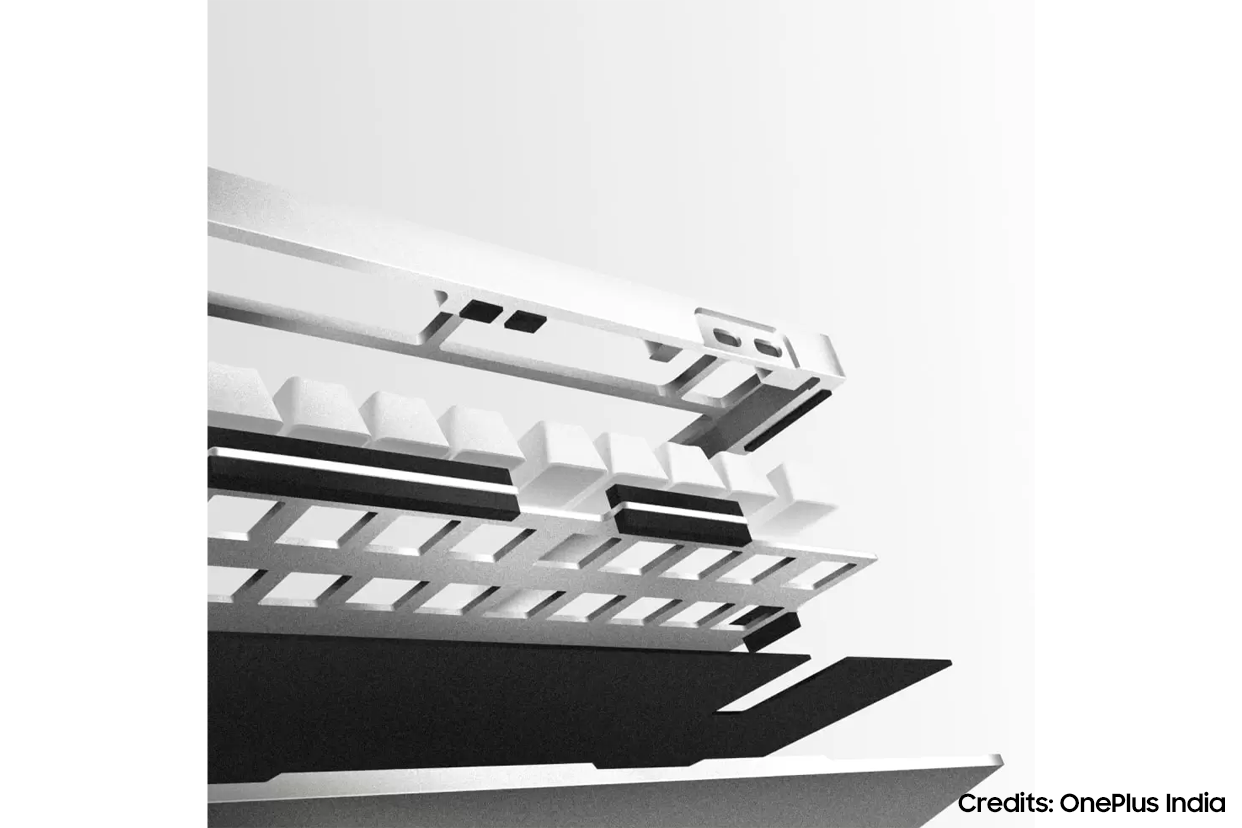 (Source: OnePlus India)
OnePlus, which recently unveiled its OnePlus X27 and E24 monitors in India, has now officially confirmed it will be unveiling its new mechanical keyboard in February. OnePlus is reportedly developing the new keyboard in partnership with keyboard maker KeyChron.
OnePlus Keyboard Design
The keyboard is expected to have an aluminium body design, but at the same time, also have a light form factor. It is also expected to have a keyboard akin to MacBooks, as per a community post by a OnePlus executive, they also say that it can seamlessly switch between and work with macOS, Windows as well as Linux.
OnePlus Keyboard Features
The OnePlus keyboard is said to have a double gasket design that promises a satisfying sound, as well as provide a user experience optimised for work as well as gaming. It will be available in multiple colour options and will also support RGB lighting. Furthermore, the keyboard will also have keys/switches developed in collaboration with OnePlus fans, which will be hot-swappable and work with the VIA app for configuring the keyboard's open source QMK firmware.
ALSO READ: https://www.croma.com/unboxed/how-to-shut-down-a-laptop-with-a-keyboard
The OnePlus keyboard, it is rumoured, can be used as a wireless as well as wired keyboard. The keyboard, which OnePlus has begun to tease recently, will soon be put to the test in January, before its official launch in February. Following the same, it is expected to go into the mass production phase between March and May, meaning customers may get their hands on it only sometime in the second half of 2023.
ALSO READ: https://www.croma.com/unboxed/oneplus-11-india-launch
The smartphone manufacturer also recently confirmed that it would officially unveil its latest flagship device, the OnePlus 11 5G on February 7 at its event dubbed Cloud 11 in New Delhi.
Disclaimer: This post as well as the layout and design on this website are protected under Indian intellectual property laws, including the Copyright Act, 1957 and the Trade Marks Act, 1999 and is the property of Infiniti Retail Limited (Croma). Using, copying (in full or in part), adapting or altering this post or any other material from Croma's website is expressly prohibited without prior written permission from Croma. For permission to use the content on the Croma's website, please connect on contactunboxed@croma.com