Smartwatch vs Smart bands: What are the differences?
Often confused one for the other, but they are not the same.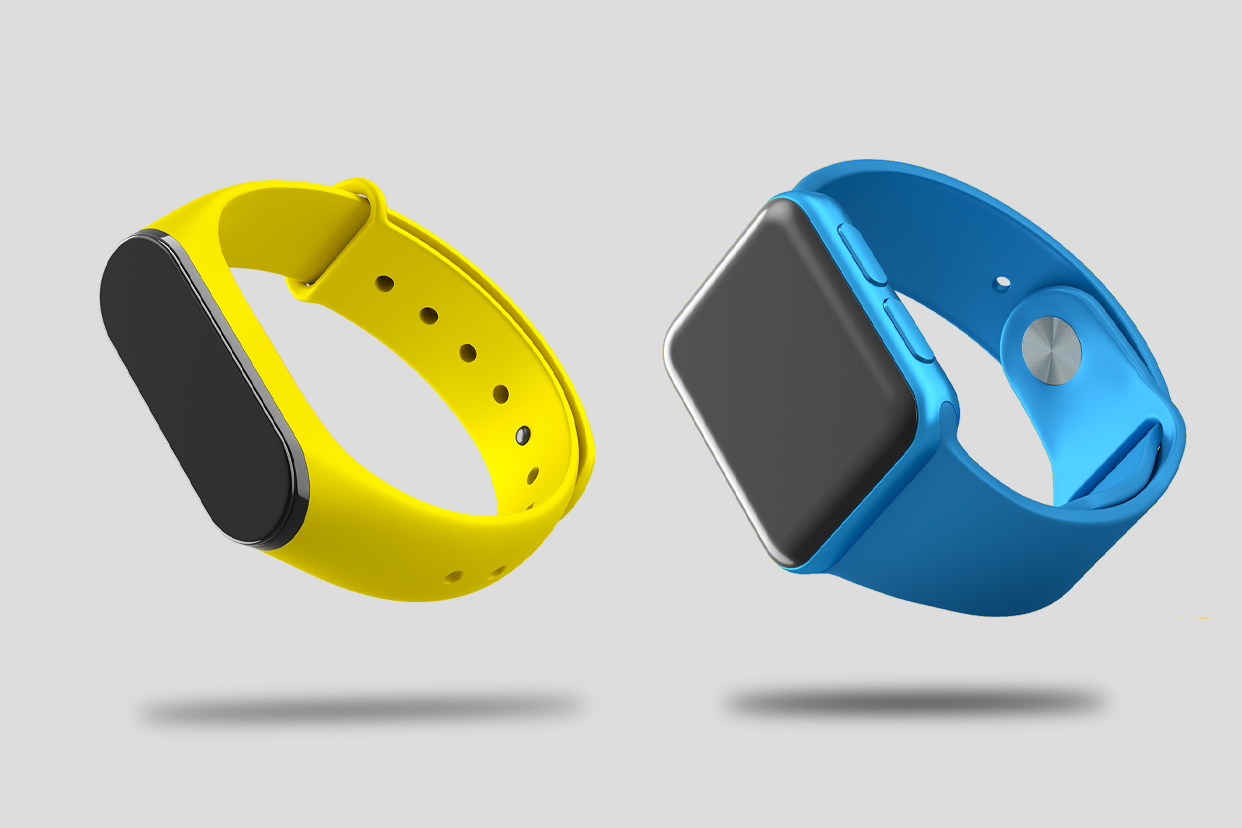 Only a few decades ago, wearables were a thing of science fiction. But today, you can invest in different types of variants. Two of the most popular are smartwatches and smart bands. However, because of their overlapping features, they tend to seem confusing to several. And that is precisely why most people are confused. Well, let's try to know them a little so you can make an informed decision and purchase what really suits your needs.
<!—H2 title-->
How do smartwatches and smart bands differ?
Smartwatches, and smart bands, can be worn on our wrists like a traditional wristwatch. A smartwatch is an extension of your smartphone that enables you to check notifications like texts, emails, and social media, among other health-centred features like sleep tracking, step counting, etc. A smartwatch will also let you answer and reject a phone call.
A smart band, on the other hand, is not an extension of your phone but a complimentary wearable that relays data back to your phone. It is more fitness oriented, that's why they are also called fitness bands. It tracks your health vitals such as heart rate, stress level, blood oxygen, steps, sleep, and much more.
Apart from the obvious difference in their functionality, both differ factor-wise as well. Smartwatches have a bigger display, while smart bands have lower resolution, smaller, and narrower screens. Apart from this, smartwatches run a complex OS, while smart bands use a fairly light and minimalist OS as they don't sport powerful hardware compared to smartwatches.
There are plenty of features exclusive to smartwatches that make them unique:
1. Long feature set: A smartwatch comes with a long feature list that enables you to use it for a variety of purposes. From showing notifications to answering calls and replying to texts and emails, it can do all that and much more. It truly becomes an extension of your phone in a way that you can use it as a standalone device.
2. Larger display: Smartwatches generally have a bigger and better display, along with better resolution. And this is a great feature given that wearables are already so compact that any marginal advantage in terms of screen size is highly appreciable.
3. Install apps: Almost all smartwatches available on the market have an app store available within them. It enables you to install third-party apps.
Smart bands can't compete on the feature list with smartwatches, but they come with their proposition with a unique set of capabilities.
1. Compact build: Many people don't like the bulky design of smartwatches as they may seem like a screen on your wrist. A smart band is sleeker, narrower, and sports a smaller screen size. It makes smart bands more compact and lightweight. As a result, they feel much more comfortable on your hand.
2. Excellent battery backup: Most smart bands are known for great battery backup on a single charge. Many can easily last a whole week. It is primarily due to two reasons: One reason is their screen size is smaller and thereby offers a lower resolution. And since they nearly don't offer as many features as a smartwatch, they can support a lighter OS as well.
3. Inexpensive: Even the more premium smart bands don't cost nearly as much as a smartwatch. Affordable options are furthermore affordable if you compare them to reasonably priced smartwatches. And this is a great thing for people who just want to track their fitness and health. They can get an affordable option in the shape of a smart band.
<!—H2 title-->
Which one is meant for you?
Both of these devices serve different purposes. It boils down to how you intend to use either of the two. If you are into health and fitness, you will probably be satisfied with a smart band.
But if you want something which will act like an extension of your phone and allows you to track those notifications, answer calls, and have GPS function, a smartwatch is the right choice for you. A smartwatch will also offer a range of fitness tracking features and perform just as efficiently as a smart band, if not better.
Disclaimer: This post as well as the layout and design on this website are protected under Indian intellectual property laws, including the Copyright Act, 1957 and the Trade Marks Act, 1999 and is the property of Infiniti Retail Limited (Croma). Using, copying (in full or in part), adapting or altering this post or any other material from Croma's website is expressly prohibited without prior written permission from Croma. For permission to use the content on the Croma's website, please connect on contactunboxed@croma.com