Air Conditioner vs Air Cooler: What should you get?
Which one do you need to keep it cool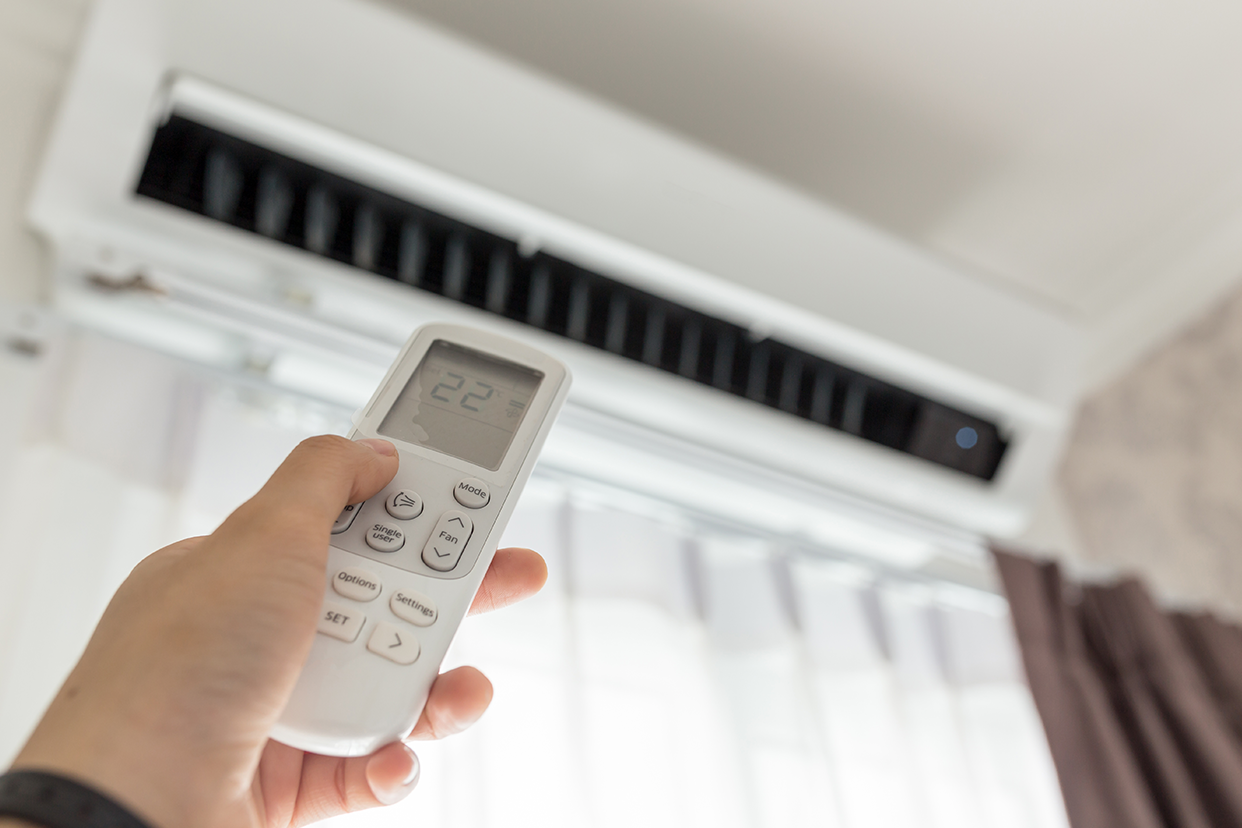 The summers are set to hit soon, and all you can remember is how hot it was last year, and how difficult the rising heat made staying indoors. Now, you have decided to hit the market for a new appliance to keep the temperature. But there's one big question remaining and you haven't had a clear yet. Should you get an air cooler or an Air conditioner?
Choosing between the two can be difficult, but it gets easier once you understand how both these appliances work, and how they're different from each other. Today, let's try to decode air coolers vs air conditioners so you know which one to pick for your house, office or any other space that you want to cool.
<!—H2 title-->
What is an air cooler?
An air cooler is a type of air conditioning system that uses evaporation to cool the temperature of a setting down. It is a cost-effective and energy-efficient option for cooling dry and hot areas. Coolers pull the hot, dry air and pass it through a wet wick/pad/filter inside the appliance. The moisture on the wet wick is then evaporated using the heat of the warm air, leaving cool air behind, which is then pushed out of the appliance into the room.
Air coolers come in different types such as portable, window-mounted, or central units. The portable units are small, compact, and easy to move around. The window-mounted air coolers are installed in a window and only cool a specific room. The central units are typically used to cool large spaces such as offices, warehouses, and commercial buildings.
<!—H2 title-->
Benefits of an air cooler
There are plenty of benefits of an air cooler. Some of the major ones are as follows:
1. One of the biggest advantages of air coolers is their price. They are fairly inexpensive to purchase and operate.
2. They also consume less energy and are highly efficient and don't cost a lot on running bills.
3. As you don't need to mount them on a wall in general, they cost little to nothing while installing.
4. Another benefit of air coolers is they are comparatively more environmentally friendly than AC.
5. Air coolers provide a more natural form of cooling as they cool the air by evaporation which is fairly similar to the way we feel cool near a water body.
6. Air coolers are relatively easier to maintain and much simpler to use. As they have fewer parts, there are fewer chances of anything going wrong.
7. Another benefit is its portability. You can easily move it from one room to another.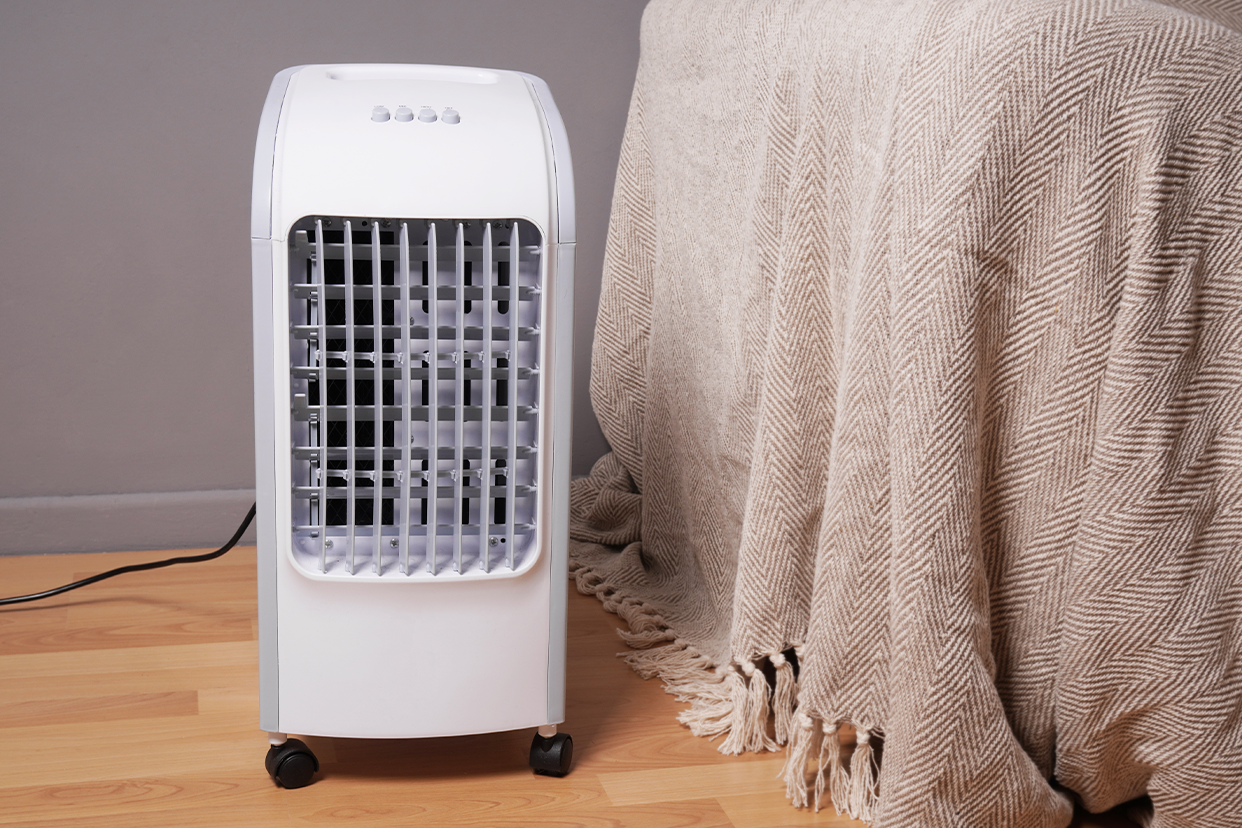 <!—H2 title-->
What is an AC?
Air conditioners, or ACs are another type of appliance used to cool the air in a room or a building. An AC uses a chemical refrigerant to cool the air. It works by removing the heat energy inside a room space and transferring it to the outside air. The process of cooling the air inside any given space is known as air conditioning.
Air conditioners are available in multiple types, but the core functionality remains the same. Unlike coolers, air conditioners are not placed inside a room or setting, but on walls, acting as a bridge between the air inside a room and the air outside.
There are plenty of types of ACs available in the market such as central AC, split AC, window AC, inverter AC, and much more.
<!—H2 title-->
Benefits of an AC
1. Unlike air coolers, they remain effective even in highly humid climates. Thus, they provide efficient cooling and are suitable for people who live in hot and humid areas.
2. An air conditioner can maintain a consistent temperature in the room for a long period of time.
3. It provides more even cooling and prolonged cooling than an air cooler.
4. Many air conditioners these days come equipped with anti-allergen and anti-bacterial filters.
5. It removes dust, pollen, and other allergens making it a better option for people with asthma and other respiratory conditions.
6. Additional features make an AC a much smarter device than an air cooler. It has more quality-of-life improvement features in comparison to an air cooler.
7. Air conditioners are more durable and have a longer lifespan than air coolers.
<!—H2 title-->
Which is best for you? An AC or an Air Cooler?
There are a few instances when an air cooler will be a much more appealing choice. If you need something less expensive, easy to operate with a low running cost that can provide a decent amount of cooling then an air cooler can be your ideal choice. Along with this, one thing to note is to make sure that your climate type is not too humid as an air cooler is not really effective in humid conditions.
On the other hand, if you are looking for a more powerful device that can perform excellently even in pretty humid conditions then an AC is the right option. If you want better effective cooling and money is not an issue, then getting an AC will make more sense. If you want to look for longer-term investment even then an AC is a far better choice. An AC is not a good fit for those who want a portable and low-running cost device. For them, an air cooler is much more apt.
Disclaimer: This post as well as the layout and design on this website are protected under Indian intellectual property laws, including the Copyright Act, 1957 and the Trade Marks Act, 1999 and is the property of Infiniti Retail Limited (Croma). Using, copying (in full or in part), adapting or altering this post or any other material from Croma's website is expressly prohibited without prior written permission from Croma. For permission to use the content on the Croma's website, please connect on contactunboxed@croma.com