Top features you should look for in a gaming laptop
Confused? Allow us to narrow them down for you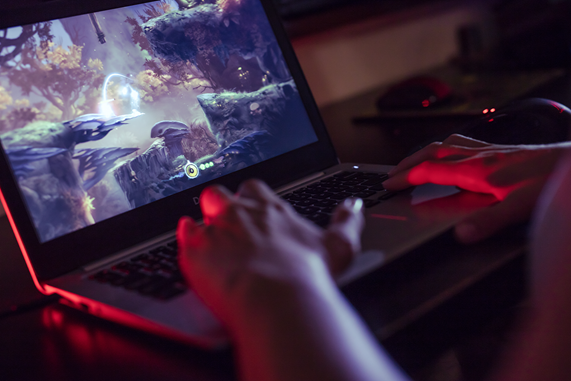 Avid gamers looking for a laptop to help fuel their passion, might find the process of zeroing in on a gaming laptop a bit tedious. Besides the wide variety of products on offer, one needs to ensure that all the top features are in place. To help make that buying process a bit simpler, here are the top features you should keep in mind when buying a gaming laptop.
<!—H2 title-->
GPU and CPU
Gaming is a graphics-intensive task. So, it is a crucial decision that either makes or breaks your gaming experience. The latest offerings from Nvidia or AMD will also future-proof your laptop. The top-of-the-line RTX 30-series cards from Nvidia costs a premium, while the RX6000 M series from AMD is more economical. It is no longer true that one is better than the other. Both of them pack a punch and provide equally good performance.

Of equal importance is the CPU. If the Intel vs AMD debate has you confused, know that it boils down to preference and saving a buck here and there. Both are exceptional and would serve you well.

You'll have also heard about integrated graphics cards. These are essentially GPUs sharing space and memory with the CPU. These are however best suited for those who prefer casual gaming and don't require much graphic usage from their laptops.
<!—H2 title-->
Display choices
It may not be top priority for everyone, but it shouldn't be considered an afterthought either. Screen sizes of most gaming laptops range from 15 to 17 inches. However, the right size boils down to your personal preference. One thing to keep in mind is your screen should have a resolution of no less than 1920×1080 pixels.

Refresh rate is another important factor. For many, 60Hz would be more than enough. Anything higher, like 144Hz, would require a notably designed game that exploits and emphasises the frame rate over the graphical nuances.

Some screens have touch options as well. They consume a lot of battery, and it is best to avoid them for a gaming laptop.
<!—H2 title-->
Battery life, should you worry about it?
A gaming laptop needs to be plugged in to get the maximum performance out of the system. This simply means that portability shouldn't be your topmost priority if you want a good-performing gaming laptop. Gaming laptops deliver power-packed performance, which is why most gaming laptops last only a few hours on one full charge.
<!—H2 title-->
RAM and storage
Gaming is a RAM-consuming task. So, you would need the RAM to be at least 16GB, as even productivity-focused laptops have 8GB these days. When you talk storage, SSDs are the way to go. They may be a tad on the expensive side, but they go a long way in reducing load times.

Some laptops come with a hard drive (HDD) and a small SSD to serve as a boot drive. They work well togehter to give you optimal performance. If you are going for just the hard drive (HDD), consider getting a faster 7,200 rpm HDD rather than a slower 5,400 rpm HDD. Things like RAM and storage are often upgradeable components. It is advisable to pick a laptop that gives you this option of upgrading in the future.
<!—H2 title-->
Don't overlook the keyboard!
A keyboard is as important for gaming as the above mentioned features. Things like key travel, feedback, feel, and most importantly, ghosting, are a few things you need to keep in mind while narrowing down your options. Ghosting is when you simultaneously press a bunch of key combinations to make a set of moves in the game, but the keyboard doesn't register it at once. As a rule of thumb, any keyboard with travel of more than 1.5 millimetres and with a backlight would do a good job.

A good gaming laptop is not necessarily good based on a great GPU or a decent CPU. It is the combination of all these elements, such as RAM, display, storage, keyboard, etc., complementing each other.
Disclaimer: This post as well as the layout and design on this website are protected under Indian intellectual property laws, including the Copyright Act, 1957 and the Trade Marks Act, 1999 and is the property of Infiniti Retail Limited (Croma). Using, copying (in full or in part), adapting or altering this post or any other material from Croma's website is expressly prohibited without prior written permission from Croma. For permission to use the content on the Croma's website, please connect on contactunboxed@croma.com