'password' to 'bigbasket': 10 most common passwords used in India in 2022
No matter how many articles and warnings we read, most of us end up using easy-to-remember passwords. After all, who wants the added stress of remembering all the passwords used to login into countless online accounts? But using simple passwords allows hackers to crack open your account as easily as a can of cold drink.
A new report now reveals the most commonly used passwords in India this year, and not surprisingly, the word 'password' continues to top the charts. In fact, the report adds that 83% of the passwords used by Indians can be cracked by perpetrators in less than a second.
<!—H2 title-->
Commonly used passwords by Indians in 2022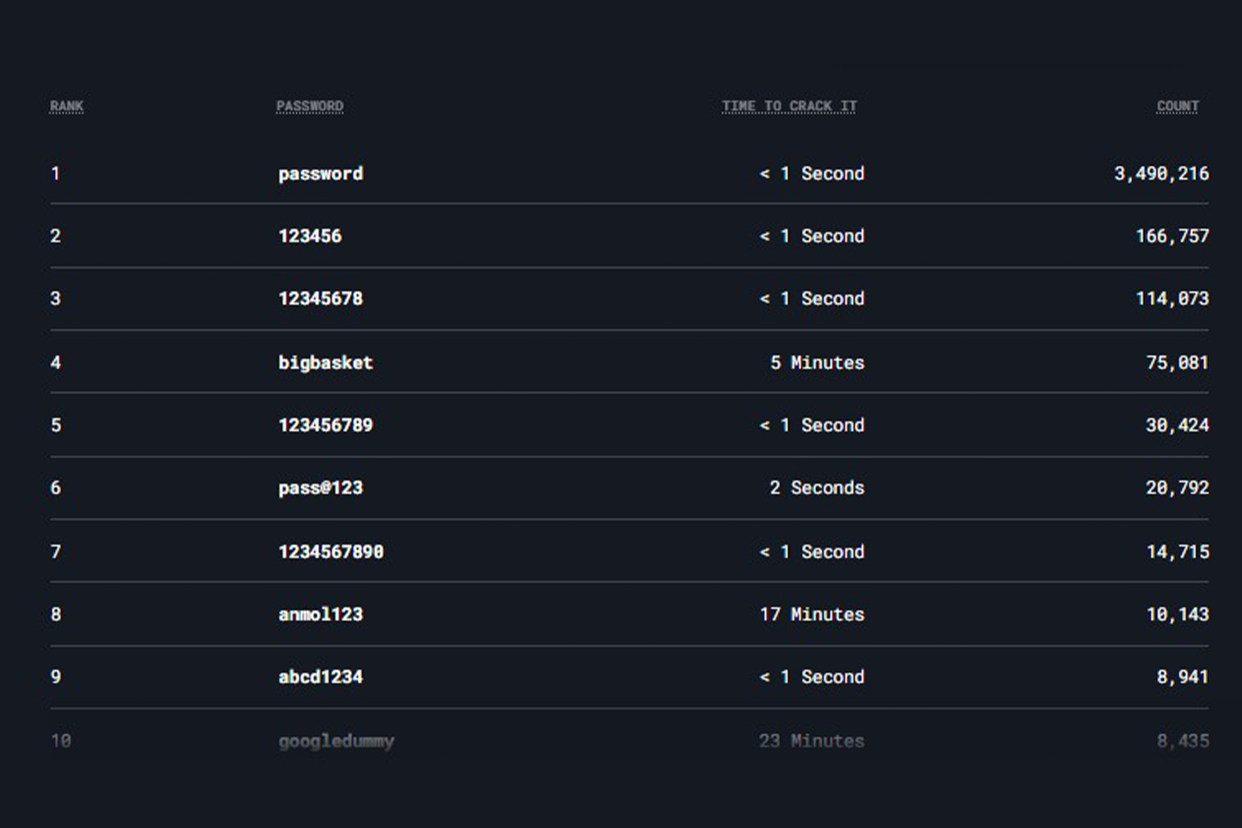 As per the report by NordPass , over 34.90 lakh Indians used 'password' as the password to protect their online account. This was followed by other commonly used terms like '123456' and '12345678'.
Interestingly, the fourth-most used password term is 'bigbasket', which has been used by over 75,000 Indians this year. While it may not be everyone's first guess, it can still take a hacker less than five minutes to crack it.
Other commonly used passwords in the top-10 list include '123456789', 'pass@123', '1234567898', 'anmol123', 'abcd1234', and 'googledummy'. The report adds that 73% of the 200 most-used passwords in India and worldwide remained the same in 2022. What this means is that 'password', '123456' and '123456789' remained the three-most used terms worldwide this year.
If your password is mentioned in the above list, it is imperative that you change it right away to something more complex. Below are three things to keep in mind when setting a password for an account.
<!—H2 title-->
3 things to keep in mind when creating a safe password
When creating a password use a combination of upper- and lower-case letters, numbers, and symbols. Ensure that the password contains 8-12 characters, which will make a hacker's job difficult to crack. It is also imperative not to use the same passwords for multiple accounts.
It's not always easy to create and remember complex passwords, and that's where password managers come to the rescue. Think of them as a storage vault for all your important passwords, and all you need to remember is one password to access this vault. Some password managers also help in suggesting and generating complex passwords for you.
Regularly change passwords
As a habit, regularly check your accounts that you use and also those you no longer use. Update the passwords of these accounts to keep them safe. Unused accounts with dated passwords are particularly susceptible to falling prey to hackers.
Disclaimer: This post as well as the layout and design on this website are protected under Indian intellectual property laws, including the Copyright Act, 1957 and the Trade Marks Act, 1999 and is the property of Infiniti Retail Limited (Croma). Using, copying (in full or in part), adapting or altering this post or any other material from Croma's website is expressly prohibited without prior written permission from Croma. For permission to use the content on the Croma's website, please connect on contactunboxed@croma.com