Comparison between OLED and QLED displays
It's not as complicated as it sounds!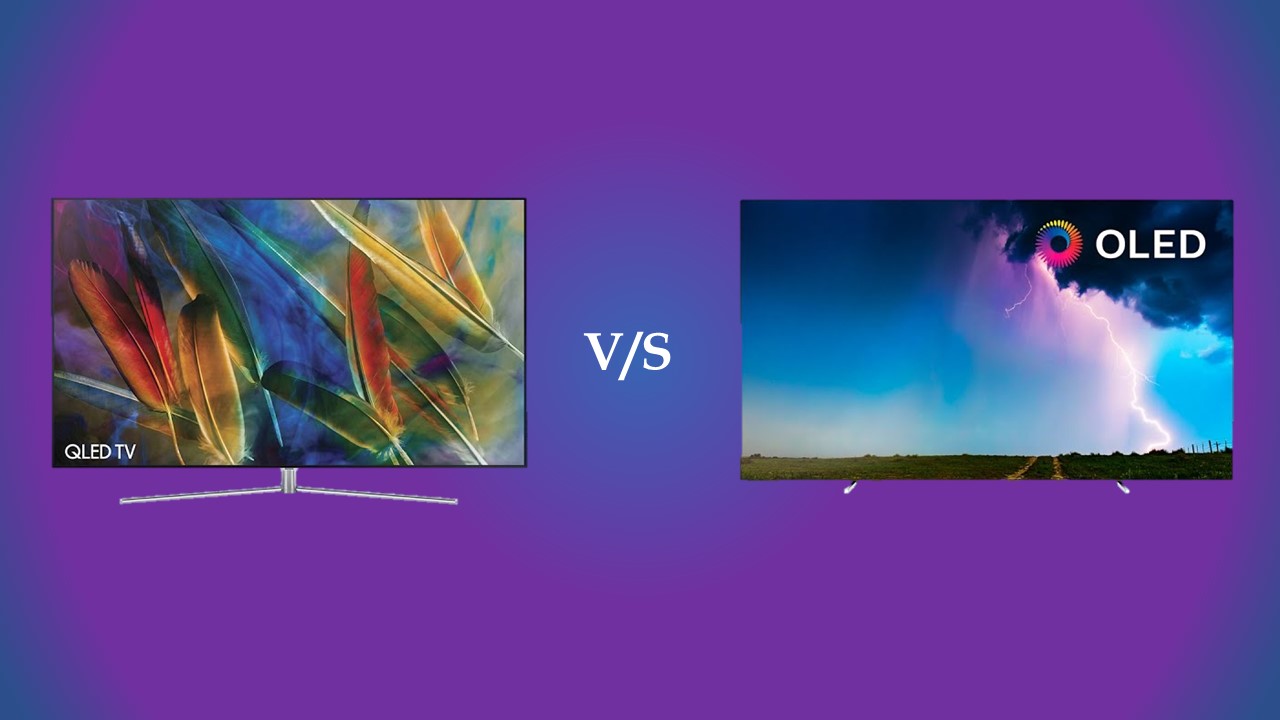 Television (TV) display technology has undergone a major shift with the arrival of 8K & 4K UHD TVs. These TVs are easily available along with a supply of equally vibrant content. OLED and QLED are two high-end display technologies. The below-mentioned points will help you understand in detail about OLED & QLED.
<!—H2 title-->
OLED
OLED stands for Organic Light Emitting Diode. An OLED display consists of an organic film through which two conductors pass current emitting light. This light gets emitted from individual pixels, which means a bright white and a dark black pixel is placed adjacent to each other, unlike in the LCD TV where a backlight is used to light up liquid crystal film (which causes light bleeding), making OLED a much superior technology compared to LCD.
<!—H2 title-->
Pros of OLED
1. Better contrast
2. Deep black
3. Crisp image without colour bleed
4. Wider viewing angle
5. Lighter and thinner displays
6. Quick response time, minimum lag
<!—H2 title-->
Cons of OLED
1. Less bright
2. Available for large sizes of display only
3. Higher chances of image burn-in
4. Higher chances of image retention
<!—H2 title-->
QLED
QLED stands for Quantum-dot Light Emitting Diode. In a QLED display, the backlight is used to pass light through the Quantum-dots, which are particles of semiconductor of a few nanometres in size. The dots are photoluminescent which means they emit bright light when light from a secondary source passes through them.
<!—H2 title-->
Pros of QLED
1. Better brightness
2. Bright whites
3. Lifelike colour
4. Larger range of sizes
<!—H2 title-->
Cons of QLED
1. Low contrast
2. Narrower view angle
3. Thicker display compared to OLED
4. Slower response time and lag
5. Consumes more power due to the backlight
<!—H2 title-->
Which is a better technology?
As per the above-mentioned points, it looks like both the displays are even, considering the features, but if we consider the self-lit tech of OLED, it has an upper hand. In future the brightness of the LEDs can be increased which will bring OLEDs at par with QLED in terms of brightness, hence OLEDs do have the chance of emerging as a strong contender. But if we consider the size and feasibility of the TV, then QLED has an upper hand here as QLED displays can be made into smaller displays too unlike OLED which cannot be used in TVs below 48 inches. QLED displays are comparatively less expensive than OLEDs.
However, we would suggest that while buying a TV, customers should always experience it first-hand and select the display by considering the types of content they are going to watch the most. This helps to set the parameters and then funnel down on the suitable display technology.
Disclaimer: This post as well as the layout and design on this website are protected under Indian intellectual property laws, including the Copyright Act, 1957 and the Trade Marks Act, 1999 and is the property of Infiniti Retail Limited (Croma). Using, copying (in full or in part), adapting or altering this post or any other material from Croma's website is expressly prohibited without prior written permission from Croma. For permission to use the content on the Croma's website, please connect on contactunboxed@croma.com