How to build a home theatre setup on a budget?
Take your movie nights to the next level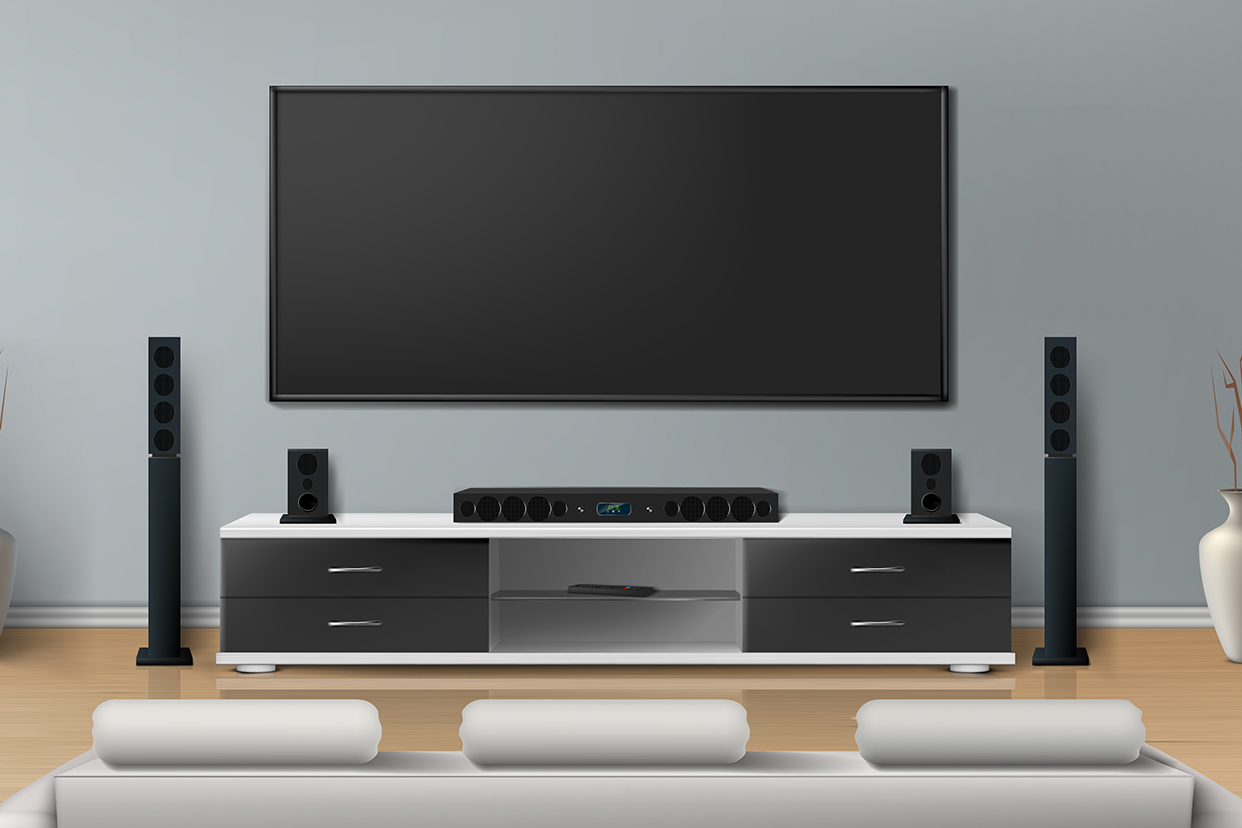 We all love watching movies and other content on a large screen with audio that fills the entire room and, consequently, elevates our viewing experience. That's why we flock to movie theatres. But you can get a similar experience from the comfort of your home as well. You may think that you need to spend a lot to achieve this. But you will be surprised to know that you can build an excellent home theatre setup on a budget.
Key components of a home theatre setup
There are multiple things you require to build a home theatre. These things work in combination to give you a holistic cinema-watching experience, that is close to a full-blown theatre experience. You may or may not need all of these depending upon your choice, budget, and space. There are broadly six crucial components that make up a home theatre setup.
1) A large TV or a projector
2) Video input device
3) Audio system
4) Audio Video Receiver
5) Power outlet strips and cables
Building a home theatre setup on a budget
There are multiple permutations and combinations to build a good home theatre setup, and keeping them all in a budget can be tricky. The most expensive component which will increase your budget is the projector. If you want a projector setup, then you will need a dedicated Audio-Video Receiver and video input device as well as a projector screen on top of the projector itself. To keep things in a budget then, one can always opt for a big-screen television.
Screen choice
You can either go for LED or QLED TVs . To really get the theatre feel, opt for sizes of 55-inches and beyond. This will fill up most average room sizes easily, and can give you that big picture feel. There are multiple options available in the market. Nowadays you can get a good TV of this size for less than Rs 40,000. You even can go for 65-inch or bigger if your budget allows.
Audio
Good audio can take the whole experience to the next level. As a basic rule always try to aim for quality not quantity when it comes to audio devices and speakers. To get Dolby Atmos, you need a good speaker setup, probably a 7.1 home theatre setup. You can make do with 5.1 as well but to get that surround sound and 3D audio effect you need a 7.1.2 setup. Even if you use a 5.1 setup, you will still get that Dolby Atmos indication.
Video input
Now, you may think you can download and watch Netflix and every other streaming app on the TV itself, but Netflix sends Dolby Atmos to only specific devices. What you can do, to circumvent this situation, is get media streaming devices like Fire TV 4k.
Some things to keep in mind
1) As much as the setup is important, the room itself is very crucial for the overall home theatre setup. Choose a room that is not too big or small. If the room is not close to direct sunlight and noise, then it will create a more immersive experience.
2) Your TV and audio setup should be adequate and complimentary to the room.
3) Always use copper wire to connect all the audio sources as well as HDMI connection for the Dolby Atmos experience.
4) Speaker location can dramatically impact the whole experience of your home theatre setup so be precise and intentional about where and at what height you place the speakers and subwoofers.
5) The appropriate distance between you and the TV is also a vital point to keep in mind. As a basic rule, you should sit somewhere at a distance of 1.25-to-2.5 times the size of your TV. For instance, if the screen is 70-inches, then you should sit around 9-10 feet away.
6) Sound dampening and acoustic fidelity should also be kept in mind. Heavy curtains and rugs can help you in achieving this apart from obviously getting sound-dampening tiles for the room. Though this is only optional.
Conclusion
The key to building a budget home theatre is choosing the right display. There are just way too many permutations and combinations. If you just go for a decent enough 4K TV with Dolby Atmos and HDR whilst trying to save as much as possible then you have saved on the one component that would have increased your budget by 2-3 times had you gone for a projector setup. It's not that you can't build a budget projector setup, but it just won't be as cost-effective as just buying a decent enough TV. And as far as audio is concerned, always remember quality over quantity will save the day!
Disclaimer: This post as well as the layout and design on this website are protected under Indian intellectual property laws, including the Copyright Act, 1957 and the Trade Marks Act, 1999 and is the property of Infiniti Retail Limited (Croma). Using, copying (in full or in part), adapting or altering this post or any other material from Croma's website is expressly prohibited without prior written permission from Croma. For permission to use the content on the Croma's website, please connect on contactunboxed@croma.com