How to clean a top-loading washing machine?
Deep cleaning tips for top loading washing machine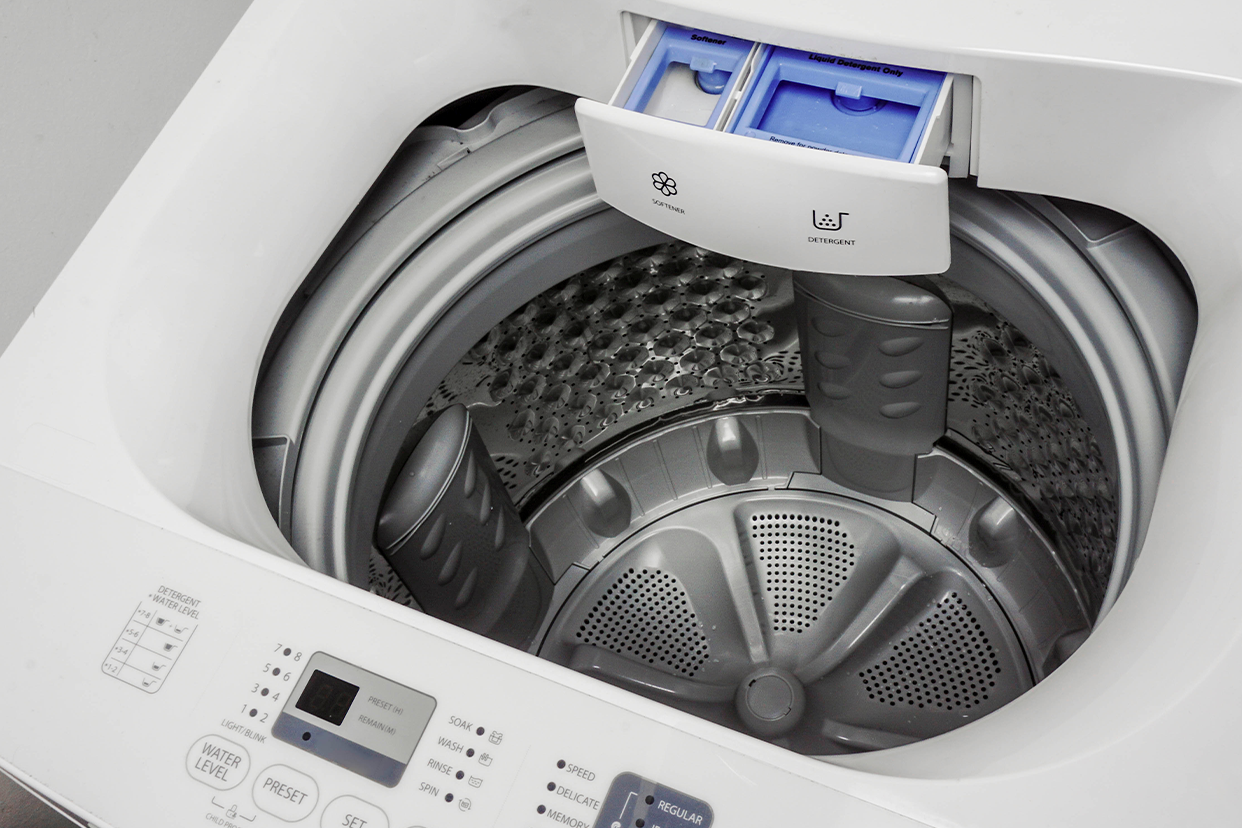 When your clean clothes don't smell as fresh as they used to, it may be time to give your washing machine, a wash! On a top-loading washing machine , dirt and grime tend to get accumulated over time. In such a scenario, the laundry can become dingy and odorous. To keep your top-load washing machine in good working order, you should periodically clean it. Following are the steps you need to take.
What you need to clean a top-loading washing machine
Microfiber or cotton cloth
An old toothbrush or small scrub brush
Distilled white vinegar
Dishwashing liquid
Bowl
Step 1: Empty the washing machine
Make sure you remove all the clothes from the washer drum. Detergent and fabric softener reservoirs should be empty as well.
Step 2: Water temperature setting
Select the water temperature to be on the hottest water setting. Set the largest load and longest wash cycle possible.
Fill the washer drum with water and allow it to heat before starting the washing cycle.
Add four cups of either distilled white vinegar or chlorine bleach. Make sure not to use both the products in the same washing cycle as the combination can produce toxic chlorine gas which is highly hazardous.
Step 5: Run the washer cycle
Now you can begin with one complete washer with a rinse and spin cycle.
Drain the water after the completion of the washing cycle. Make sure to add more clean water and drain to completely remove chlorine bleach from the drum.
If your detergent dispensers are removable then remove them for cleaning, submerge them in hot water in a bucket and then add a cup of heated distilled white vinegar. Let it soak for 15 minutes. If dispensers are not removable, then pour warm distilled warm vinegar. Allow the warm vinegar to sit in the dispensers for at least 15 minutes to loosen any residue. Remove any remaining residue from the dispensers using an old toothbrush after 15 minutes.
Step 8: Fill hot water again
Refill the drum of the washer with hot water after placing the freshly cleaned dispensers in place. Make sure you're still using the large load and longest wash cycle settings.
Step 9: One cycle with distilled white vinegar
Add four cups of distilled white vinegar and set the washer to complete one cycle of washing, draining, and spinning.
Step 10: Clean outer hosing
Take a moment to wipe down the outer housing of your washer after the interior section is clean and fresh. Add a few drops of dishwashing liquid to warm water and make a solution. Take a microfiber or cotton cloth and dip it in the solution then wipe and remove dust, grime, and laundry product drips from the washer's top and sides. Do not ignore knobs or electronic panels. Use an old toothbrush to get into the corners and tight spaces on the lid when you open the lid.
How to keep your top-load washer clean
Leaving the lid open after each load reduces the risk of mould and mildew growth in humid climates.
It is never a good idea to place laundry products on top of a washer. The controls on electronic devices can be damaged by spills.
Make sure the washer basket is free of chips that can cause rust spots on clothes by using a flashlight. Repainting the porcelain coating is possible with repair kits. Be sure to follow the instructions carefully to extend the washer's life
When you're finished deep cleaning your top-load washing machine, it'll be ready for your next load. You should always keep checking your machine to ensure it is clean and fresh always. If you perform deep cleaning once a month, it will keep your machine in a healthy condition for longer.
Disclaimer: This post as well as the layout and design on this website are protected under Indian intellectual property laws, including the Copyright Act, 1957 and the Trade Marks Act, 1999 and is the property of Infiniti Retail Limited (Croma). Using, copying (in full or in part), adapting or altering this post or any other material from Croma's website is expressly prohibited without prior written permission from Croma. For permission to use the content on the Croma's website, please connect on contactunboxed@croma.com