What laptops are best for teachers conducting online classes?
Online classes have become the norm, with teachers and students connecting through devices like laptops, tablets or desktops. Teachers tend to choose laptops over other devices for their portability and high computing speed. So, what aspects should one keep in mind when choosing a laptop to conduct online classes? From speakers to webcams, we have discussed the important features in detail.
<!—H2 title-->
Microphones and speakers are your companions
A good microphone and speakers will take your teaching to a whole other level. So, when choosing between laptop options, it is important to check the loudness and clarity of both these features. Try testing them in noisy environments to get a sense of how good they are
<!—H2 title-->
Webcam is a necessity
Built-in webcams on a laptop are important for online classes, as well as recording tutorials. Instead of opting for an external camera , go for a laptop that has a good cam onboard. You can try out the webcam in different lighting conditions to see if it suits you. It's also a good idea to check your peers' reviews about the camera quality on their laptops.
<!—H2 title-->
Laptop's display matters
Whether you're a teacher or a student, you're likely to spend a lot of time staring at your laptop's display. One should opt for at least a FHD (Full High Definition) screen, and one that has some manner of eye protection. As a teacher, you may have multiple windows open, so a bigger screen should serve you better. Another way is to natively connect your external monitor to your laptop.
<!—H2 title-->
Faster processor for multitasking
A faster processor onboard ensures a glitch-free experience even when you have multiple windows and tabs open on the laptop. Teachers often stream their teaching videos online which is a CPU-intensive task, and hence we recommend opting for a laptop that is powered by the latest generation Intel i5 processor or above or an AMD Ryzen 5 and above.
<!—H2 title-->
More RAM means less lag
In most cases, 4GB of RAM is enough to run an operating system and a few basic software. But as teachers, you'll be using video conferencing apps like Zoom for online classes and sharing screens, which require much more than just 4GB of RAM. One should opt for at least 8GB of RAM, which can go up to 16GB if you're teaching subjects like coding or video editing. More RAM equates to smoother performance without lags.
<!—H2 title-->
Do you need a graphic card
Most new chipsets have some amount of integrated graphics processing capabilities, which along with high RAM, is more than enough to handle most day-to-day tasks. But if you plan to use the laptop after work hours for OTT streaming and a bit of gaming, then it is a good idea to invest in an additional GPU.
<!—H2 title-->
How much storage do you need?
With most organisations offering services with cloud storage, onboard storage space isn't a major issue for many. That said, regular OS and software updates will eat into your storage in next to no time. So, we recommend laptops with a minimum of 512GB of storage, or 1TB if you're using heavy applications.
<!—H2 title-->
Long-lasting battery
A typical work-day will last for hours, and you wouldn't want to be always dependent on a power point all the time. A sudden power cut or something similar can put you in a spot, if your laptop doesn't have sufficient battery life. So, opt for a laptop that has a battery life of at least 6-7 hours. For example, the battery on Apple's M1-powered MacBook Air can last up to 10 hours. As a backup, have a power bank at hand that has enough capacity to fully charge your laptop once.
<!—H2 title-->
Ports
You can never have enough connectivity ports on your laptop, so be mindful of that when choosing a laptop. You'll need at least two USB ports to connect external peripherals, an audio jack to connect headphones, and an HDMI port to connect external devices like a monitor or a projector.
All these features combined make for a well-rounded laptop. This will not only give you a pleasant teaching experience, but your students will have a delightful time as well.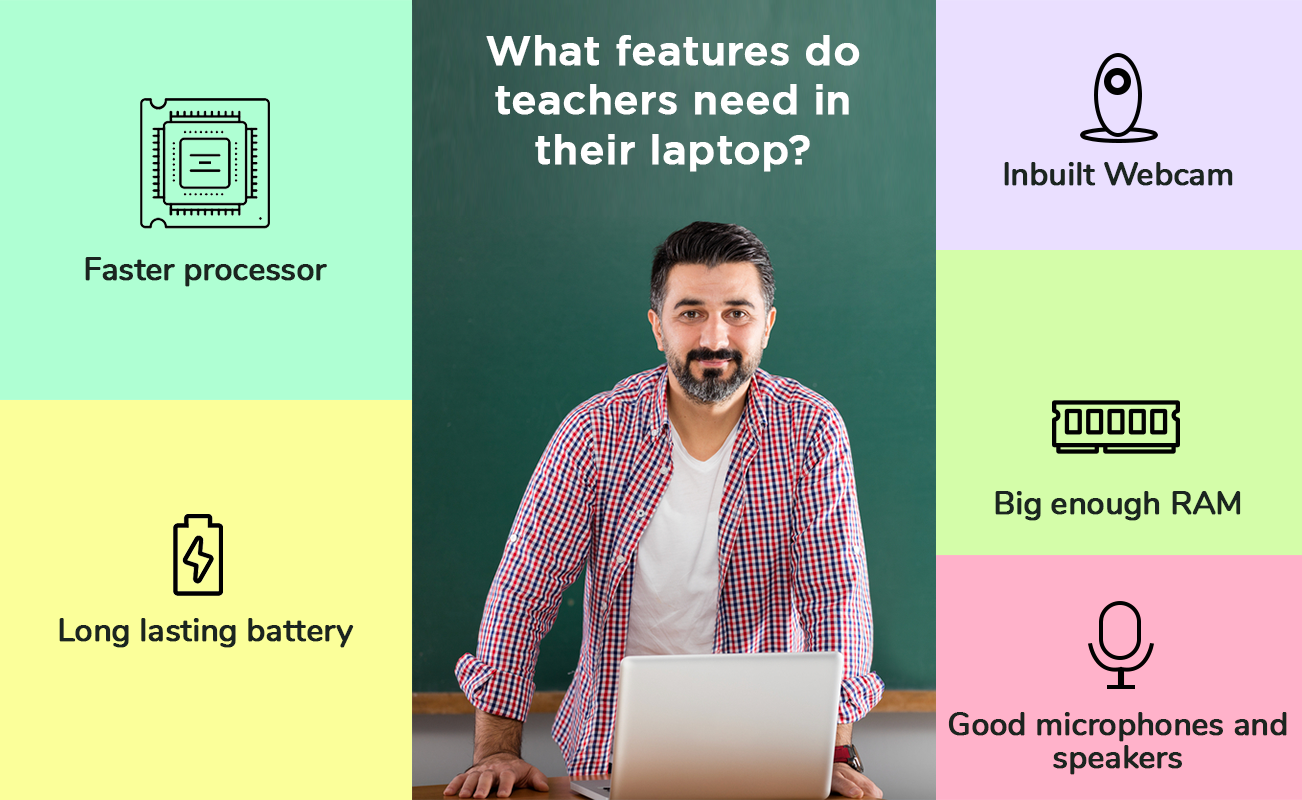 Disclaimer: This post as well as the layout and design on this website are protected under Indian intellectual property laws, including the Copyright Act, 1957 and the Trade Marks Act, 1999 and is the property of Infiniti Retail Limited (Croma). Using, copying (in full or in part), adapting or altering this post or any other material from Croma's website is expressly prohibited without prior written permission from Croma. For permission to use the content on the Croma's website, please connect on contactunboxed@croma.com