How to connect a laptop to a TV?
There are plenty of ways to do it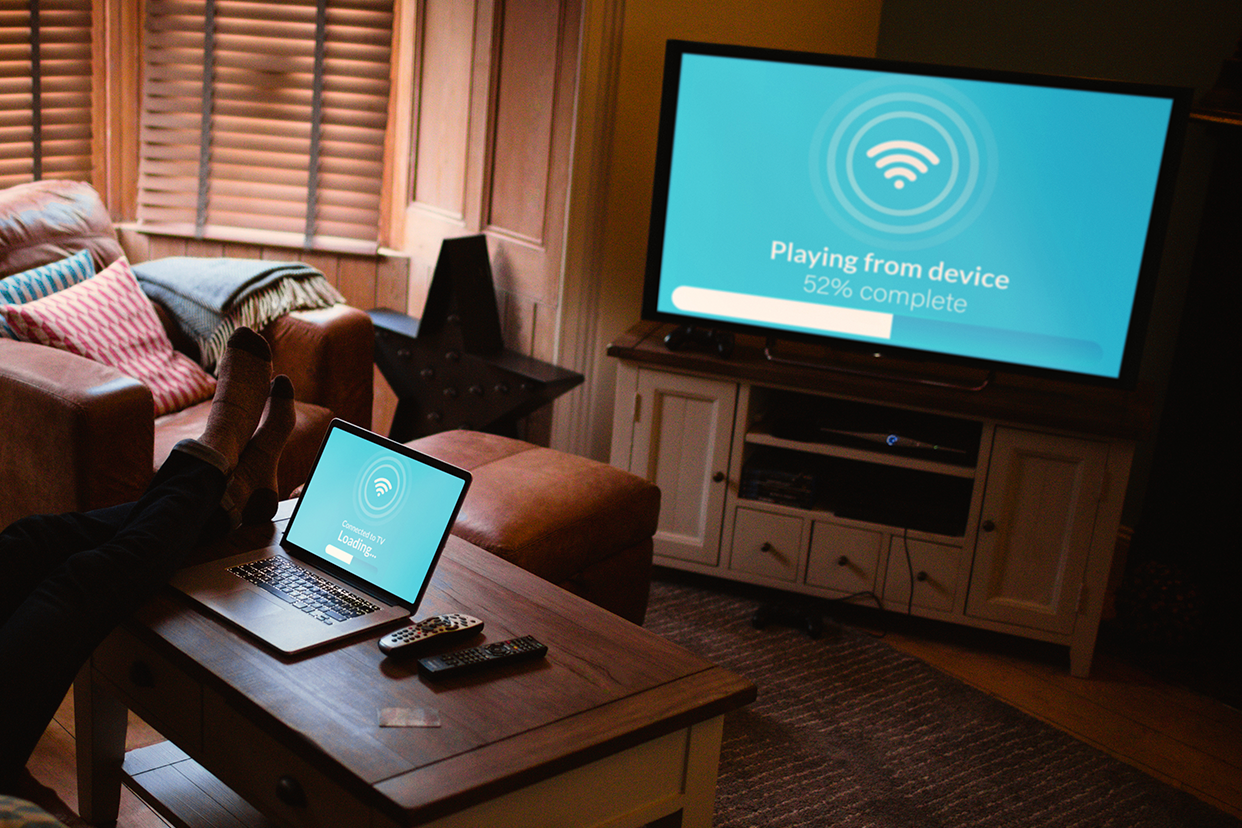 No matter how powerful our laptops get, they do have one limitation – the size of the display. The relatively small display may be fine for day-to-day work, but does feel less when you want to consume content after work hours. At such times, you'd want something as big as a TV. Fortunately, with TVs becoming smart, it is now quite easy to connect your laptop to a TV.
<!—H2 title-->
How to connect a laptop to a TV
The first method to connect your laptop to a TV is by using an HDMI cable. This is probably the best and easiest method as well. The biggest advantage to this is excellent picture quality and almost no latency. The only minor gripe with this is that you can't move with your laptop freely. It needs to be attached and remain near the TV.
Steps to connect a laptop through HDMI
Most TVs and laptop these days have HDMI ports. Locate these ports at the back of your TV or the sides of your laptop.
Connect one end to your laptop and the other end to your TV.
By default, most TVs will automatically detect a new input medium and show your laptop's screen.
If not, then you need to go to the Input option at the top-right corner just beside the setting option on the home screen of your smart TV.
Scroll down and select HDMI and now you will be able to see your laptop screen on your TV.
<!—H2 title-->
Wireless Method
Depending on what TV you have, you may have support for either Miracast or Chromecast. Both of these do the same thing of mirroring your laptop and similar other devices to your TV. It lets you cast your laptop screen onto your TV. Regardless of what you have, for both, you need to connect your TV and your laptop to the same Wi-Fi network/source/connection.
Steps to connect a laptop to a TV using Miracast or Chromecast
For this option to work you need to make sure your TV supports Screen mirroring. You will have Wi-Fi-direct or Miracast or Chromecast.
Go to the input setting of your TV and select the source to Screen mirroring or in case you have a dedicated app called Miracast, open it.
Now right-click on your desktop home screen and select the Personalization option.
On the left-hand side, at the top, select the System option.
Now click on the Display option at the top.
Scroll down and click on the Multiple display options to further see more available options.
Now click on Connect beside "Connect to a Wireless Display".
You can simply click on the search icon on the taskbar and search Wireless display. The option "Connect to a Wireless Display" will appear as the search result. Simply click on it and choose Connect option.
It will start searching for all available devices on the same network connection.
Click on the name of your TV and within seconds your Laptop screen will appear on your TV.
The Chromecast works similarly. You need to have a chrome browser on your laptop though. After setting up the input source of your Chromecast from your TV, open the chrome browser on your laptop. On the top right-hand corner, you will see three dots, right click on them, scroll down and select Cast. You will get three options.
Cast Tab
Cast desktop
Cast files.
Select according to your preference and your laptop will get connected.
Disclaimer: This post as well as the layout and design on this website are protected under Indian intellectual property laws, including the Copyright Act, 1957 and the Trade Marks Act, 1999 and is the property of Infiniti Retail Limited (Croma). Using, copying (in full or in part), adapting or altering this post or any other material from Croma's website is expressly prohibited without prior written permission from Croma. For permission to use the content on the Croma's website, please connect on contactunboxed@croma.com