How to format a laptop?
Not as complicated as you might have thought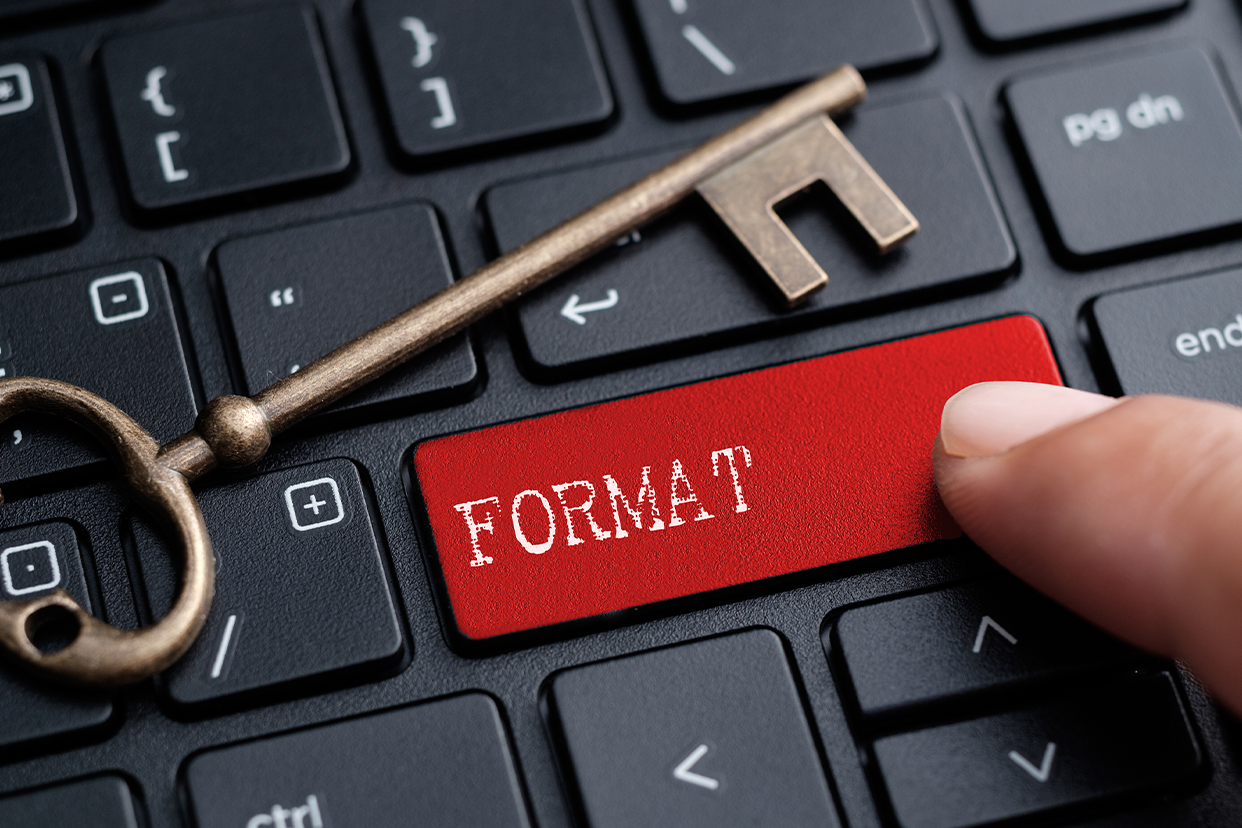 With things moving online, such as work and even your classes, laptops have become a sort of indispensable device. But sooner or later, as we use it, our laptops tend to slow down, and the storage fills up, creating quite a few problems. And then there are viruses and other malicious software! Gradually they tend to slow down your system.
It helps to format your laptop if you find it plagued with viruses. It is also advisable in case you are selling or giving it to someone else. And while it might seem like a technical task, it is relatively effortless, and you can do it without trouble. Let's jump in:
<!—H2 title-->
Few things to keep in mind:
Before you format your laptop, there are a few key things you should be aware of and keep in mind:
1. It is a time-consuming process, so make sure you have at least 30-60 minutes in your hand.
2. Ensure you have a backup on external or cloud storage before formatting.
3. As it takes a while and is power-intensive, your battery will take a hit. It is advisable to connect your laptop to a power source to make sure it doesn't shut down during the process.
4. For many instances, you might require an internet connection as well.
<!—H2 title-->
How to format a Windows laptop?
1. Open your Windows Settings and select System. You can also simultaneously press and related Windows + I to open the Settings menu.
2. Scroll down a little until you find Recovery. Click on it.
3. Now, you will see two options, Click on Reset PC beside the option Reset this PC.
4. Once you click on it, you will be given two options, click on Remove everything. It will remove all your personal files, apps, and settings.
5. Now, Additional Settings will appear. Click on Change Settings. This step is where you tell Windows to clean the drive, which is another way of saying reformat.
6. Ensure the toggle for the clean data option is turned on along with the Download Windows option.
7. Once you have clicked yes for both these options, simply click on Confirm.
8. Now, Windows will show you the summary of tasks it will execute, click on Reset after reading those and make sure there is nothing you have not intended to execute.
9. Now, wait and follow the on-screen instructions, and your laptop will be formatted.
<!—H2 title-->
How to format a MacBook?
Apart from the steps mentioned above, which you should keep in mind, there are a few other things to do before you can start formatting your Apple laptop. First, you must deauthorise your MacBook in iTunes if you are running macOS Mojave or earlier. You can skip this step if you are using macOS Catalina or later.
1. First, sign out of your Apple ID and iMessage app.
2. Now, depending on your processor, you need to do things slightly differently. First, determine whether you have Apple Silicon, which is either an M1 or M2 or Intel processor.
3. Then, shut down your MacBook or PC — since you need to boot into recovery mode to format.
For Apple Silicon: Hold the power button until you see the hard drive with a gear icon. Select the gear and click continue.
For Intel processor: Press the power button once and immediately press and hold Command + R until you see the Apple logo.
In both cases, if prompted, sign in.
1. Select the Disk Utility option and click continue after that.
2. Select Macintosh HD drive under the option Internal on the left panel. If you have an Apple Silicon and have used Disk Utility to add volumes to your drive, you will see them here as well. You should delete all these. Select the volume and click the minus sign to do so. If you have an Intel Processor, you can skip deleting volumes or can do it later.
3. Once you have selected the Macintosh HD drive, click the Erase button at the top of the window.
4. If you're unsure, you don't need to fiddle with the format option, it will be pre-selected for you. It should be APFS.
5. Now, click on the Erase volume Group button. It will start reformatting your mac. If you have an Apple Silicon, click Erase Mac and Restart to continue. If you have an Intel processor, you will find an option to erase other volumes after erasing Macintosh HD.
6. Now, to reinstall macOS once you have formatted your mac, you need to do things differently depending on the processor.
For Apple Silicon: When Mac restarts, choose your preference, follow the on-screen instructions to connect to Wi-Fi for activation and then click Exit to Recovery Utilities. Then Select Reinstall macOS and click continue.
For Intel: Close Dial Utility after removing other volumes, and then click on Reinstall macOS on the menu. Click Continue and follow the on-screen instructions to install.
Disclaimer: This post as well as the layout and design on this website are protected under Indian intellectual property laws, including the Copyright Act, 1957 and the Trade Marks Act, 1999 and is the property of Infiniti Retail Limited (Croma). Using, copying (in full or in part), adapting or altering this post or any other material from Croma's website is expressly prohibited without prior written permission from Croma. For permission to use the content on Croma's website, please connect contactunboxed@croma.com