How to sort and store food in a refrigerator?
Its not as easy as it may seem!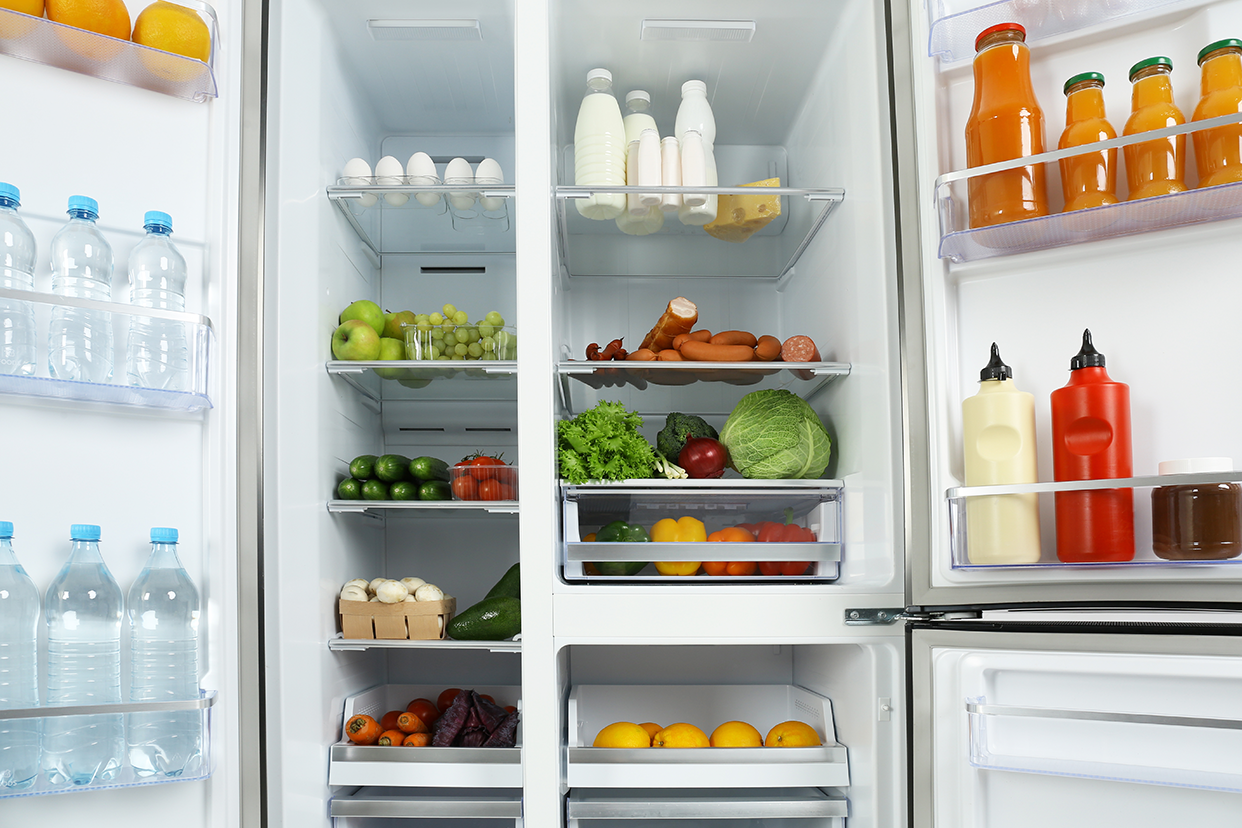 Any modern-day kitchen is incomplete without an appropriately sized refrigerator to store food for the family. It is no longer a luxury, but a necessity, and a must for every kitchen. While fridges may vary in features, size and design, their basic purpose remains the same. To store food. Each fridge's design takes into account the common types of food that one can store in it. So, let's learn everything there is to know about storing food in one's fridge.

ALSO READ: Types of refrigerators: How to choose the best one for you?
<!—H2 title-->
What to store where and the basic know-how
Knowing how to store different types of food in their dedicated storage area in a fridge can help preserve their unique nutrients while also keeping them fresh.

1. Raw meat and poultry: These items should be ideally stored on the bottom shelf of the fridge. This prevents their juices from dripping onto other food and causing cross-contamination.

2. Dairy products: All dairy products such as milk, cheese, and yogurt should be stored on the top shelf. Things like butter can be stored in the door pockets as well. Storing them in their original packaging is always adivsable.

3. Fruits and vegetables: There is a dedicated drawer fro fruits and vegetables referred to as the crisper drawer. These are designed to maintain a higher humidity level.

4. Cooked food or leftovers: There is no predetermined area for cooked food or leftovers. The general rule of thumb is to make sure they are stored in an airtight container or covered utensil. However, they must be consumed quickly as they tend to get spoilt relatively quicker.

5. Condiments: All preservatives such as ketchup, mayonnaise, mustard, and more can be stored inside the door pockets.
<!—H2 title-->
What is the ideal temperature to store food in the fridge?
The ideal temperature to maintain in a fridge is below 4°C. It is the optimal temperature considering it prohibits the growth of bacteria and helps you preserve your food for a longer period of time.
How full should your fridge be?
While you may be the best judge of how much food to store as per your family's requirements, as a rule of thumb, one must try and ensure that food items stored in the fridge are at least an inch apart. This ensures appropriate airflow inside the fridge and maintains an even temperature. The goal should be to ensure it is not cramped. Another thing one must bear in mind is to not store anything in direct contact against the back or the sides of the fridge.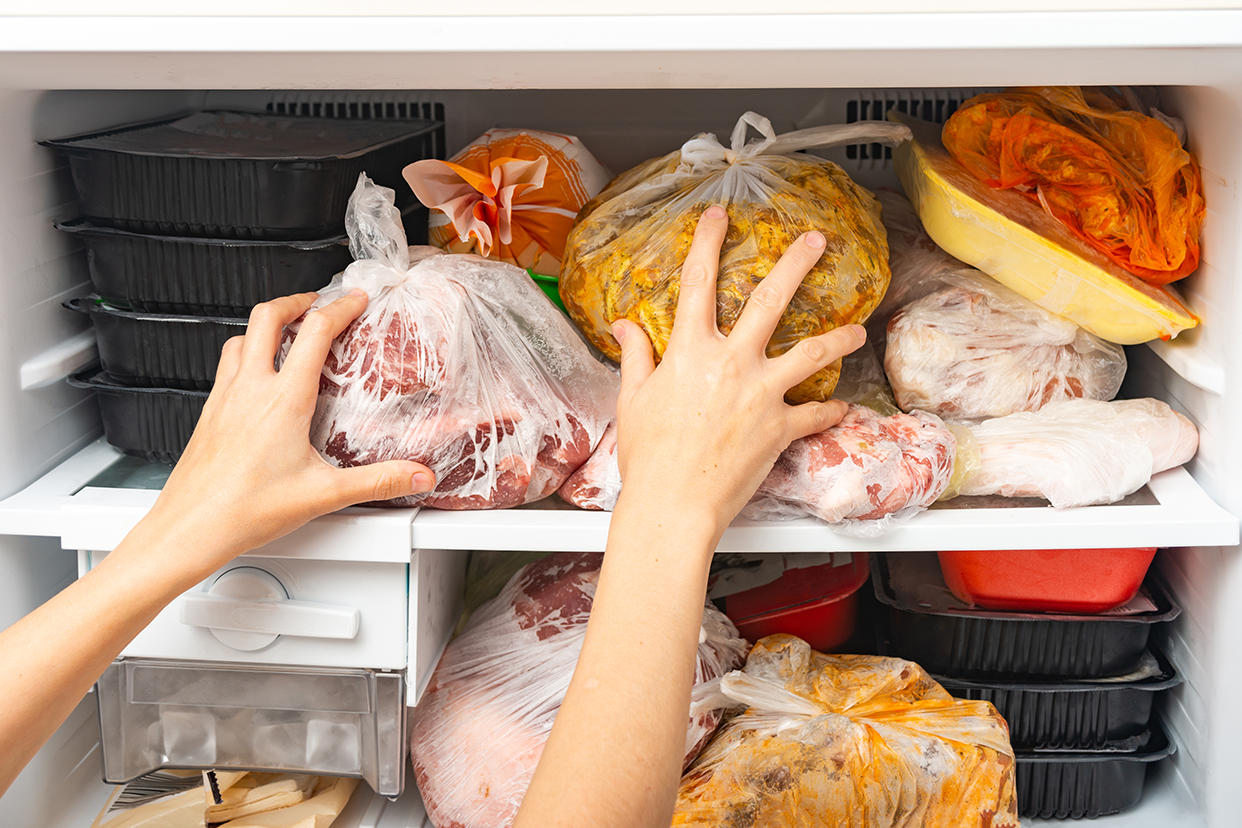 <!—H2 title-->
10 things you shouldn't store in your fridge
Even though refrigerators are made for storing food, they aren't necessarily meant for all food. There are some such foods we advise you don't store in your fridge:

1. Bananas: The light and air accelerate decay. If you pick green bananas, they need room temperature conditions to finish ripening.

2. Coffee: Coffee is a natural odor absorber, and if stored in your fridge, will end up smelling like other food in it.

3. Bread: Fridges make beard dry, sucking the moisture out of it. They also end up tasting stale.

4. Potatoes: Fridges can cause them to taste sweet and change their texture too. They are best stored in a dry, cool, and dark room.

5. Tomatoes: Just like Potatoes, tomatoes also change their texture when stored in the fridge. Along with this, their flavors also undergo alteration.

6. Onion: They absorb all moisture in the fridge and become soft and moldy.

7. Garlic: Garlic ends becoming rubbery and can sprout as well.

8. Honey: Honey can crystallize and harden when stored in the fridge.

9. Chocolate: It might sound counterintuitive but yes, one shouldn't store them in the fridge as it causes them to develop condensation leading to loss of texture and flavor.

10. Pickles: They are already well preserved and storing them in the fridge will take up space and create odor.
<!—H2 title-->
Why shouldn't you store hot food in the fridge?
Storing hot food inside the fridge immediately raises the temperature inside the the fridge, and can potentially spoil other food stored inside. When stored hot, a food item takes longer to cool down in the fridge and thus raises chances of bacteria formation. The vapors from the food create condensation leading to the growth of mold and bacteria. It also causes the condenser of the fridge to work harder, thus putting more load on the machine.
Disclaimer: This post as well as the layout and design on this website are protected under Indian intellectual property laws, including the Copyright Act, 1957 and the Trade Marks Act, 1999 and is the property of Infiniti Retail Limited (Croma). Using, copying (in full or in part), adapting or altering this post or any other material from Croma's website is expressly prohibited without prior written permission from Croma. For permission to use the content on the Croma's website, please connect on contactunboxed@croma.com