How do you know it's time to buy a new washing machine?
Your washing machine might be showing signs...
A washing machine is a miracle appliance of sorts. You rely on it to take care of your laundry, saving you ample time and energy. Unfortunately, it doesn't last forever. With age-related deterioration and other factors, they start to falter. However, it is crucial to determine whether to repair the existing one or purchase a new washing machine. But if you're unsure of the factors that qualify for a new washing machine, we have a few signs to look out for
<!—H2 title-->
Your washing machine is simply old
Washing machines have a life expectancy of around 10-15 years. You face a lot of issues as they near this age. That's why most owners begin looking for new machines after eight or nine years of owning them. As they grow older, they don't give your clothes the care they need, leading to their wear and tear. Meanwhile, new models of washing machines come with wash programs for specific fabrics.
Those familiar with a front-load washing machine know how it tends to release an odour over time. You're always at risk of mould developing inside your washing machine. Many times repairing these washing machines is also not worth the investment. It costs a lot of time and money to get a specific part for an older model of ten years.
<!—H2 title-->
Signs that you need to buy a new washing machine
Your washing machine is noisy
Your washing machine makes loud and weird sounds that disturb your home and leaves you wanting a new one! But note that there could be reversible reasons behind this noise. Unlevelled washing machines are also a root cause of this sound. Because of this, your appliance moves back and forth on its own, causing noise and internal damage. If the noise persists, looking for a new machine makes more sense.
Your washing machine is leaking
If the washing machine leaks, check if all the seals and hoses are tight. You can use steel braided hoses instead of rubber ones as they are less prone to leaking. Be sure not to overfill the tub while doing laundry. Cracks in the tub also discharge water. However, repairing the tub can cost you money, and it is best to invest in a new washing machine.
You are in the market for a new dryer
Sometimes the dryer stops working while your washing machine is still active. The dryer's lifespan is similar to the washing machine, which means your washer is not far behind. Usually, both the dryer and washer you buy are from the same company. They're compatible with each other. You're used to working them as a unit and knowing exactly how much water and load of clothes to use for both. In this case, it is best to go for a new washing machine.
The washing machine is not big enough for you
As your household grows, the pile of clothes gets bigger. Sticking to the same machine will have you using it more than usual. You will lose a lot of time, making your daily schedule hectic. You've no use for a washing machine that doesn't serve you as intended. It's time to look for a new one that fits your family.
Are you seeing any of the above signs in your washing machines? Then it's the right time to buy a brand new one. Head over to Croma.com or your nearest Croma store to bring home your favourite one today.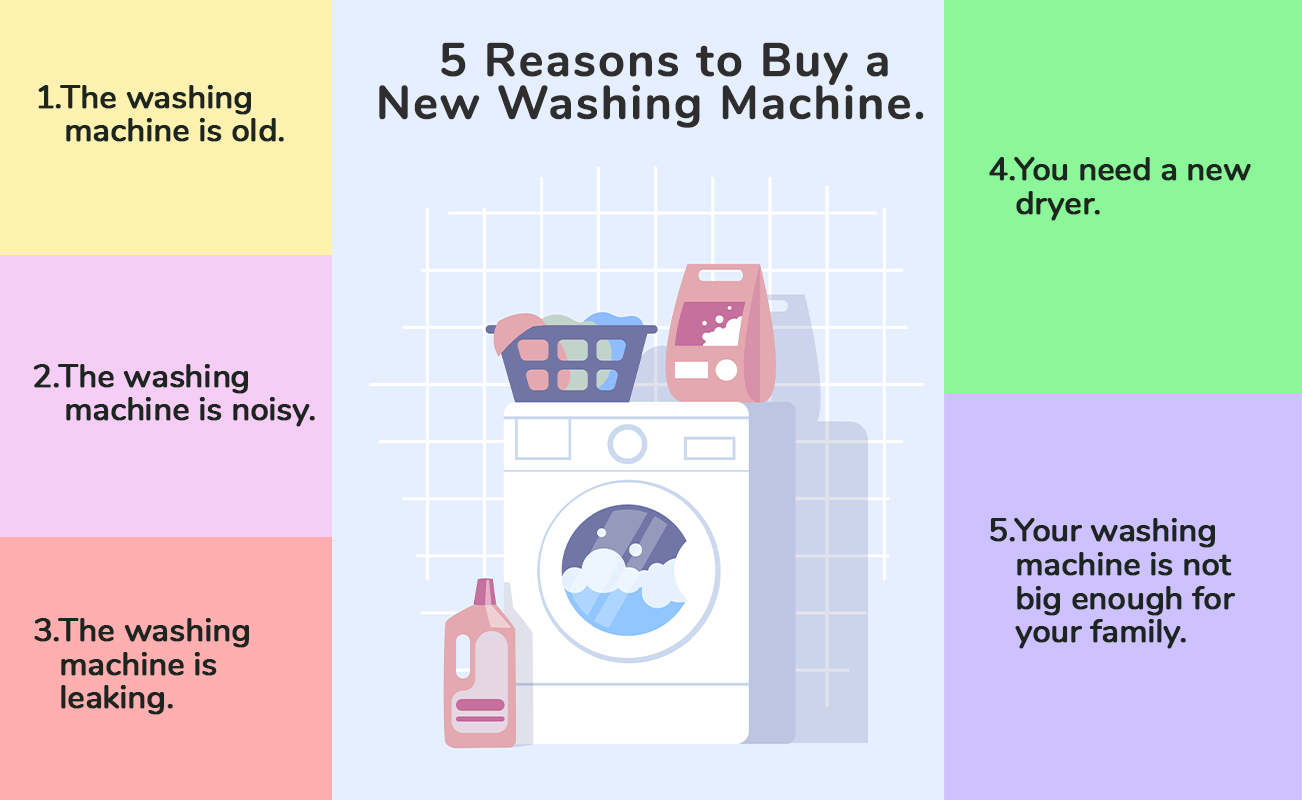 Disclaimer: This post as well as the layout and design on this website are protected under Indian intellectual property laws, including the Copyright Act, 1957 and the Trade Marks Act, 1999 and is the property of Infiniti Retail Limited (Croma). Using, copying (in full or in part), adapting or altering this post or any other material from Croma's website is expressly prohibited without prior written permission from Croma. For permission to use the content on the Croma's website, please connect on contactunboxed@croma.com