What to look for when buying a TV for gaming?
Bring the games to life with the perfect TV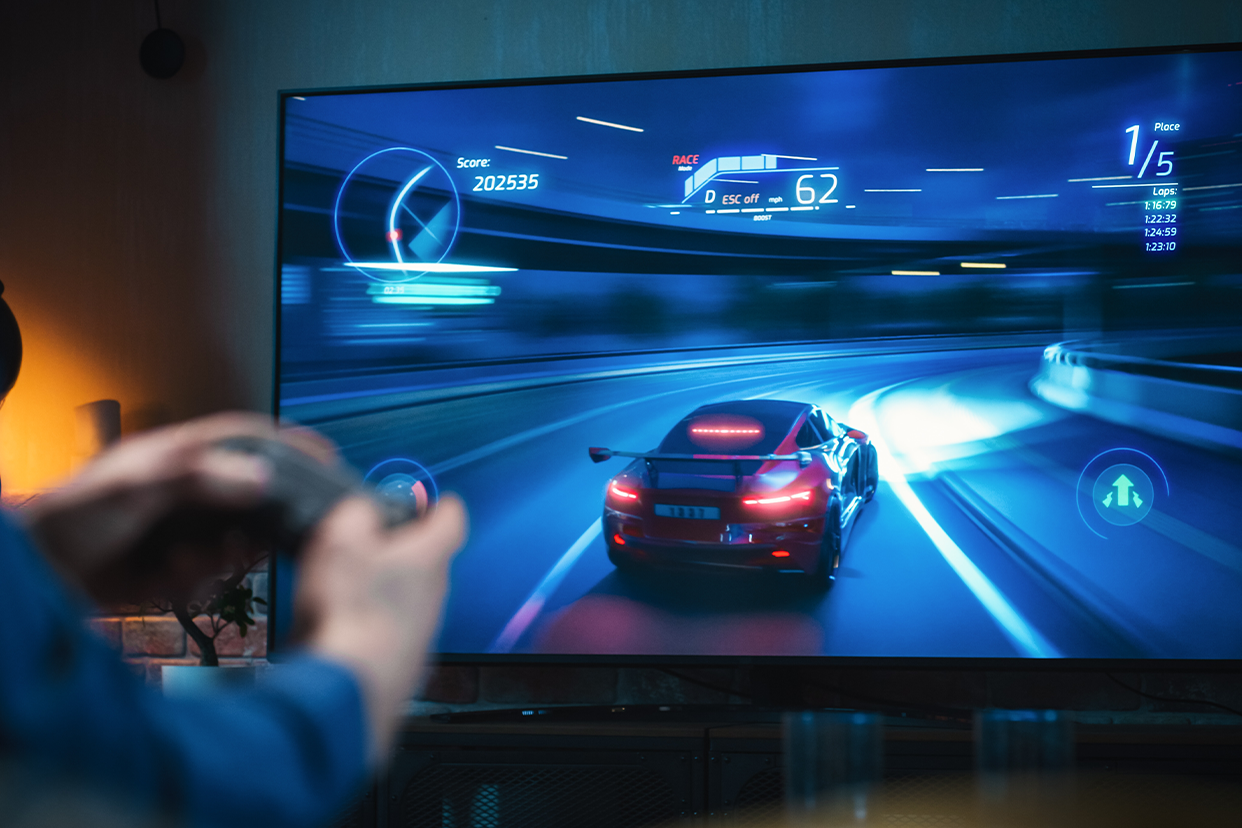 Let's face it, after a long day at work we all like to unwind by playing a game on one platform or another. But to get the feel of a real stadium when playing FIFA or the racing track in Gran Turismo 7, you need a capable TV to pair with your gaming console. But what makes a TV gaming-ready, and how do you find the perfect one for your console? We offer a handy guide that will help you buy a TV for gaming.
<!—H2 title-->
5 things to consider when buying a TV for gaming
Display type: It's important to pair your gaming console with the right kind of TV to get the most of the visuals. An OLED display offers deep blacks and great contrasts, but are susceptible to burn-ins when the TV is used for hours. An LCD display with high-refresh rate and HDR support is a safer bet.
Resolution: To make the most of the next-gen gaming consoles like the PS5 and Xbox Series X, you need a TV that supports 4K HDR. 4K, as the name suggests, offers up to four times the resolution as an HD TV. A 4K TV is not only important for gaming, but also to watch the latest OTT content at their desired resolutions.
Refresh rate: Gamers spend a lot of time talking about refresh rates, which is essentially the number of frames your TV can show per second. Needless to say, higher the refresh rates, the smoother the visuals will be. While most will be comfortable playing games at 60fps, a 120Hz TV simply takes visuals to the next level.
Input lag: Latency is the time that your TV takes to display an image onscreen. So, a TV with a higher lag will take time to show you fast-moving visuals, which could be the difference between a virtual life and death. A TV with 60ms of latency should suffice for everyday gamers, but for professionals, we recommend a TV with a latency of under 30ms.
Connectivity: Gaming consoles connect to a TV using a HDMI port, with some of the latest consoles supporting HDMI 2.1. When buying a TV, ensure there are enough HDMI ports at the back to connect multiple devices and peripherals, and that they support the latest standards for the best experience.
Bonus tip: Many TVs these days come with a built-in 'Gaming Mode'. In this mode, TVs tend to drop a lot of unnecessary post-processing when showing visuals, and also drop the input lag time for a much smoother and responsive experience.
Keeping these tips in mind will help you buy a great TV to pair up with your gaming console. Head over to croma.com or your nearest Croma stores to buy a TV for your gaming needs.
Disclaimer: This post as well as the layout and design on this website are protected under Indian intellectual property laws, including the Copyright Act, 1957 and the Trade Marks Act, 1999 and is the property of Infiniti Retail Limited (Croma). Using, copying (in full or in part), adapting or altering this post or any other material from Croma's website is expressly prohibited without prior written permission from Croma. For permission to use the content on the Croma's website, please connect on contactunboxed@croma.com