How to format an Android phone?
Format your Android phone in a jiffy with these methods
You might have formatted an USB stick on your computer or formatted your laptop, which essentially removes all physical media on the drive. But in smartphones, formatting is the same as a reset. All the apps you installed, data on those apps, and any linked accounts and media will be cleared from your phone. A format will erase any personal data you have on your phone. Along with this, any settings you might have changed will go to their default state. Below we simplify the steps to format an Android phone.
<!—H2 title-->
Why do we need to format our phones?
There are multiple reasons why we need to format an Android phone. You could be facing multiple issues on your phone, and the best way to solve them is to clear everything and start using it again. Alternatively, you could be planning to trade in your older phone for a newer one. Before giving it away, it is imperative to clear everything from the phone you're giving away.
Also Read: How to unlock Android smartphone password without formatting?
<!—H2 title-->
How to format an Android phone?
Formatting or a factory reset means your phone will go back to its original factory-manufactured form. It restores all the settings to the original form. Factory reset will wipe out any data you have on your phone. So, make sure to take a backup of your Android phone.
Manually perform a Factory Reset
1. Tap on Settings.
2. Click on System.
3. Tap on Reset Phone.
4. Tap on Erase all data.
5. You get a pop-up to enter the pin.
6. Enter the pin.
7. Your data gets erased.
<!—H2 title-->
Reset the phone with the Android device manager
Android device manager helps you find your phone. If your phone is stolen or lost, then it'll lock the phone and wipe all the data from it. This method is also helpful if your phone is locked. You just need to sign in with the same Google account as your Android phone and follow the below steps.
1. Go to android.com/find
2. Login with a Google account that is synced on your Android phone.
3. Tap on your device name.
4. Click on the Erase Device option.
5. Click this option again and sign in with your Google Account.
6. You'll see a menu with the Erase All Data option.
7. Click on Erase.
8. Your phone will reset by erasing the data.
9. Now your phone will restart.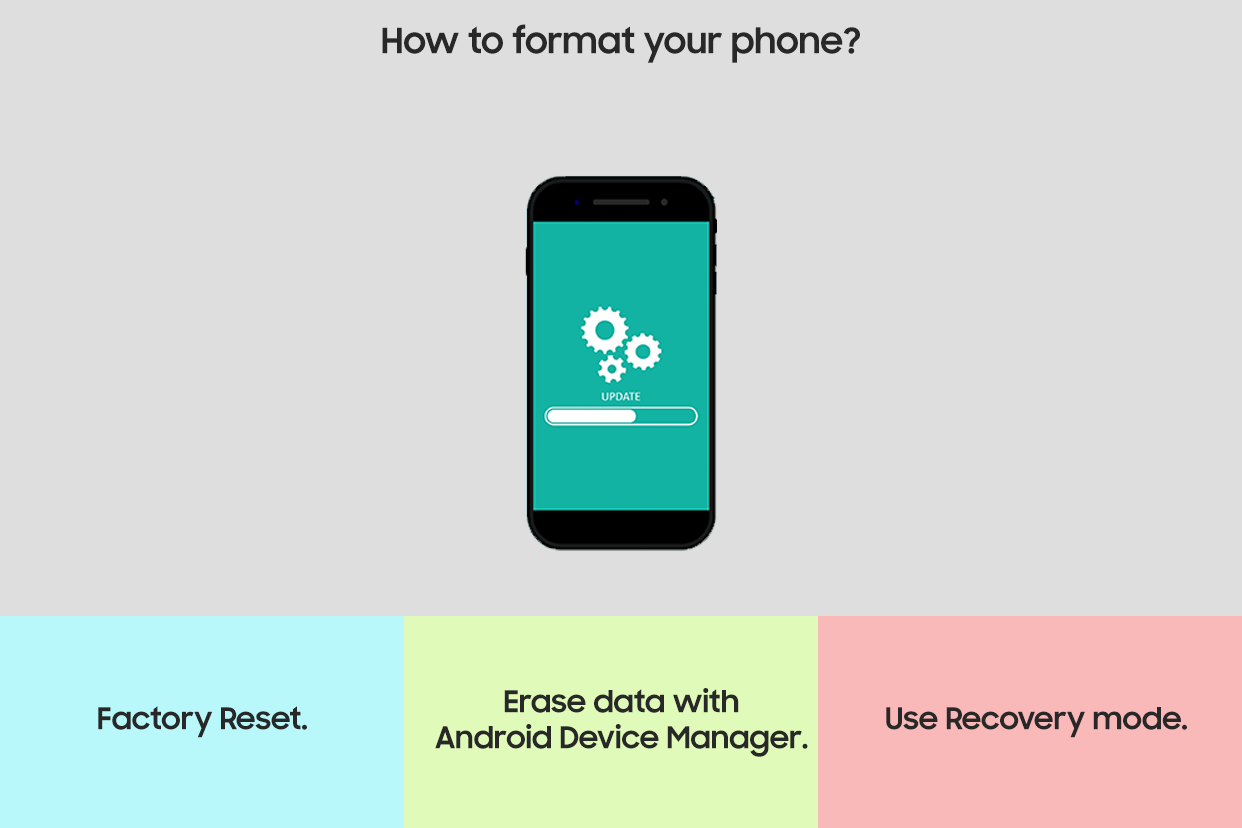 <!—H2 title-->
Boot the phone in Recovery mode
If your phone is switched off, then the above steps will help you do a format. Recovery mode will help you troubleshoot any problems occurring on your phone. Follow the steps below to use Recovery mode.
1. Hold down the Power and Volume Down buttons together.
2. You'll enter the Recovery Menu.
3. Use Volume Up and Down options to sift through the options.
4. Select the Wipe Data/factory reset option.
5. Press the Power button to proceed with the reset action.
6. Select Yes.
7. When a factory reset is done on the phone, you must select the Reboot System Now option to restart your phone.
<!—H2 title-->
Things to keep in mind before format
Formatting your phone will wipe all the data. This data includes some important information like credit card information. That's why you should make sure to have a backup before format. You can save large media files on cloud storage like Google Drive or OneDrive. Restoring your data from this backup is easy.
Disclaimer: This post as well as the layout and design on this website are protected under Indian intellectual property laws, including the Copyright Act, 1957 and the Trade Marks Act, 1999 and is the property of Infiniti Retail Limited (Croma). Using, copying (in full or in part), adapting or altering this post or any other material from Croma's website is expressly prohibited without prior written permission from Croma. For permission to use the content on Croma's website, please connect contactunboxed@croma.com