How to disinfect and clean a microphone
The best audio quality doesn't need a clear throat but a clear microphone!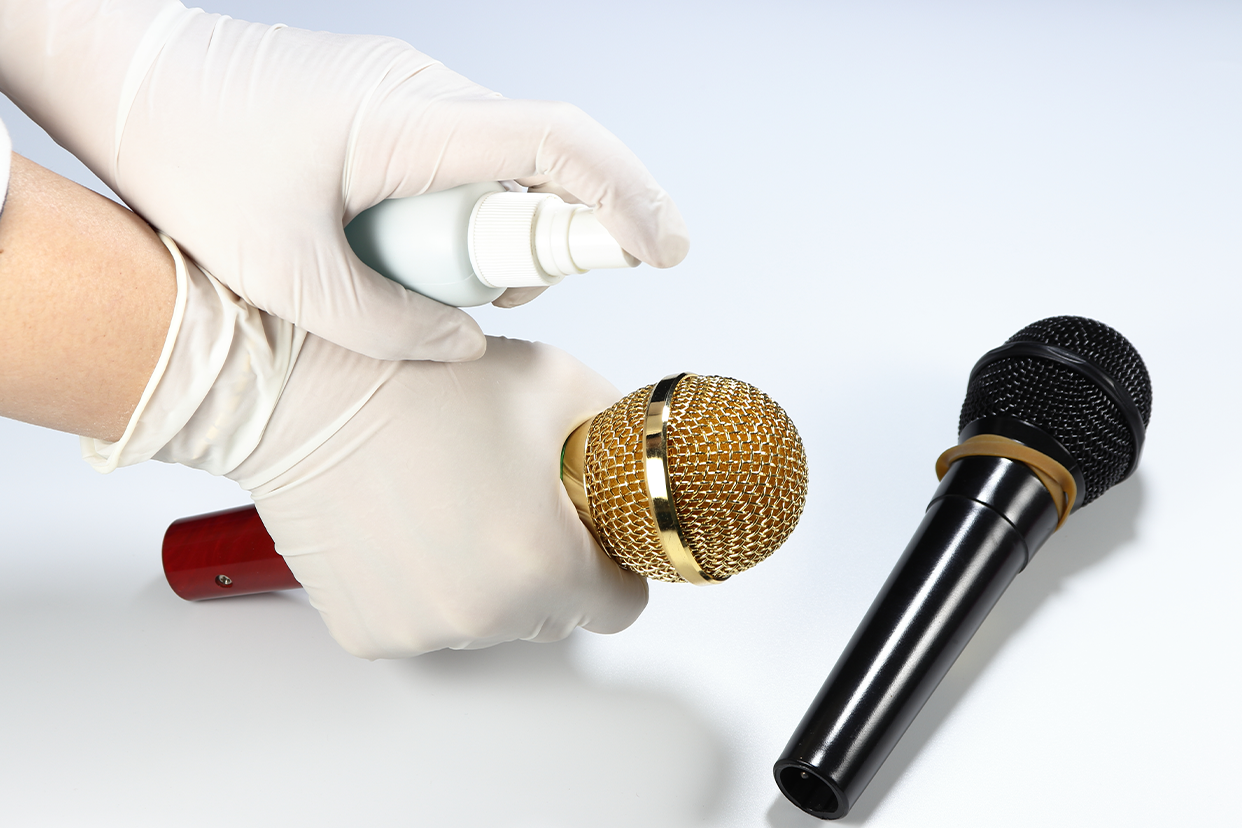 Be it podcasts, Youtube or Instagram, audio has always been an integral part. And with people switching to audiobooks and other voice-oriented practices, investing in a good microphone has become especially crucial. Voice texture, modulation, and audio quality -- almost everything is possible if you have the right microphone in your hands. But, unfortunately, that is not enough. Taking care of your microphone goes hand-in-hand with it lasting longer and working efficiently. If you're wondering how to begin, here are a few tips to get started:
<!—H2 title-->
Why should a microphone be cleaned?
Microphones are handy. The ones connected with a tripod stand are usually a part of recording studios. Portable or handheld mics are perhaps the most common and are, more often than not, passed on from person to person. And with the rampant spread of contagious diseases, it is of utmost importance to keep such devices disinfected at all times.
Headsets go around the ear and neck and are prone to germs, dirt or grime. Microphones, too, have pores, and dust tends to settle into them. A clogged microphone results in an unclear output.
<!—H2 title-->
Tips and tricks to clean your microphone
Cleaning the microphone
The pores on the outer surface, the handheld body, and the cables should be thoroughly cleaned with the help of a sponge and a wet cloth. Using lukewarm water and soap is a safe way to clean your microphone. Another cleaning agent that you can use is the readily available cleaning spray.
The podcasting mics and stands should be wiped properly with soapy water. However, it is best to ensure they are not made of corrosive material. In that case, avoid using water. Use a brush to clean the pores of the mic. For the cables, if the insulated wires are wearing off, make sure you cover them properly with tape, or else a wire cover. Rub them with oil and avoid using too much water on them, or it may damage the cables.
Disinfecting the microphone
Disinfecting the microphone involves killing harmful pathogens and microorganisms that may lead to contagious diseases and other harmful infections. Isopropyl alcohol and water solution is the most abundantly used disinfectant. Chemical wipes that are used also have a part of alcohol. Adding water to alcohol is a must before wiping away the surfaces because alcohol is a bit too harsh and evaporates easily.
For disinfecting cables, avoid using alcohol as a disinfectant. Alcohol ends up damaging them, which is why cleaning them should be done manually with the help of soap, water, wipes and oils.
<!—H2 title-->
Key takeaways for keeping your microphone safe:
1. Keep your microphones covered in plastic kits or vacuum bags. Avoid their exposure to dust or dirt.
2. Always use a mic sponge on the top to prevent germs and dust from damaging the recording portion of your mic.
3. Do not keep the mic too close while recording or speaking. Maintain a good distance between you and the mic.
4. To avoid spreading skin diseases and other infectious conditions, wrap and seal the handheld part of your microphone.
5. Avoid using very long cables for the microphone.
6. Wireless microphones should be preferred.
Microphones are small devices that need a bit of care, and that'll be more than enough. With devices being easily available, we tend to look down on them. But with proper care and safety, they will not only last longer than the average but also work with better efficiency.
Disclaimer: This post as well as the layout and design on this website are protected under Indian intellectual property laws, including the Copyright Act, 1957 and the Trade Marks Act, 1999 and is the property of Infiniti Retail Limited (Croma). Using, copying (in full or in part), adapting or altering this post or any other material from Croma's website is expressly prohibited without prior written permission from Croma. For permission to use the content on the Croma's website, please connect on contactunboxed@croma.com