All you need to know about RAM on your Laptop
Know why RAM is necessary to run your computer and what it does.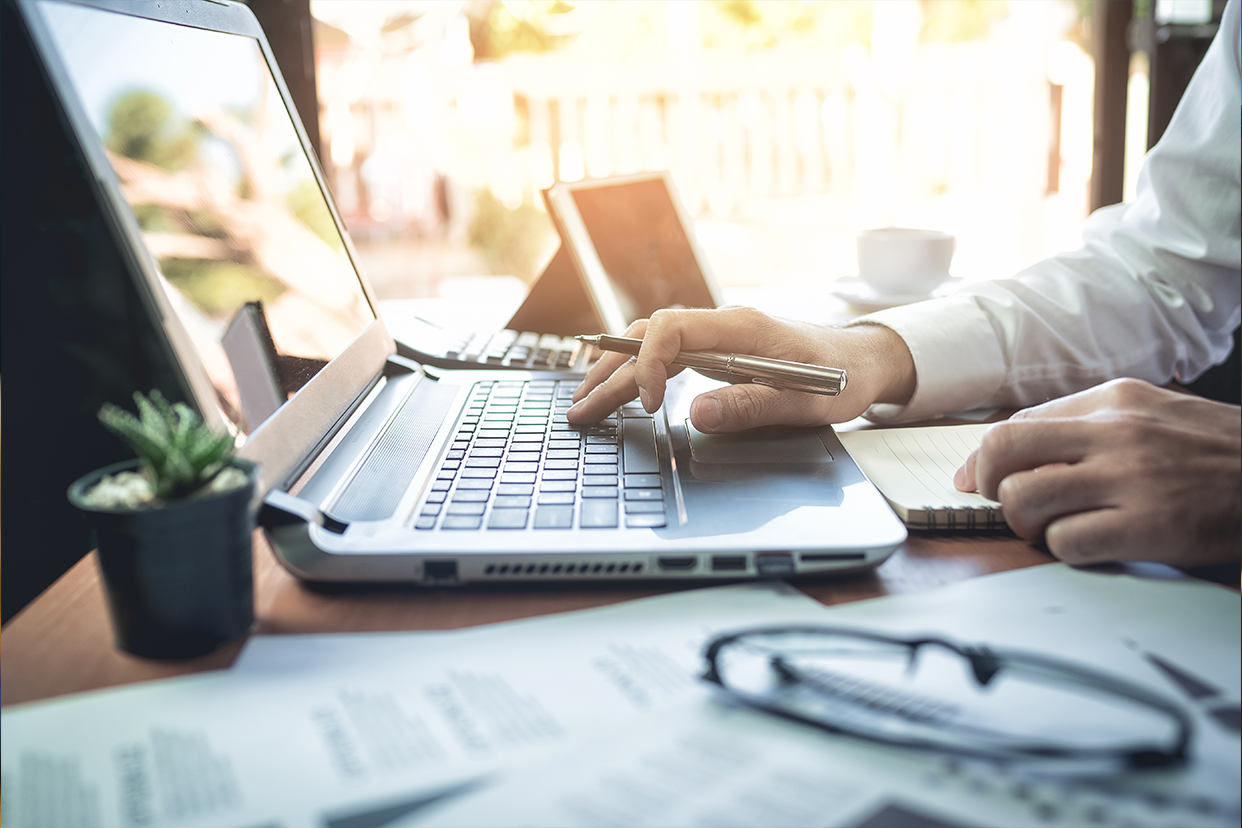 Random Access Memory, or RAM, is your laptop's temporary memory. Your laptop uses it to store data for immediate use. Having RAM which is compatible with your work boosts your laptop's overall performance. Below we discuss what RAM is all about and where you can find it.
<!—H2 title-->
What is RAM?
RAM is short-term memory. It is a faster way to hold in-use data instead of storing it in a hard drive. RAM uses transistors to save data. They only work on electricity. Once you shut down the laptop, they get disconnected from electricity, and memory disappears. You no longer have access to the data. This makes RAM different from storage like hard disks and solid state drives that save data for permanent access.
Double data rate (DDR), Dynamic RAM (DRAM), and Static RAM (SRAM) are the main types of RAM. Each of these RAMs works differently. DRAM refreshes periodically, wiping off the data in memory. SRAM is made of four to six transistors. It keeps the data until the laptop is powered off. That is why SRAM is more useful but pricey, making DRAM more prevalent.
<!—H2 title-->
Why do we need RAM?
The laptop's processor uses RAM to retrieve data quickly. For example, you run a simple addition program that takes values from users. RAM will store these values and the answer. The processor will fetch the answer and display the result. On the program's next run, new values will be stored.
Without RAM, you will have to rely on the hard drive for storage and retrieval. You will waste a lot of time and space getting the required data from a hard drive. Hence, RAM is important.
<!—H2 title-->
How to find RAM on your laptop?
RAM is almost always mentioned in your laptop's product description. But it's a better practice to know how to check your laptop's RAM.
1. Click the Apple icon on the upper left corner of your screen.
2. Select the "About This Mac" option.
3. In the memory section, you'll see how much RAM your laptop uses.
1. Click on the Start menu, located at the bottom left of your screen.
2. Type "About your PC" in the search box and press Enter.
3. Click open the correct result. A window called "About" should be opened.
4. You will see a heading as Device Specifications.
5. Check the line called "Installed RAM". This will tell you how much RAM is installed on your laptop.
Also with Windows Task Manager, you can check RAM for your laptop.
1. Click on the Start menu, located at the bottom left of your screen.
2. Next, type "Task Manager" in the search box.
3. Press Enter when you see the correct result.
4. Click on the "Performance" Tab.
5. Check the section named "Memory".
1. Press the following key combination: Ctrl + Shift + Esc
2. A task manager window will appear.
3. Click on the "Performance" Tab.
4. Check the section named "Memory".
Ctrl + Alt + Del is another key combination to open the task manager. The rest of the process remains the same.
Generally, we find RAM soldered on your laptop's motherboard. RAMs are in the shape of a strip. Each strip has predefined memory of two to thirty-two GB.
<!—H2 title-->
How much RAM do we need?
Only you can answer this question. You need to make sure that your laptop's RAM is compatible with the kind of work you do. Many of us use laptops for regular tasks such as Word and Excel or to watch media. 4 GB of RAM is sufficient for such use. You can upgrade the RAM in the future.
Professionals like Gamers, coders, and editors alike work on massive data. They need plenty of RAM for better performance and faster speed. They mostly go for laptops with 16 GB of RAM .
When in doubt, always go for bigger RAM. You won't have to worry about upgrading RAM and slower processing speed.
<!—H2 title-->
Can we upgrade RAM?
If you have the expertise, you can upgrade RAM. Or you can consult an expert. Most laptops come with two or three slots for RAM. You fit memory strips in these M to retrieve data in a quick manner. For example, you run a si slots and easily expand the memory. For 8 GB of RAM, you have two strips of 4 GB in two slots. You can replace 4 GB strips with 8 GB strips and upgrade it to 16 GB.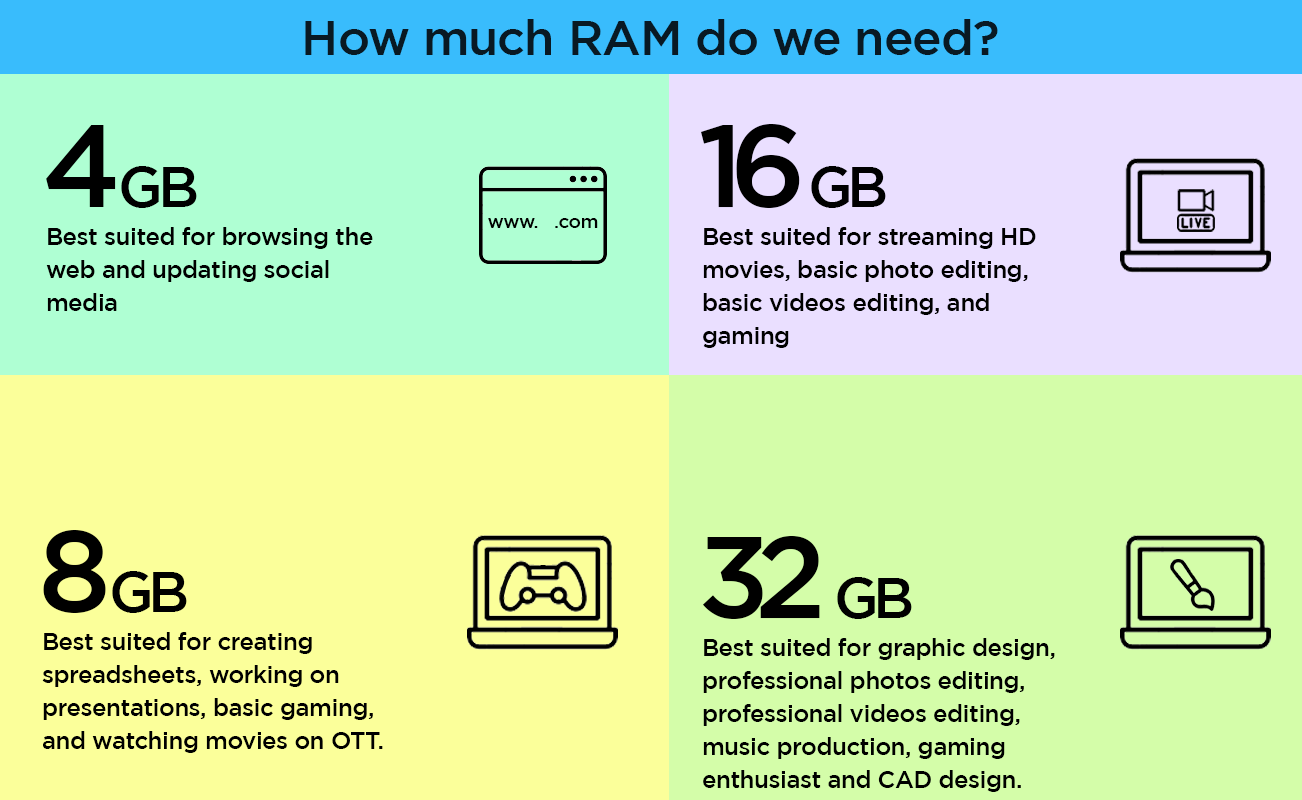 Disclaimer: This post as well as the layout and design on this website are protected under Indian intellectual property laws, including the Copyright Act, 1957 and the Trade Marks Act, 1999 and is the property of Infiniti Retail Limited (Croma). Using, copying (in full or in part), adapting or altering this post or any other material from Croma's website is expressly prohibited without prior written permission from Croma. For permission to use the content on the Croma's website, please connect on contactunboxed@croma.com